Blue World City Waterfront Block
Blue World City is a grand real estate project in Islamabad; this residential society is considered the most elegant, luxurious, and affordable community in the region of Islamabad. It has multiple blocks, each with different residential and commercial plots: Awami block, General block, Overseas block, Hollywood block, and Waterfront block. The fantastic factor is that it is Islamabad's most affordable housing scheme and has become more famous among investors. The BWC provides new advanced and modern services through the online system. The BWC verification, certificate of registration, online installments, and application status. This project will become the economic zone and provide the orbital apartment. 
Blue World City Waterfront District:
Blue world city recently added a new block of waterfront. This block becomes massive and cheerful among all the sectors. The area is on the right by the waterfront and in front of the overseas block. The inhabitant could enjoy the serenity of society with the calm waterfront view.
Only Blue World City is building the world's greatest water park for the first time in Islamabad. You no longer have to stress about how to get rid of the scorching June-July weather; the solution is right outside your door. Pakistan's most exhilarating and exciting water park is worth visiting to beat the heat. There is no need to pack your belongings and relocate to the Northern districts since the dancing fountains and bright water slides become the most visible block in the entire sector. Waterfront is a ruse for a condition of wealth, elegance, and comfort. Its astounding development layout denotes the ideal investment location in Blue World City Islamabad. 
This block has mesmerizing factors located in the vicinity of Islamabad and Rawalpindi. Provision of all the residential and commercial amenities within the society. Even though all the primary health care facilities, state of the art could be availed easily in society. Blue world city waterfront district offers the following futuristic amenities to its inhabitants:
Waterfront Community
The walk
Dancing fountain
Water sports club 
Outdoor cinema 
Floating restaurants
Waterside Food Street
Blue World City Waterfront Location:
The Blue World City waterfront district has its prime importance that will allow all the inhabitants to enjoy the mesmerizing views of water crystals lakes around them. It is the ideal chance for investors to invest in this block. 
This block has the fantastic fact that it is accessible from all the major areas of the twin cities. The blue world city waterfront location connects phases 5 and 6 of Bahria Town; the Blue world city waterfront block is located on the main Chakri road near the Chakri interchange. It has convenient access from M-2 Lahore- Islamabad Motorway. 
BWC Waterfront block location map:
The location of waterfront block is easily accessible from all the central points. It is more convenient from the New Islamabad International Airport. Scenic and beautiful views surround this block—a peaceful and calm place to live, far away from the bustle of city life.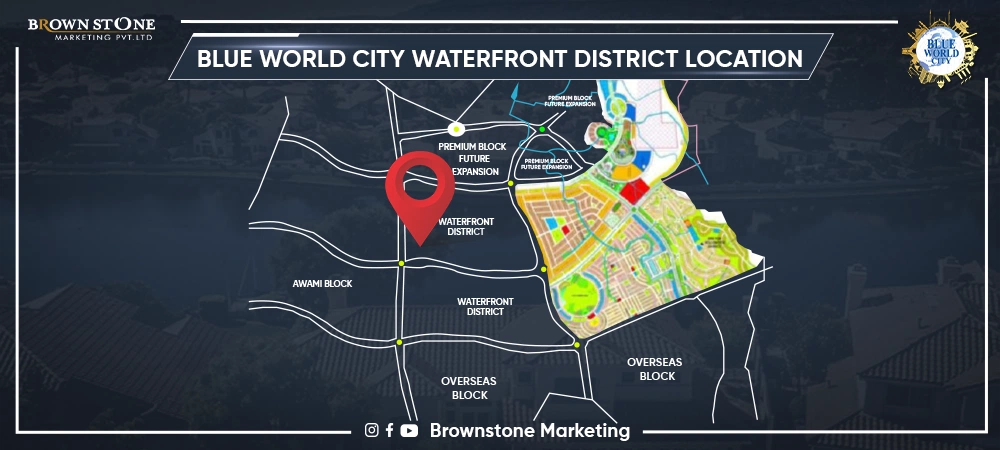 Waterfront accessible points:
This block is accessible from the following areas:
Only 33 minutes drive away from Islamabad
32 minutes drive away from Rawalpindi
From Chakri M2 Tool plaza, just 13 minutes drive away
Only 33 minutes drive away from Khanial Homes
Right next to Chakri road and its Interchange
Nearly 48 minutes drive away from N-5 National Highway
Just 31 minute's drives from the New Islamabad International Airport
Nearby Landmarks and places:
Islamabad
Rawalpindi
Top city 1
Mumtaz city 
University town 
Capital smart city
DHA, Islamabad
Bahria Town, Islamabad
New International Islamabad Airport
Waterfront Community
Residents of the Waterfront block will have access to all the required amenities and a breath-taking view of the lake. This residential block offers many advantages, including its location in a prime area and affordable payment options.
Blue World City Waterfront Block Plots for sale
The residents of this block can enjoy modern living at affordable rates. Waterfront block offers cost-effective plots ranging in size from 6 Marla to 18 Marla. Payment plans are flexible and convenient.
Floating Restaurant
Blue World City Waterfront Block in BWC Islamabad will also feature a floating restaurant where you can spend quality time with your family and friends. Located on the shores of Blue World City Lake, this restaurant provides delicious cuisine and a delightful ambiance with a captivating view.
Dancing Fountain
The Dancing Fountain at BWC will be designed and constructed by a team of award-winning architects and developers of numerous other projects of this kind.
The fountain's performance is composed of water choreography, music, and light, creating a visually stunning display. Viewers will be able to enjoy the sight and sound of hundreds of water fountains as they dance to musical notes from the symphony, opera, classical, pop, and local folk music.
Walking Track
A walking track will be constructed to highlight the beauty of the residential community. The track will be located near the water sports club. The track path will take you towards the commercial area, where you can enjoy the beautiful waterside scenery while walking.
Water Sports Club
Waterfront Block will also be home to an international-level water sports club. Water Sports at Blue World City Waterfront Block include Premium Speed Boats, Jet Skis, Water Sports, Wakeboarding, Knee-boarding, Water Tubing, Fin Tubing, Kayaking, and more.
Waterfall
The waterfront district of the BWC will feature a stunning waterfall to provide the best possible environment for its residents. You may not have heard of a gated community with waterfalls; neither have we, at least not in our Pakistan. It will indeed be a fantastic sight. The sound of the waterfall will drown out distracting sounds and will calm the spirits of the residents. BWC strives to provide the best serene environment to its residents. A dedicated security and rescue guard team will also be stationed at the waterfalls.
Outdoor Cinema
Blue World City Waterfront block also offers an outdoor cinema facility. You can enjoy the view of the lake while watching movies. It will be an international standard cinema. Hence, you will have a complete package of entertainment at your disposal.
Waterside Food Street
There will be an international standard waterside food court. Besides having a spectacular view, the food will be from well-known local and international brands.
Payments plans for Blue World City Waterfront Block:
The Blue world city offers the best chance for investment, especially in this aesthetic and peaceful block. Blue world city waterfront block payment plan is provided with the 4-year easy installment plan—a total of 40 monthly installments for the accessibility of their investors. For the booking of the plots need to pay a 10% down payment, and confirmation charges will be 5%
The blue world city offers multiple plots in this mesmerizing waterfront block. Its ideal location and attractive features make this place idealistic. Waterfront block provides different sizes of properties. 
6 Marla 
12 Marla 
18 Marla  
The demands of all these plots are available on a First come – First serve basis—the best chance for investors or homeowners to grab this golden chance and get a high return investment. 
BWC Waterfront Block Payment Plan:
The payment plan for waterfront plots is given below:
Payment plan of 4 year
Waterfront block
6 Marla Plot in Waterfront Block BWC:
The district provides a fantastic route to finding inner peace in this waterfront valley; the waterfront payment plan conveniently provides ease in paying the 40 monthly installments. This block installment series starts at 17,500 and is conveniently accessible for all. Moreover, Nature's beauty itself offers a pacifying feeling for human beings. For this calmness, you need to deposit the down payment of 175,000 and book your plot in the waterfront district with beautiful amenities.
12 Marla Plot in Waterfront Block BWC:
Imagine the scenic view beyond your doorstep. The waterfalls and lakes are naturally drawn to aquatic hues. The grand residential plots offer in waterfront valley, 12 Marla plot is for 3,150, 000/-. Once you pay the whole amount, you will become the plot holder. For your ease, the management offers a 4-year installment package; the waterfront district living standard differs from common societies; it's an ideal chance to enjoy ecstasy with no tired attached since Nature provides its purest form.
18 Marla Plot in Waterfront Block BWC:
A spacious land at 18 Marla, its overall price rate is 42 laces, and the down payment would be /-420,000. Mind-blowing opportunity with mesmerizing amenities, its aesthetic waterfall views are enough for its total cost. You will imagine these, but the Blue world city makes your dream filled with enlightening, exciting features.
5 Marla Plot of BWC Waterfront Block:
Blue World has a great list of incredible amenities; in the waterfront district in the same place, you can handle your business chore in beautiful surroundings. You will become more creative and energetic when dealing with business meetings in offices or outdoor areas. The choice is yours. So, become the landlord of this business hub opportunity and book your plot at just 800,000/- amount. The total land cost is 8,000,000/- Eight-half-year payments over four-year installments are essential for these plots.
The Blue World City Waterfront block seems like a feather in the cap, a grand slam with incredible amenities. This block is different from other residential block because its aesthetic features, artificial lakes, the mountain waterfall, and water slides are pretty enough to make this sector unique and wonderful.
Top Features of the BWC Waterfront District:
The name of its block presents the beauty of this waterfront block; it is designed to enable the inhabitant to enjoy the scenic views of the landscape. The alliance offers luxury, attractiveness, serenity, sophistication, and much more at these affordable rates.
We called this place the appropriate place for living with loved ones. The following features of the waterfront block are given below:
Outdoor cinema 
Dancing fountains
Gated community
The walk
Water belts
Water sports complex
Waterfront society
Grand lavish infrastructure
Security measures 24/7 
Jogging tracks 
Trained management staff
Supply of Basic utilities 24/7 
Well-planned drainage and proper disposal system
Why Invest in Blue World City Waterfront Block?
Investing in a real estate project seems quite tricky in some cases. Investors have to be aware of the fraud, scams, and deceit. They should know the location, legalization, cost,NOC approval, accessibility, payment plans, and features. Here are some of the reasons to invest in this impressive block. 
NOC of Waterfront Block:
Blue world city lies on a large-scale area; that's why it is divided into multiple blocks. The waterfront block is one of them. The waterfront block NOC will be soon approved by the respective RDA. Legal and authenticity are more important for all investors. The RDA has granted planning permission to the blue world city allocated area. 
Their NOC is included in the list of under-processing societies; that result shows the respective authorities will soon approve it. 
Legal status:
The RDA authentically approves of this society. Blue world city waterfront block considers the most mesmerizing and fantastic block, with aesthetic features of a dancing fountain and water theme parks. 
Convenient payment plans:
The blue world city offers convenient payment plans on waterfront blocks. Especially those who cannot afford the sizeable lump-sum payment can avail of this opportunity of the four-year installments that include 40 monthly installments. 
Prime location:
The waterfront block location is the most convenient and accessible to reach, the mesmerizing locality facing at overseas block, on Chakri Road, near to M2 Motorway. The most ideal and scenic place is accessible from the various sites of the twin cities. 
Affordable Plots:
The BWC offers the most affordable plots with fantastic features. Investors and homeowners have a great chance to invest in this low-cost and attractive place. Other housing schemes also offer properties, but this block is different from all around the sector with particular features. 
Idealistic features:
After this, all concerns, the BWC Waterfront block considering worth enough to invest in, and its modern features and fantastic facilities become attractive for home buyers and investors. The water sports club, outdoor cinema, and water theme restaurants become this block's outstanding, distinctive features. 
In contrast, these aspects are enough to invest in this meticulous waterfront block. These residential ventures offer world-class features with the latest amenities of life. 
Before buying any property, the necessary credential to follow:
Follow these essential guidelines before investing in any block:
RDA-approved documents
Detailed inspection of the infrastructure
Check the NOC approval from RDA
Check the payment plans and installment plans rules, and check the funds obey the rules. 
Examine the accessibility of ultra-modern facilities such as the Gas, Water, and power supply.
Look over and check the proximity of educational centers, offices, and hospitals. 
How to Book a Plot in Blue Word City Waterfront Block?
For the booking of the plot, the respective credential should be significant:
Passport size pictures 2 
CNIC Copies 2 
Next of your kin, I.D. card 2 copies 
For the overseas clients NICOP
Sum Up:
The blue world city is the vast elite project in Islamabad; it offers mesmerizing and fantastic features in each block. This waterfront block is a new addition that aims to provide a high-quality living style to their community sector. It is an authentic and reliable society offering a 4-year easy installment plan. Their plots range from 6 Marla to 18 Marla with cost-effective and advanced residential facilities.
So, Brownstone Marketing suggests you grab this golden investment chance and experience a high-standard lifestyle. You can also verify your file through online registration and get more updates through the blue world city smart app. You can contact directly to the blue world city official website and confirm your file. The next option is to contact us or do a visit on our website; we'll surely help you to guide with our trustworthy consultants and bits of advice. So, contact us today until you lose the chance of the best opportunity in Islamabad.