Capital Smart City Islamabad
Capital Smart City Islamabad is Pakistan's first smart housing society. Capital Smart City is built on real-time data gathering, storage, and deduction. Aiming to provide the latest and updated services for society. Residents of the Capital Smart City would be able to live in an environment that is both luxurious and upholds the utmost standards of environmental friendliness and sustainability. Capital Smart City will be built on prime real estate, at the Thalian junction on the M2 motorway, near the New Islamabad International Airport. This is the only housing society that has received official authorization from FWO and the National Highway Authority to build a motorway interchange after being authorized by RDA. Plot prices in Capital Smart City Islamabad have seen a surge since its launch in 2018.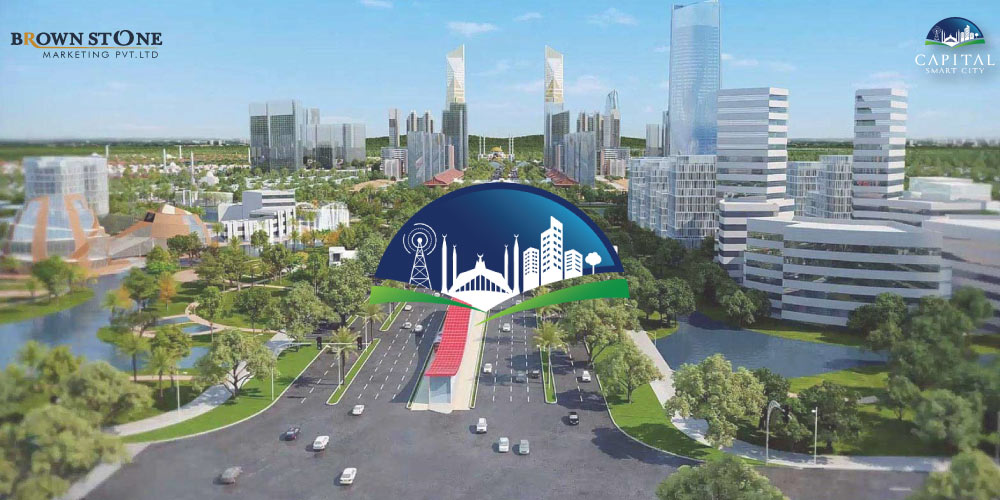 Who Owns Capital Smart City?
The Capital Smart city is a project initiated by FDHL,(Future Developments Holdings (Pvt.) Limited and Habib Rafiq (Pvt.) Limited) one of the best real estate developers in Pakistan known for their excellence in this field. When Investing in Real estate, the two major factors every investor sees is its Location and Developer's reputation. Talking about developer's track record, Habib Rafiq Limited has built the Defense Housing Authority, Bahria Towns, Multan International Airport, and other notable projects. HRL is also the developer of Royal Orchard Multan as well as any future Royal Orchard Societies in Pakistan. As a result of their partnership, Pakistan now boasts smart cities with facilities comparable to those found in first-world cities such as New York, Copenhagen, Berlin, and Singapore.
 Future Developments Holdings (Pvt.) Limited: 
FDHL stands for Future Developments Holdings (Private) Limited. It's a partnership incorporated under the Companies Ordinance of 1984. FDHL promotes the development of integrated communities; these towns have led to worldwide sustainability norms via strong economic and professional dedication.
Furthermore, smart investments, creative urban planning, are the forte of the FDHL group. Given this expertise, FDHL has developed another smart city in Lahore.
Capital Smart City NOC (as of April 2022)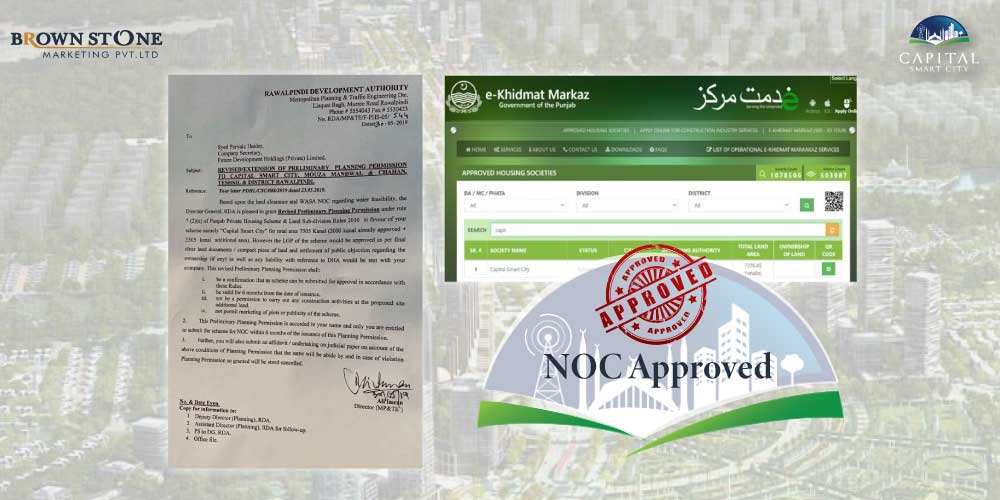 The RDA has already provided the Capital Smart City NOC, which is great news for both investors in real estate, and prospective homeowners. There are quite a few housing societies in the region, but nearly none have received a NOC from the RDA.
This project is part of the legal/approved housing societies list, as shown below:
Where is Capital Smart City Located?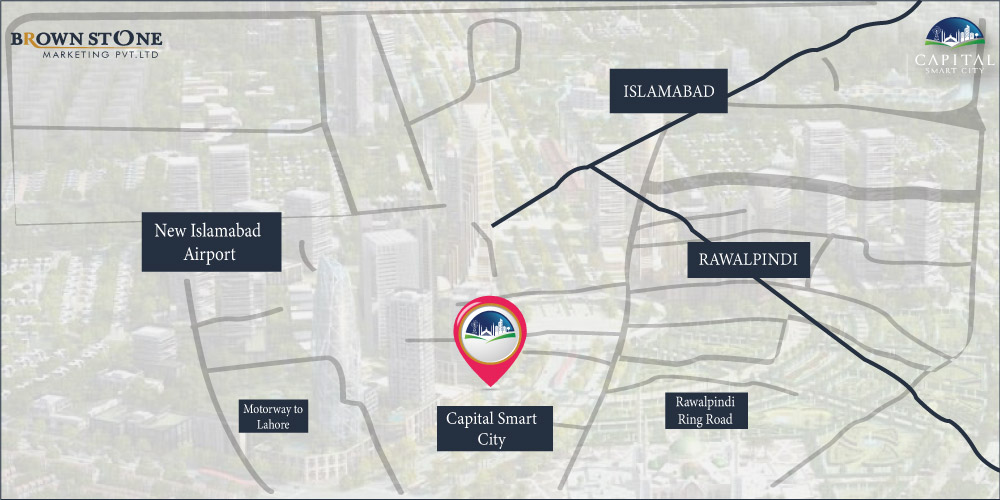 This society is located in the Islamabad and Rawalpindi suburbs, at a prime location. Situated near the Thalian Interchange on the M2 Islamabad-Lahore highway. A 5 minute drive takes you from capital smart city to new Islamabad airport. The housing society, on the other hand, divides Rawalpindi and Chakri Road. The National Highway Authority (NHA) and FWO have given their approvals to build a special interchange on the Lahore-Islamabad motorway. The projected Rawalpindi Ring Road and the forthcoming China-Pakistan Economic Corridor (CPEC) are both in the vicinity.
The CSC is expected to be built over a land area of 60000 Kanals, according to the location and layout of Islamabad Capital Smart City. Within the housing community are the Sill River and its tributary Chauhan Dam making it one of the region's few housing societies with natural water resources. Aside from that, the housing society is conveniently positioned to provide uninterrupted access to Rawalpindi and Islamabad's major roads.
Additionally, the society's natural surroundings, which include woods, hills, and rivers, give magnificent views, vistas, and possible green corridors.
 Capital Smart City Islamabad Map (Master Plan):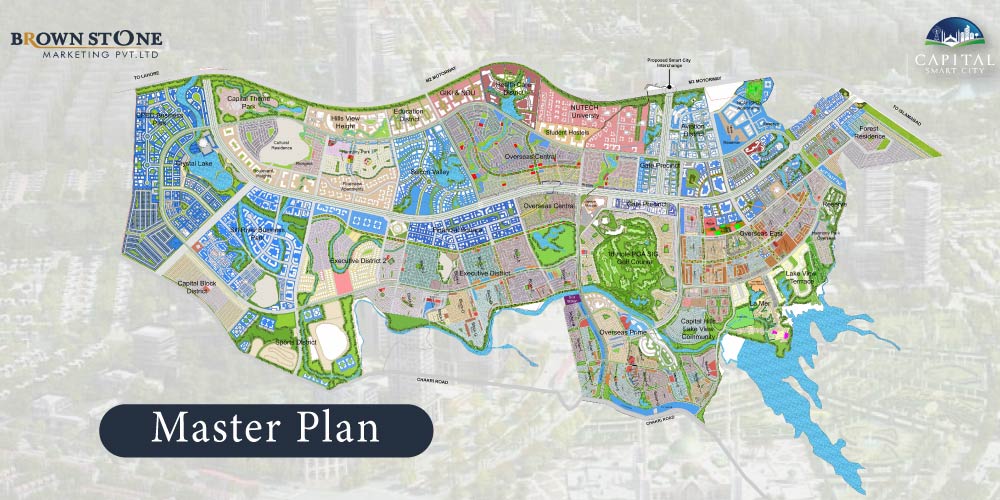 The capital smart city's master plan focuses on building a strategic growth plan for its residents. This housing society provides its residents with a cutting-edge living experience, complete with modern conveniences. This comprises of  advanced features such as a mass transit system with strategically placed stations, central Boulevards, and a cascade of high-rise buildings.
Categories of Capital Smart City plots for sale:
As per recent developments at Capital Smart City, a new block of 3.5 Marla Residential Plots has been introduced at the most inexpensive prices to give equal chance to real estate investors interested in investing in the futuristic housing project – this is called the "The Harmony Park block". This block, which has recently been carved out, will have the same amenities and development requirements as the rest of the society, but plot prices will be much lower.
Element of Capital Smart City
Hills Vista
Financial Square
BRT system
Urban utilities
Crystal Lake
Capital Smart City Blocks
Capital Smart City Executive Block
On the 2nd of May 2019, during the society's inaugural event, the Executive block of this housing project was shown off to the public. The firm also provided a quick overview of the new block's key characteristics and offered customers in the general block the chance to temporarily transfer their plots into the executive block.
The management only offered these plots for conversion for a limited time; the deadline for submitting an application was May 24, 2019, after which the society would need a 30% extra payment for conversion or reserving a new plot in this block. Plots for sale in the Executive Block are 30% more expensive than plots in the General Block, and those who want to convert their plot after the deadline must now pay an extra cost in addition to a set fee.
Capital Smart City Overseas Block
The Overseas Block of this housing project is situated in the top portion of the society, near Motorway M-2, on the right side of the major boulevard. The planned designated Interchange from the Motorway will provide direct access to the overseas Block.
Capital Smart City's payment plan for the overseas block is as follows:
Capital Smart City Overseas Prime Block
After the phenomenal success of Overseas Block, Overseas Prime Block was introduced on September 23, 2020.
The Overseas Prime Block of the Capital Smart City Islamabad is a distinct and privileged enclave inside the society's structure. The Overseas Prime Block would be the most exclusive community, built from the bottom up to be luxurious and totally exclusive.
Here are some of the Overseas Prime Block's key features:
The Capital Smart City's Overseas Prime Block is situated at the highest point in the CSC area. The neighborhood provides a 360-degree panoramic view of the surrounding area, including the magnificent Chauhan Dam and the Khairi Murat Mountain Range.
The Overseas Prime Block will have an international grade 18-hole golf course.
View of the Ferris wheel and the Dancing Fountain: The Capital Smart City's Overseas Prime Block is located at a position that will provide a beautiful view of the dancing fountain as well as Pakistan's largest Ferris wheel.
F2 Race Track: The Overseas Prime Block is the only neighborhood in Pakistan that is planned to host the country's first-ever F2 Race Track.
Capital Smart City Farm houses
The farmhouse block, which will be located near the new Islamabad international Airport, will have all of the luxury amenities, such as utility connections, roads, and so on, but there will be none of the typical congestion and bustle of major cities. The majority of the land has been set aside for vegetation in order to maintain the natural nature of the farmhouses, which are constructed on agricultural areas.
Capital Smart City payment plan for the farm house block is as follows:
Capital Smart City Harmony Park Block
This harmony block is a one-of-a-kind delineation inside CSC, and not only plots for sale, but also villas, are competitively priced. In the Harmony block, all villas and plots for sale are 3.5 Marla in size. Capital Smart City payment plan for the Harmony Park block is as follows:
Capital Smart City Smart Villas
Smart villas are available in two sizes: 5 Marla and 10 Marla, with each size offering two categories of villas in terms of accommodation and décor.
Capital Smart City payment plan for the smart villas block is as follows:
Capital Smart City Villa Apartments
Capital Smart City Islamabad is launching two kinds of villa apartments, namely, one-bedroom villa apartments and two-bedroom villa apartments. These are as follows:
660 sq. ft. 1 bedroom villa apartment
856 sq. ft. 2 bedroom villa apartment
The Villa Apartment takes its name from the exterior and construction of the buildings, which resemble villas. Ground floor, first floor, and second floor will be the three levels of these apartment villas. Each structure will have two flats next to each other, for a total of six units.
Capital Smart City payment plan for the villa apartments is as follows:
Capital Smart City Commercial Plots
The society's commercial zones are providing plots ranging from 4 Marla to 8 Marla on a three-year simple payment plan.
Amenities and Attractions being offered by Capital Smart City:
This housing society will become Pakistan's first Smart City by merging sophisticated technology and providing smart features. As a result, the society will build services and infrastructure that meet international standards, benefiting both local and foreign citizens. In addition to providing inhabitants with a wonderful lifestyle, the society's attractions and facilities make it an excellent investment opportunity in Islamabad.
Features and Amenities offered by Capital Smart City:
Gated community with top-notch security:
Capital Smart City will be a completely fortified and gated community with a safe and welcoming atmosphere for families. The community will be enclosed by a defensive border wall to provide an element of security.
Cutting-edge technology, such as CCTV cameras with facial recognition, scanners, threat alarms, and a team of professionally trained security personnel equipped with the latest gadgets, is used to protect every aspect of the project, all of which are integrated into a state-of-the-art central security and surveillance room to effectively counter any security situation.
In addition, this society will house a fully operating and responsive police station, and fire station in its vicinity to help with any criminal contacts or illegal behavior in the society.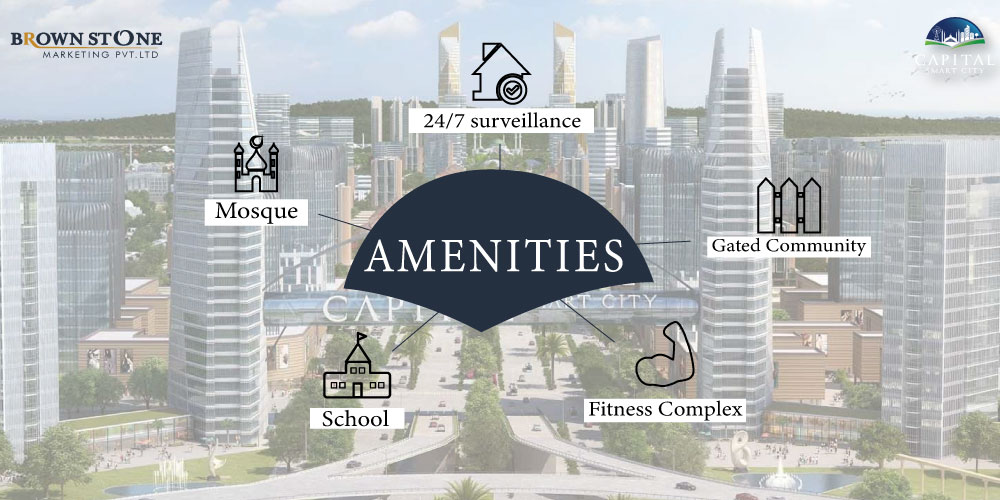 The society will ensure a 24/7 supply of electricity to power all the smart facilities within the society, ensuring that the residents live a stress free high powered life without interruptions. This is done through a smart use of backup generators working in perfect synergy with the society's own grid station, providing residents with a load shedding free environment. The society aims to employ the latest green technologies to generate power; these include solar parks and battery powered facilities to lessen the reliability on fossil fuel powered solutions.
Given the prevailing state of water scarcity throughout the country, water availability is a key feature in any housing project. Therefore, Capital Smart City ensures water availability for its residents, so that they can enjoy a complete lifestyle. Water availability is ensured through a vast network of underground canals, large tanks and tube wells to provide water for all purposes.
In addition, a water treatment plant is being constructed which will provide 'potable water', i.e. water that can be used for drinking and cooking purposes.
Natural gas availability:
24/7 uninterrupted gas supply will be ensured throughout the project, which given the current crisis, is no small feat.
Sewerage Treatment Plant:
Sustainability and environmental friendliness are central tenets of a 21st century 'smart city' project. In that vein, a sewerage treatment plant is being erected, to ensure sustainable waste management. Untreated water may contain illness if it is not properly cleansed. Because humans live, work, and play near water, hazardous bacteria must be eradicated in order for water to be safe.
Solid Waste Management System:
Plastic, paper, glass, metal, and biological garbage may all be classed depending on their materials. Solid waste must be handled systematically to guarantee environmental best practices, regardless of its source, substance, or danger potential. Solid waste management is crucial to environmental sustainability; hence it must be included into the planning of any housing project.
The Healthcare City will house state of the art healthcare facilities to cater to the short, medium and long term needs of residents and visitors alike. Some key facilities available are listed as follows:
This project will house a one of its kind CPEC Business Park, owing to the needs of the modern Pakistani businessman looking to penetrate the Chinese market and employ the best talent to raise his game to an international level. It also provides an opportunity for local talent to work with multinational companies to supercharge their careers.
Top of the line schools and colleges:
Our children are our future, our hope and our legacy. As such, to provide the residents a complete lifestyle, Capital Smart City will house the best schools and colleges in the country.  
One of the key features of a sustainable future is a fully functional mass transit system; therefore, Capital Smart City will house a state of the art BRT (Bus Rapid Transit) system which will connect all of its sectors. By increasing air quality and lowering oil consumption, as well as improved land-use rules, public transportation contributes to a healthier environment.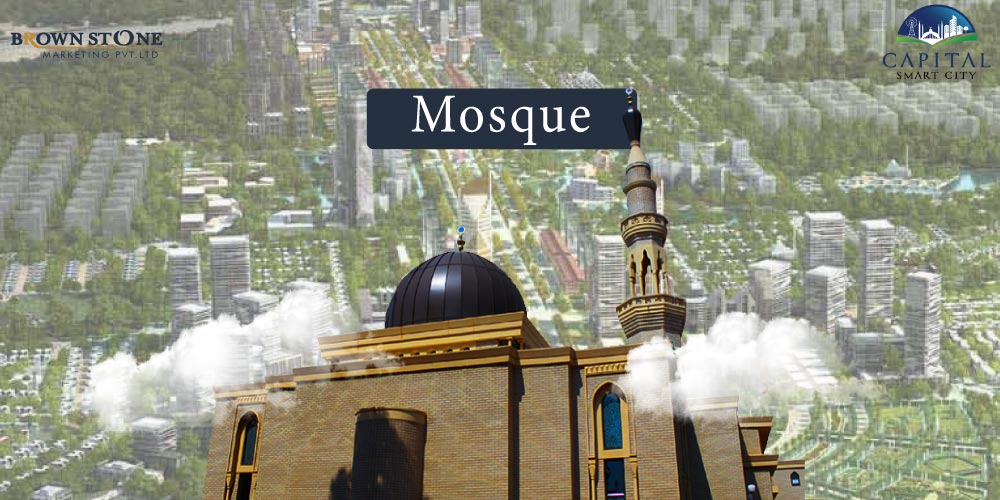 Beautifully Constructed Mosques:
In Islam, the mosque is the most significant institution. Muslims go there at least twice a day, if not three or five times to rediscover their faith, deepen their connection with God, meet their Muslim brothers and sisters, and renew their feeling of belonging in the ummah.
The sports district is a one of a kind multifunctional complex housing playing grounds, gyms, spas, and lush green jogging/walking tracks to provide a healthy lifestyle for the residents of the society. 
If you are seeking a good opportunity to invest or to buy a property in this housing project. We at Brownstone Marketing are here to assist you. We will fully provide you with the support and assistance and all the best options in investing in this housing project. 
The community is located near the Thalian Interchange on the M2 Islamabad-Lahore highway
FDHL (Future Developments Holdings (Pvt.) Limited and Habib Rafiq (Pvt.) Limited.) are the owners of this project
Yes , the RDA has approved the NOC for Capital Smart City
The investors can fill a form through Brownstone which will directly link them with the further procedure.
The complete Payment plan is mentioned in our website.
Yes , the RDA has approved the NOC for Capital Smart City
How is the Capital smart city project different from others?
-The diversity of unique and smart projects makes it different from others. Capital smart city has numerous amenities in each plan.
Is this project limited to Commercial and residential blocks only?
-Capital smart city is providing Smart Villas,Farm Houses,Harmony park Blocks and much more.
What are the amenities in Smart villas?
-Golfing Community,24/7 Electricity, water and natural gas availability,healthcare units,sports district and many other facilities.