Nova City, Islamabad, is a new and developing housing society being developed at the heart of the nation's capital. Essentially, this housing society is being built to provide a luxurious and modern lifestyle with the added benefit of being located between the twin cities. Nova City housing society aims to provide its residents with cutting-edge facilities at a price point that seems too good to be true, given its location. 
Nova city Islamabad intends to serve individuals from all walks of life in Pakistan, in order to build a community that prides itself on the strength of its diversity. This real estate project will compete with the big real estate developments in both Islamabad and Rawalpindi, by providing a futuristic lifestyle to its residents and an excellent investment opportunity for investors. According to experts in the field, Nova City housing society will provide excellent return on investment, given that the plot prices are competitively priced, and are due to increase after development.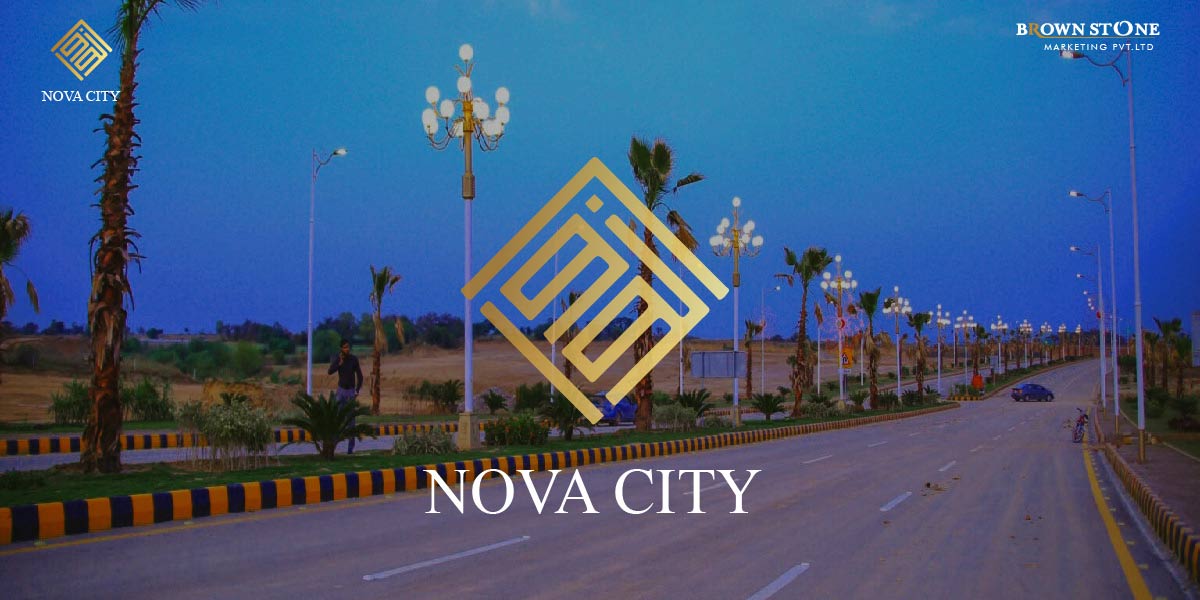 Developer and Owner of Nova City Islamabad:
Nova City Developers are the owners and developers of Nova City. The company is noted for its many real estate projects, high-quality infrastructure, and prompt delivery. Mr. Junaid Afzal is the owner of Nova City Developers. Earlier on, they developed the Nova City School System, which is presently operational in Wah cantt and adjacent areas. They are presently working hard to develop Nova City Islamabad, a cutting-edge residential and commercial development.
Nova Group has always striven towards excellence. They have found a method to provide their residents with everything they need in one project. They try to give their consumers with premium living standards that are cost-effective, inventive, and of the highest quality. They strive to provide services that will go above and beyond your expectations in every way. Nova Group is committed to providing high-quality services and is always looking for ways to add value to your life and ambitions.
The Nova Group commits itself to each of their projects with special diligence, ensuring that residents enjoy a wonderful lifestyle. They have brought the most cutting-edge residential and commercial structures, allowing you to live a luxurious lifestyle like never before. They have implemented worldwide standards of education in their line of projects, which is something that everyone hopes for. They are known for their high-quality construction and workmanship. They were also among the first to use Artificial Intelligence into their building projects.
Nova City Islamabad Location: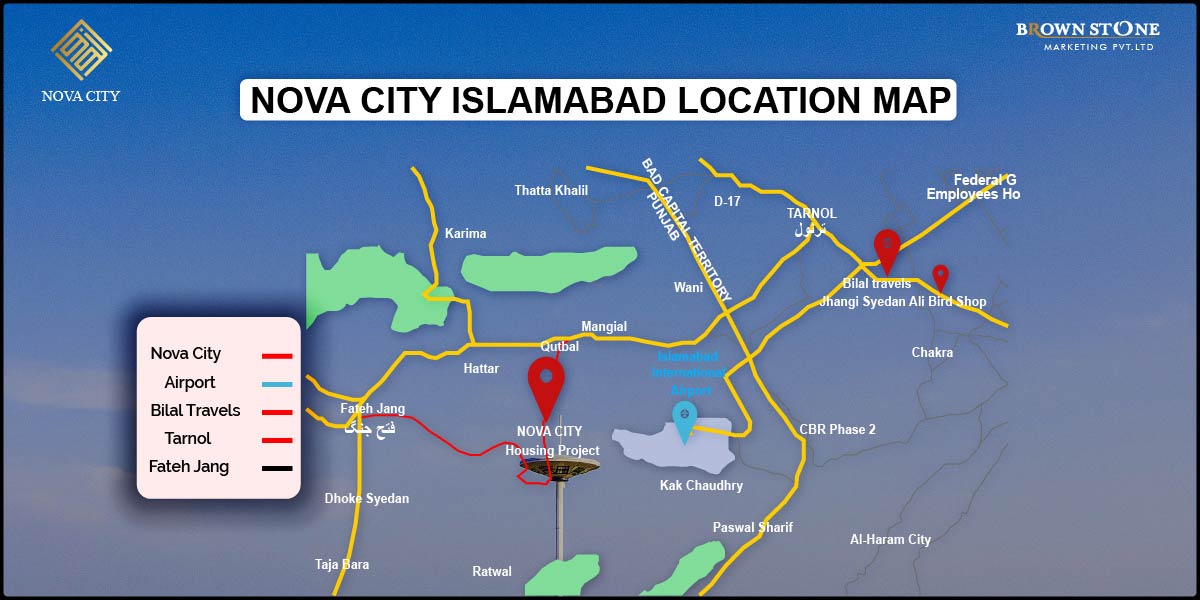 Nova City Islamabad is ideally located near the newly planned Rawalpindi Ring Road and the CPEC corridor. Ring Road serves as the primary gateway, while the CPEC route serves as the secondary entrance to the society. The society is ideally located in terms of accessibility from both Islamabad and Rawalpindi, as such, the network of roads make it conveniently accessible from multiple areas within the twin cities. The M-2 highway between Lahore and Islamabad also offers easy accessibility, making it even more appealing to residents and investors. The map of Nova City Islamabad is simple to use.
It's also just a few minutes drive to the new Islamabad International Airport. The proximity of the airport makes it very appealing to regular flyers. Nova City is designed for business people who want to live in an area with easy access to transportation and communication. The position of Nova City Islamabad is such that three dams, Rama Dam, Sapiala Dam, and Kasana Dam, are all nearby. Another advantage of its position is that it is just a few kilometers away from the picturesque Kheri Moorat National Park, which covers about 8600 acres.
All of these characteristics contribute to society's appeal.
Nova City Islamabad location is illustrated as follows:
Nova City housing society is accessible through multiple routes, these are as follows:
Nova City NOC status (as of April 2022):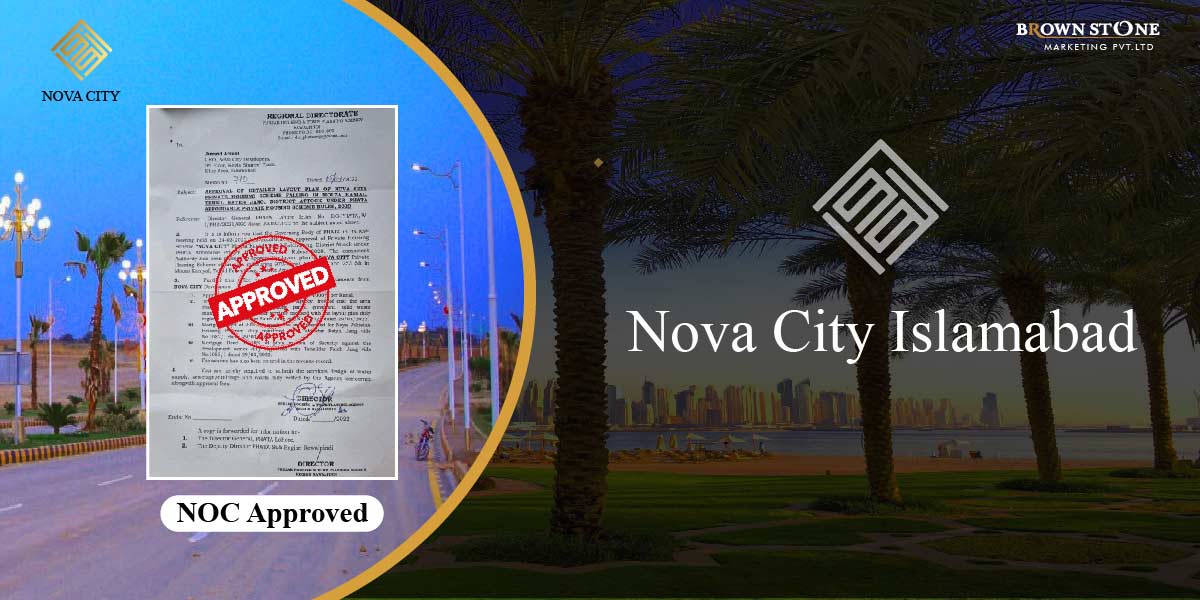 The nod of approval for Nova City Islamabad has been granted by the competent authorities. It is now a registered housing project that is flourishing in the prime regions of Islamabad and Rawalpindi. Nova City has had planning authorization from Fatheh Jang TMA for quite some time. The Punjab Housing and Town Planning Agency (PHATA) have now approved it as well, with letter number 264/MC/ATK. Nova City Islamabad has received a No-Objection Certificate (NOC) for a substantial amount of its land. The moment has come for the developers of the society to concentrate on accelerating its development.
Nova City Islamabad Master Plan:
The master plan for this society is based on a single vision: to create a contemporary residential and commercial environment while conserving the location's tranquil and natural vistas. In a nutshell, the community is intended to provide the contemporary living with a natural touch. The society is distinguishable from all other housing societies in the twin cities due to its highly talented architects and engineers who use cutting-edge technology and processes.
The master plan was developed with the help of internationally recognized real estate developers. Only residential plots were available for investment during the pre-launch period and for a time following the debut. Commercial plots, like residential plots, have just been introduced to the market and have received an overwhelmingly positive reaction. One thing investors should be aware of is that the entire form of the Nova City Islamabad master plan is not yet available to the public. This is due to government guidelines, regarding NOC approvals. Therefore, the developer has not yet made it public because the NOC is in process. However, we have utilized our resources to deliver some preliminary information regarding Nova City Islamabad's layout. Official sources say the community will divide itself into sectors, phases, and blocks, sectors/phases/blocks are further subdivided in society.
Residential Plots in Nova City Islamabad are available in the following sizes:
Nova City Islamabad also houses commercial plots in prime locations with convenient access to the residents and the larger markets. These are plots purpose built to be the most connected to society's business market. The plots are available in a limited quantity, so act quickly to get the best return on investment.
Commercial Plots in Nova City Islamabad are available in the following sizes:
Nova City housing society is divided into 'Blocks', these are as follows:
These units, which are made up of a mix of residential and commercial real estate, form the core of community. The society not only offers its inhabitants a comfortable lifestyle, but it is also a fantastic investment option in Islamabad for all those looking for a high return on their investment. For such quality real estate, plots for sale in the community are priced quite reasonably.
"Nova City Pueblo Block," a new block in the housing society was just established. Investors are drawn to the Nova City Islamabad Pueblo block due of its affordability and exquisite amenities. With the goal of attracting investors, Nova City's management jumped ahead and added this 3.5 Marla plot type in the residential plots inventory. This block was recently developed to help customers with limited budgets to add to their investing options.
These 3.5 Marla Plots are available in the society's top of the line residential block, which will have all top-notch and modern facilities. Both investors and home buyers display immense interest in the housing society's 3.5 Marla Residential Plots right now.
Nova City Payment Plan for Pueblo Block:
In this community, 3.5 Marla plots are a good value for money investment. The plots may be reserved with only a 20% down payment and the remainder paid in convenient payments. The overall cost of the 3.5 Marla Residential Plot is 1,275,000/-, with reservations beginning at 127,500/-. Following the reservations, investors may pay the balance in 40 monthly payments. 3.5 Marla plots in this gated community are unquestionably a cost-effective but profitable investment and residential option.
Nova City Payment Plan for Pueblo Block:
Nova City Payment Plan for Pueblo Block:
Nova City E-Sports Block: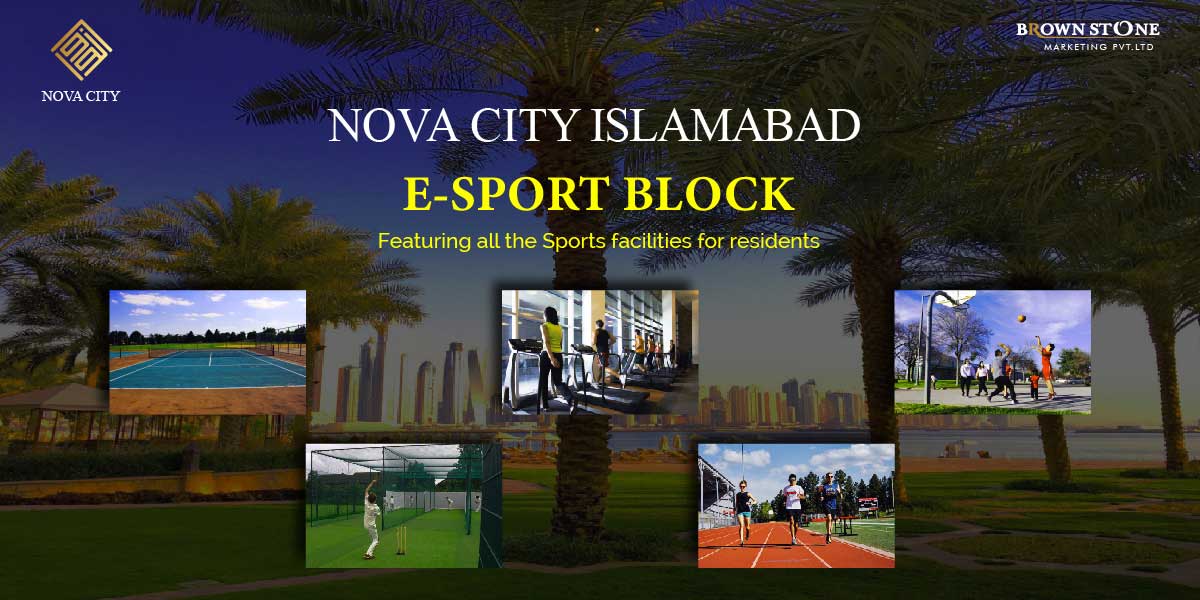 As the name implies, the E-Sports Block houses all of the sports amenities available to inhabitants. Residents will be able to play a variety of different e-sports in their vicinity in a safe environment. These e-sports will be top of the line, and will make the block a central attraction for the entire region. The block, in addition to being home to the absolute bleeding edge in sports facilities, also has residential plots of the following sizes:
Nova City Payment Plans for E-Sports Block are as follows:
Nova City Payment Plans for E-Sports Block are as follows:
Update (as of April 2022):
It has been announced that the possession phase of e-sports block is due to start by the end of May 2022. Additionally, the construction phase of the first 200 villas has begun, which means that the development in the e-sports sector is nearly complete. It is for this reason that plot prices in this society have seen a marked increase over the past few weeks, which is why investors and home buyers alike have refocused their attention on this society.
Nova City Overseas Block:
Nova City Islamabad has introduced the Nova City Overseas Block: A community with world-class amenities designed just for Pakistanis living abroad. This block is designed exclusively for Pakistanis living abroad, with tempting lifestyle amenities such as a zoo, massive parks, international sports and health facilities, and much more. Nova City Islamabad is committed to providing its residents with the most luxurious and up-to-date living facilities in the market, therefore, the developers have provided this block with unparalleled facilities and amenities. The block will have a separate entrance, as well as specialized medical and educational institutes to provide its residents with a complete lifestyle. The overseas block will have a first of its kind 'public WiFi' to keep you connected and ahead of the game so you can stay in touch with your loved ones and always have access to the latest happenings in their lives.
Nova City Payment Plans for the Overseas Block are as follows:
Nova City Payment Plans for the Overseas Block are as follows
Nova City Payment Plans for the Overseas Block are as follows
Nova City Payment Plans for Non Category Plots:
Nova City Islamabad's most recent payment plan for ' non category plots ' is provided to our valued clients and readers who are interested in learning about plot prices in this society. With such a high standard of living and top-notch amenities, Nova City Islamabad plots for sale are available at extremely competitive prices in the region.
Nova City Payment Plans for the Overseas Block are as follows
Nova City Payment Plans for the Overseas Block are as follows
Nova City Commercial Block:
Nova City housing society commercial plots are available for purchase in easy installments. It is possible to buy plot files for commercial purposes at prices that are extremely competitive for such prime real estate.
Plot prices in Nova City Commercial Block are as follows:
Plot prices in Nova City Commercial Block
Plot prices in Nova City Commercial Block
The Booking Process for Nova City Islamabad is listed as follows
We strive to make the registration process, for our valued clients, as easy as possible. The following papers are required at the time of booking:
Facilities and Amenities Provided in Nova City: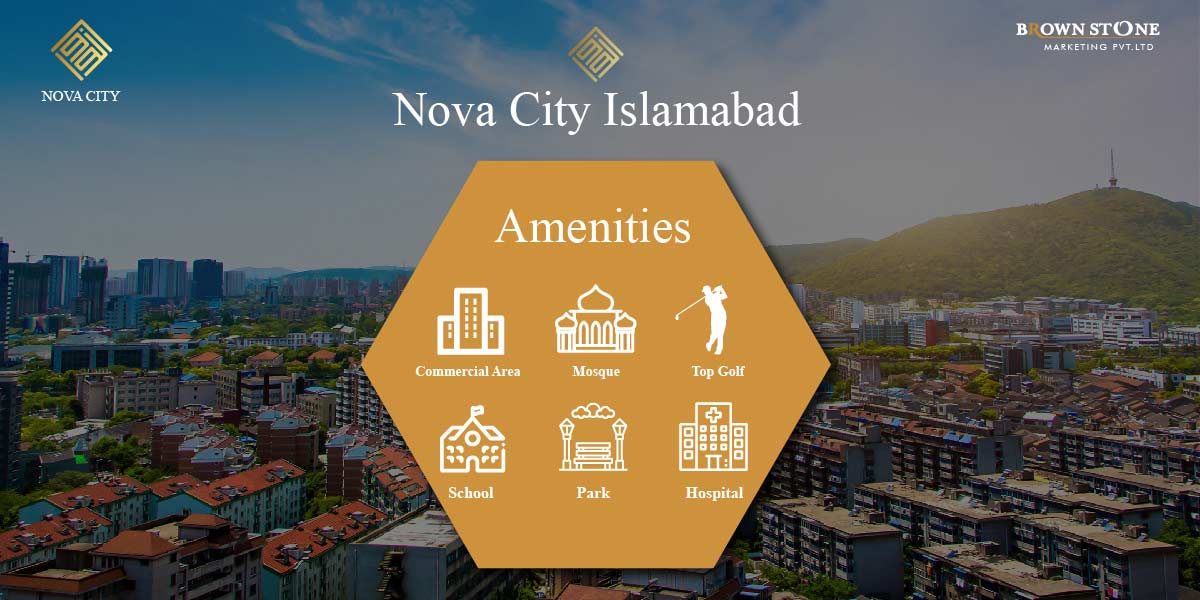 Both local and foreign inhabitants will profit from the society's development of international-standard services and infrastructure. Nova City Islamabad is a well-designed residential masterpiece with all contemporary conveniences and amenities, as well as top notch security systems allowing both residents and visitors the absolute best in terms of lifestyle. In addition to offering inhabitants with a comfortable lifestyle, the society's attractions and amenities make it an excellent investment opportunity in Islamabad.
24/7 Power, natural Gas, and Water availability:
Nova City Grand Jamia Masjid:
A mosque is incorporated in the master plan to assist inhabitants in developing and maintaining a close relationship with the universe's creator. Given the central role of a masjid in an Islamic society, a magnificent mosque will be built to act as both a community center and a place for worship. It is an exceptional example of contemporary Islamic construction, with a large, well-ventilated, centrally air conditioned prayer room, with spectacular minarets and a dome that is sure to inspire awe among all who visit. A serene and peaceful environment has been developed to enhance your spiritual experience. Our purpose is to offer you with a safe and peaceful atmosphere in which to practice your faith and strengthen your connection with God.
A Gated Community with Top Notch Security
Nova City residents place a premium on their safety. We have a Central Security Command Center, which follows the most up-to-date health and safety protocols. Our vigilant and quick-response staff relies on CCTV cameras to ensure that our community is kept safe and secure. Residents will be protected by security guards, CCTV cameras, and a central security command canter.
Lush Green Parks and State of the Art Recreational Facilities:
Nova City has established a unique urban development plan that encompasses residential, commercial, and recreational amenities, as well as a dynamic, ecologically sustainable, and smart lifestyle. To improve the quality of life, a public park and an exotic zoo are being developed. All of the requirements of the residents' families and children are fulfilled. The establishment of an ecologically friendly, well-planned and well-maintained zoo, as well as public parks, will benefit both the citizens, and visitors of Nova City.
Residents will have access to top-of-the-line medical and health-care facilities. There will be high-tech health care and emergency facilities, as well as highly qualified and experienced physicians and paramedics on call 24/7 to ensure complete peace of mind for the residents, even in the most troubling of times.
Educational institutions and commercial hubs:
With the CPEC route close by, the community will be home to one of the region's greatest corporate centers, with limitless economic possibilities. The master design of this exceptional community comprises state-of-the-art, modern commercial avenues, as well as high-standard educational institutions in all sectors of society, to ensure people's accessibility. To guarantee that its citizens have access to the best schools and universities in the country, the housing society will accommodate them, thereby realizing its goal of a complete life for its residents.