Blue World City, the masterpiece of architectural brilliance is the BGC-IGC Consortium's flagship project. Located adjacent to the Lahore-Islamabad Motorway (M2), on the CPEC route, at a 20-minute drive from New Islamabad International Airport, Blue world city is Pakistan's first state of the art tourist destination and residential scheme.
BWC offers the finest lifestyle with attractions such as a replica of Istanbul's Blue Mosque, the world's tallest Horse Mascot, and Rumi's Square, a 5-star hilltop hotel, and a world-class Water Theme Park. All of this with secure and easy investment plans for both local and overseas investors. The project's incorporation of the Blue World Economic Zone makes it a perfect location for local and international traders and businesses to conduct their operations near the CPEC route.
Blue World Housing Society is a futuristic community that features all the exceptional facilities and amenities needed to live a comfortable lifestyle. The list includes 24/7 water, electricity, gas, hospitals, schools, 24/7 maintenance, smart security, a mosque, Cineplex, a fitness centre, etc. As far as the project's progress is concerned, it is safe to say that it is gaining momentum quickly. Our engineers, architects, town planners, and technical supervisors regularly oversee the project's progress.
Get Your Discounted Offer Now!

BLUE WORLD CITY OWNER- BLUE GROUP OF COMPANIES
Blue World City is owned and developed by Saad Nazir, the founder, and CEO of Blue Group of Companies and chairman of BWC. Blue Group of Companies (BGC) is Pakistan's largest conglomerate. BGC began offering architectural design and construction services to its valued customers in Lahore, Pakistan, in 1998, capturing a significant market share. BGC provides clients with a wide variety of services under one roof. These include real estate acquisition, design, development, marketing, construction, and IT support services for residential and commercial properties. With 300 employees at a time, it has evolved into a giant in the real estate business. The BGC is unmatched in diversity and size.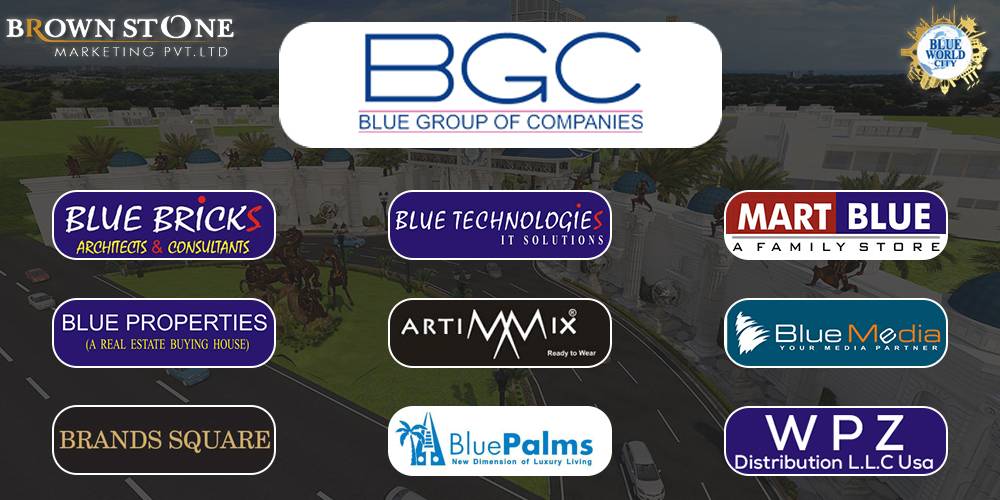 BLUE WORLD CITY NOC STATUS
Blue World City is officially approved by RDA (Rawalpindi development authority) and the district council, therefore it is an entirely legal residential scheme. RDA approved Blue World City's NOC on 07/08/2018.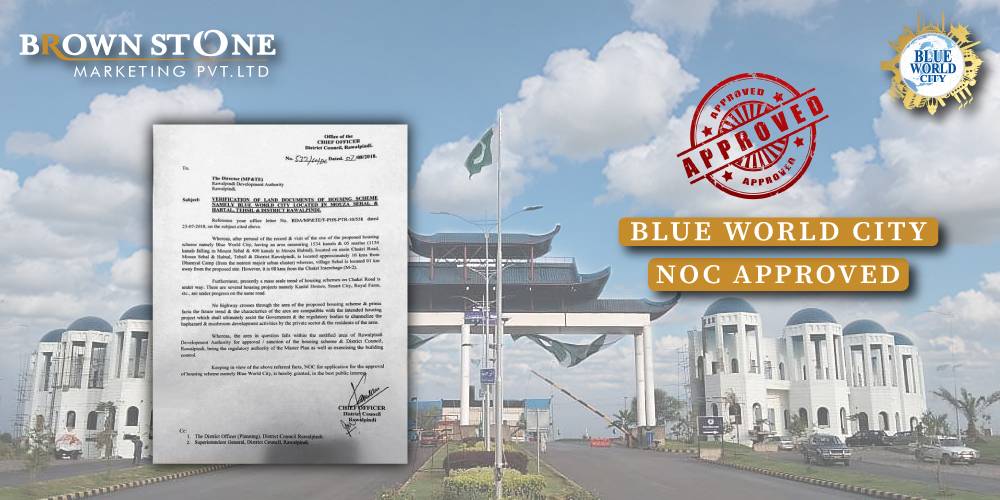 Choosing the right location is vital when
investing in real estate
. Location is an essential aspect of any investment. Investors with experience will always look for investments with high returns on their funds. Blue World City is located on the CPEC route near Chakri interchange and can be accessed directly from the Lahore-Islamabad M-2 motorway. In addition to providing a luxurious lifestyle away from the city noise, BWC is located close to Islamabad/Rawalpindi and the Islamabad international airport.
A variety of significant landmarks & residential areas can be found nearby, including the following.
BLUE WORLD CITY MASTER PLAN
BWC area is divided into residences, farmhouses, and business plots. However, the sizes and classification of the plots available for sale may differ from block to block. Blue world city Islamabad purchased five thousand Kanals of land for subdivision into blocks and plots.
The following are the sizes and subcategories of the Blue World City plots for sale: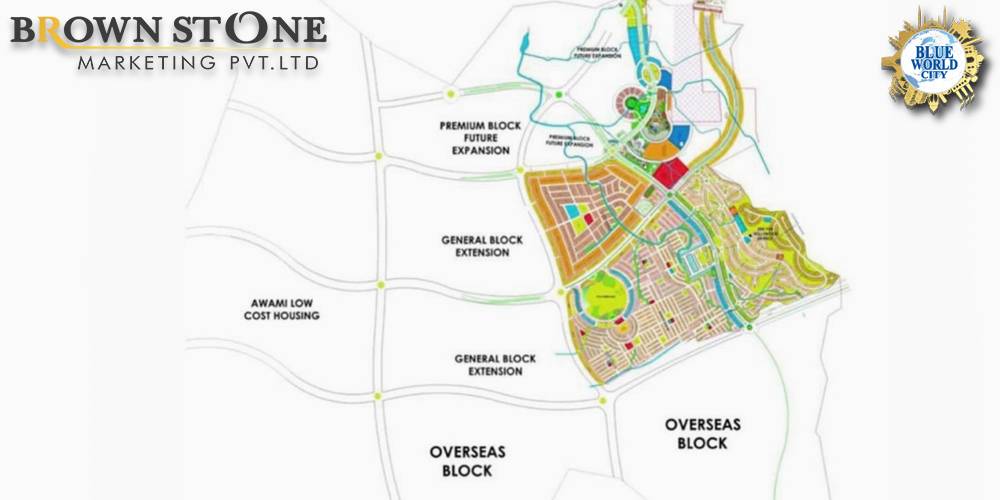 Blue World City plots for sale
Blue World City plots for sale
BLUE WORLD CITY GENERAL BLOCK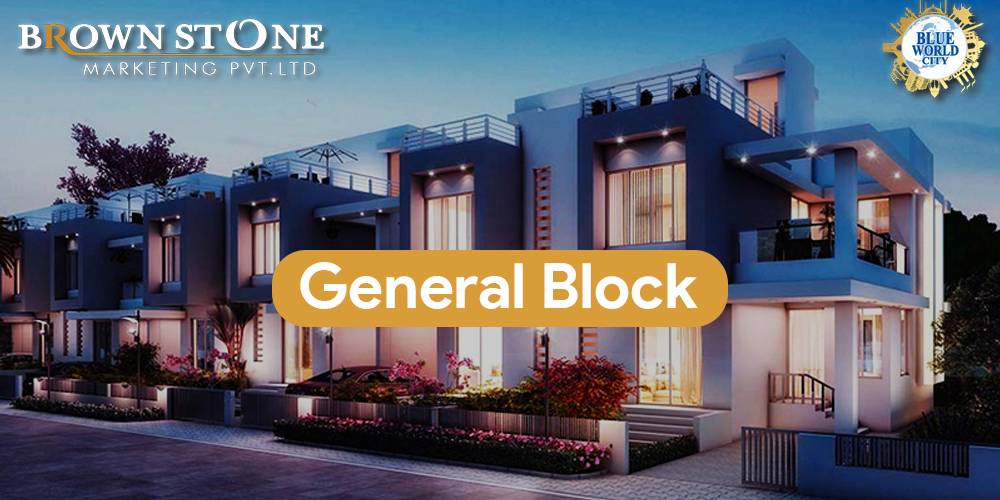 The general block contains both residential and commercial properties, making it an excellent investment opportunity. In addition to its perfect design, General Block will offer an attractive price for an all-inclusive lifestyle. Investing in the general block will give you the highest return on your investment.
Plots in the General Block of the society are incredibly affordable. The General Block offers a 4-year easy installments plan for residential and commercial plots of 05, 08, and 10 Marlas, 01 Kanals, and 02 Kanals. With a luxurious and modern design. This lavish block offers a comfortable and cost-effective living environment and top-of-the-line features and services.
Here is a breakdown of the payment plan for plots in the block:
BENEFITS OF INVESTING IN GENERAL BLOCK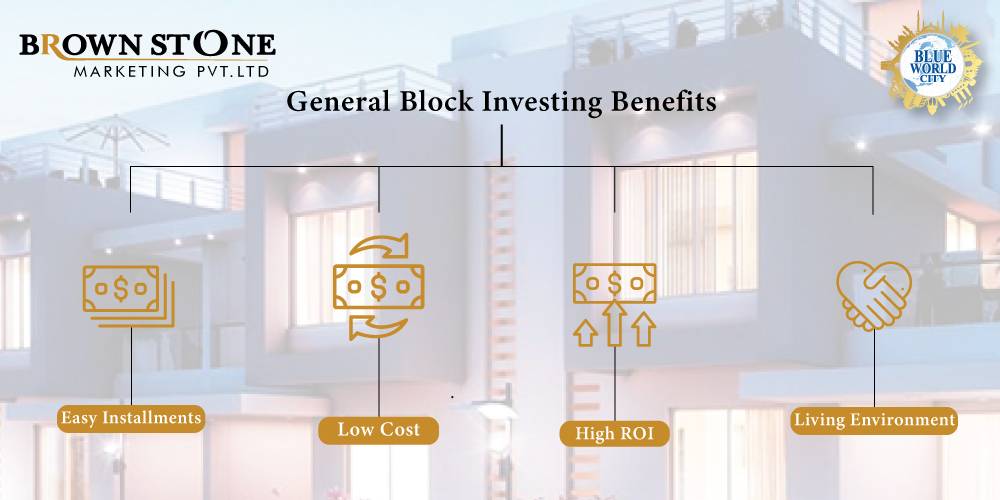 BLUE WORLD CITY OVERSEAS BLOCK
Blue World City Islamabad's overseas block aims to give its residents an upgraded lifestyle. It is a first-class investment opportunity, not just for foreign investors but also for locals. Reservations are secured only with a ten percent deposit, and the balance is due in 40 months or eight half-yearly (16 quarterly) payments.  
This overseas block installment plans are tabularized as follows: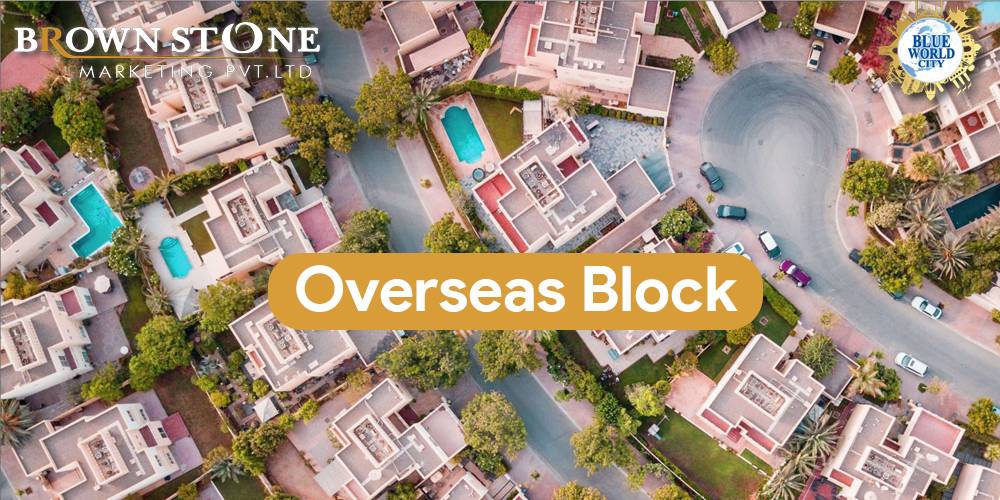 BENEFITS OF INVESTING IN OVERSEAS BLOCK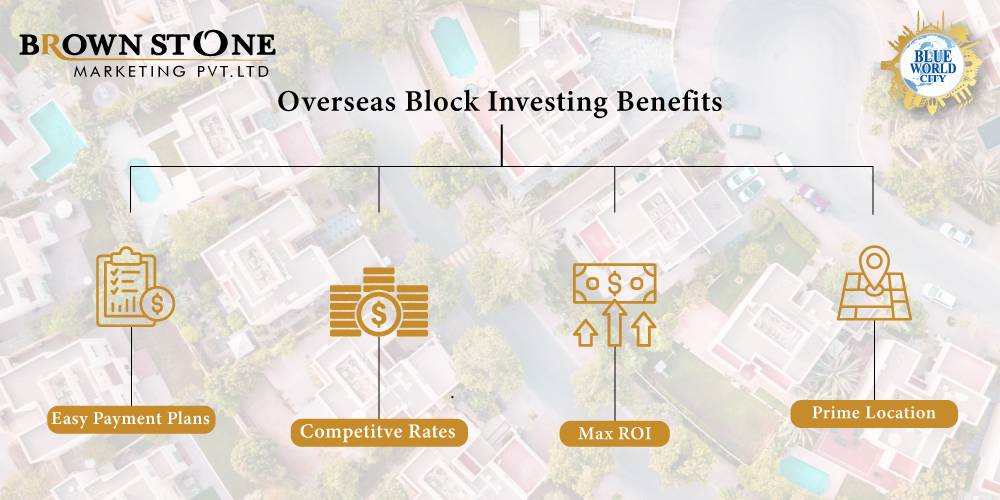 BLUE WORLD CITY AWAMI COMPLEX
Awami Complex is the latest addition to Islamabad's famous Blue World City. The complex consists of single units, independent units, and duplex units. BWC Awami complex units are well-appointed with society's signature amenities. All of the housing units are smart, green, and sustainable. The structure consists of five floors. In addition, there is a basement. A beautiful and picturesque landscape surrounds the complex.
The following are the dimensions of the Awami Complex in Blue World City Islamabad: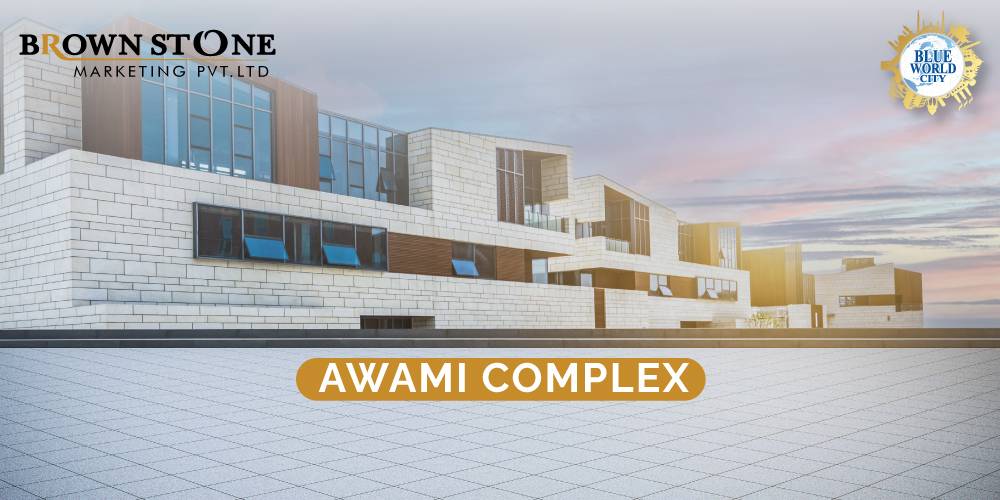 Duplex Villas
Among the most remarkable features of the Awami, Complex is the duplex Awami villas. These villas feature every modern convenience and amenity available in the area. In addition, they provide a variety of living spaces for residents. A notable feature of the villas is their affordability for the average person.
Division of villas into the following categories based on their size and location:
BLUE HILL COUNTRY FARMS
Located in the Blue World City, Blue Hills Country Farms provide beautiful and tranquil getaways for those seeking peace and tranquillity. Planned with meticulous care, the Blue Hills Farm Houses are strategically located in a well-planned area. With its lush green spaces and picturesque landscapes, it is considered one of society's most peaceful and serene areas. Financing options for the farmhouses are flexible and affordable.
BLUE WORLD CITY ORBITAL FLATS
Blue City's Orbital Apartments offer a luxurious, affluent lifestyle. There is no better apartment choice in Pakistan if you want to enjoy picturesque panoramic views all day long. World-class infrastructure development and exquisite housing options are available in the orbital apartments. In the orbiting flats, the goal was to provide spacious, affordable housing.
BLUE WORLD CITY HOLLYWOOD BLOCK
Blue World City Islamabad aims to recreate the experience of gazing upon the famous Hollywood sign in all its splendour. It also promises luxury and wealth. The Hollywood block will be home to the most premium attractions and services.
The society will house an arts complex that showcases the abilities of talented artists from across the country. This block will inspire visitors to pursue their dreams in the performing arts. Blue World City, Hollywood block will serve as a cultural tourism center. Residents and visitors will also take advantage of several luxury amenities and comforts.
BLUE WORLD CITY WATERFRONT BLOCK
The Waterfront Block was recently added to the development to allow residents to enjoy the tranquillity of the waterfront setting. It is located directly on the waterfront, in front of the Overseas Block. The Waterfront Block offers the following exclusive amenities to its residents: 
Waterfront Community
Residents of the Waterfront block will have access to all the required amenities and a breath-taking view of the lake. This residential block offers many advantages, including its location in a prime area and affordable payment options.
Blue World City Waterfront Block Plots for sale
The residents of this block can enjoy modern living at affordable rates. Waterfront block offers cost-effective plots ranging in size from 6 Marla to 18 Marla. Payment plans are flexible and convenient.
Floating Restaurant
Blue World City Waterfront Block in Islamabad will also feature a floating restaurant where you can spend quality time with your family and friends. Located on the shores of Blue World City Lake, this restaurant provides delicious cuisine and a delightful ambiance with a captivating view.
Dancing Fountain
The Dancing Fountain at BWC will be designed and constructed by a team of award-winning architects and developers of numerous other projects of this kind.
The fountain's performance is composed of water choreography, music, and light, creating a visually stunning display. Viewers will be able to enjoy the sight and sound of hundreds of water fountains as they dance to musical notes from the symphony, opera, classical, pop, and local folk music.
Walking Track
A walking track will be constructed to highlight the beauty of the residential community. The track will be located near the water sports club. The track path will take you towards the commercial area, where you can enjoy the beautiful waterside scenery while walking.
Water Sports Club
Waterfront Block will also be home to an international-level water sports club. Water Sports at Blue World City Waterfront Block include Premium Speed Boats, Jet Skis, Water Sports, Wakeboarding, Knee-boarding, Water Tubing, Fin Tubing, Kayaking, and more.
Waterfall
The waterfront district of the BWC will feature a stunning waterfall to provide the best possible environment for its residents. You may not have heard of a gated community with waterfalls; neither have we, at least not in our Pakistan. It will indeed be a fantastic sight. The sound of the waterfall will drown out distracting sounds and will calm the spirits of the residents. BWC strives to provide the best serene environment to its residents. A dedicated security and rescue guard team will also be stationed at the waterfalls.
Outdoor Cinema:
Blue World City Waterfront block also offers an outdoor cinema facility. You can enjoy the view of the lake while watching movies. It will be an international standard cinema. Hence, you will have a complete package of entertainment at your disposal.
Waterside Food Street:
There will be an international standard waterside food court. Besides having a spectacular view, the food will be from well-known local and international brands.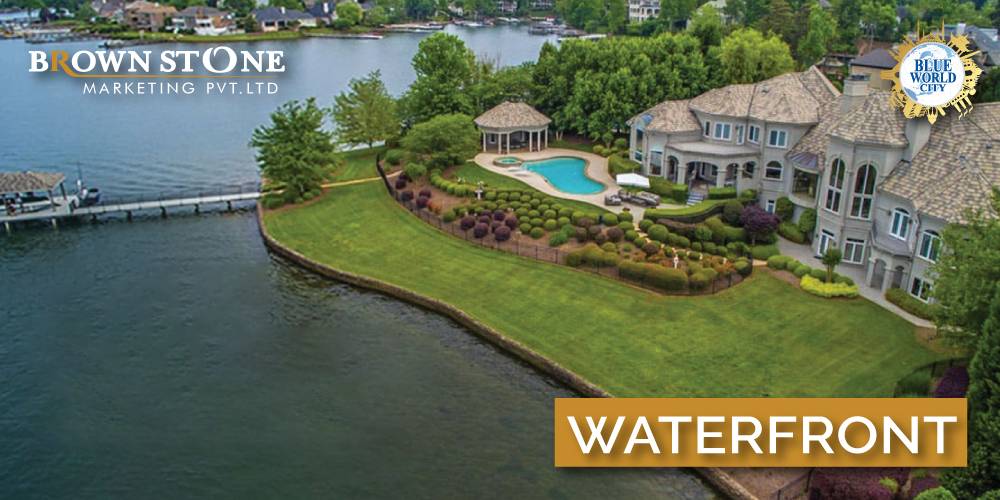 BLUE WORLD CITY FILE VERIFICATION
File verification is a crucial part of any housing project. Investors need to scrutinize all plot information. You can verify the price and registration of Blue World City files using the methods below.
1) You can directly contact Blue World City head office for file verification.
2) Blue World City's online verification can be checked by visiting their website 
3) The file verification process can also be completed by calling Blue World City's contact number. The contact number can be obtained from their official website. 
Benefits of file verification
Investing in real estate is one of the best ways to secure your future. Therefore, it is vital that a person invests wisely, follows all verification procedures, and understands the significance of the investment. Below we have listed some of the benefits of file verification by Blue World City.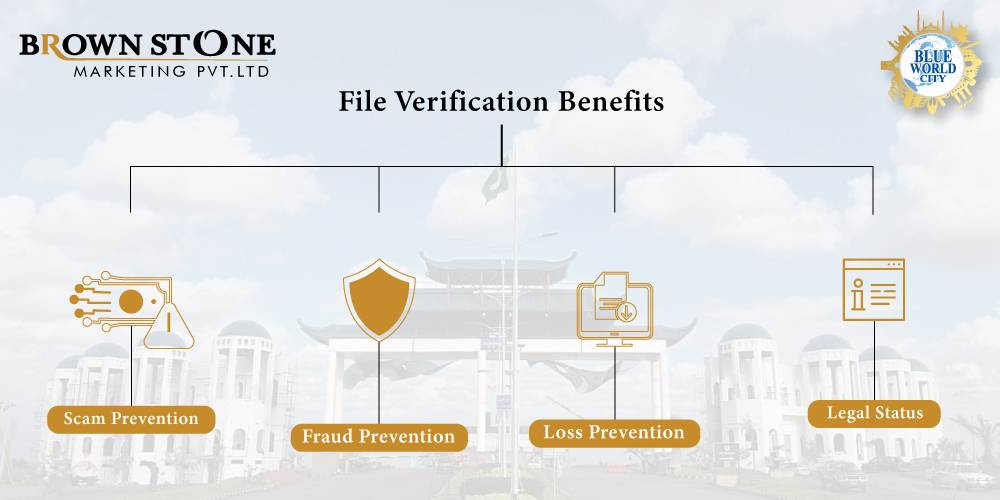 PURCHASING/SELLING A PLOT IN BLUE WORLD CITY ISLAMABAD: GUIDELINES TO FOLLOW
Property Inspection
Before making any purchase, you should visit the site in person and ensure that all written documents match the plot specifications on the ground. Whenever possible, you should check the validity of records before making any purchase.
Verification of the documents
Verify all documentation thoroughly to avoid any miscommunications or misunderstandings. Whenever you consider the purchase or sale of a property, make sure you obtain a copy of the NOC and the approval documents from the developer duly approved by the Capital Development Authority. Consequently, the documentation you provide will be valid by all means necessary to satisfy your customers.
Finances for the purchase
You should ensure that your funds align with your purchase plan before any property sale or purchase to ensure that your transaction goes off without a hitch.
BLUE WORLD CITY PAYMENT PLAN
General Block
Awami Block
Water Front District
Overseas Block
General Block
4 Year Payment Plans
5 Marla residential plots are available at a final discount rate of 1,190,000 Rupees after possession with a down payment of 119,000. Payment can be made in easy 40 monthly installments of 11,900 Rupees or 8 half-yearly installments of 74,375 Rupees.

08 Marla residential plots are available at a final discount rate of 1,530,000 Rupees after possessionwith a down payment of 153,000. Payment can be made in easy 40 monthly installments of 15,300 Rupees or 8 half-yearly installments of 95,625 Rupees.

10 Marla residential plots are available at a final discount rate of 1,830,000 Rupees after possession with a down payment of 183,000 Rupees. Payment can be made in easy 40 monthly installments of 18,300 Rupees or 8 half-yearly installments of 114,375 Rupees.

1 Kanal residential plots are available at a final discount rate of 3,340,000 Rupees after possessionwith a down payment of 664,000 Rupees. Payment can be made in easy 40 monthly installments of 66,400Rupees or 8 half-yearly installments of 415,000 Rupees.

2 Kanal residential plots are available at a final discount rate of 6,640,000 Rupees after possessionwith a down payment of 343,000 Rupees. Payment can be made in easy 40 monthly installments of 34,300 Rupees or 8 half-yearly installments of 214,375 Rupees.

5 Marla commercial plots are available at a final discount rate of 7,200,000 Rupees after possessionwith a down payment of 720,000 Rupees. Payment can be made in easy 40 monthly installments of 72,000 Rupees or 8 half-yearly installments of 450,000 Rupees.
Awami Block
Water Front District
Overseas Block
ATTRACTIONS AT BLUE WORLD CITY ISLAMABAD
Blue Mosque Istanbul replica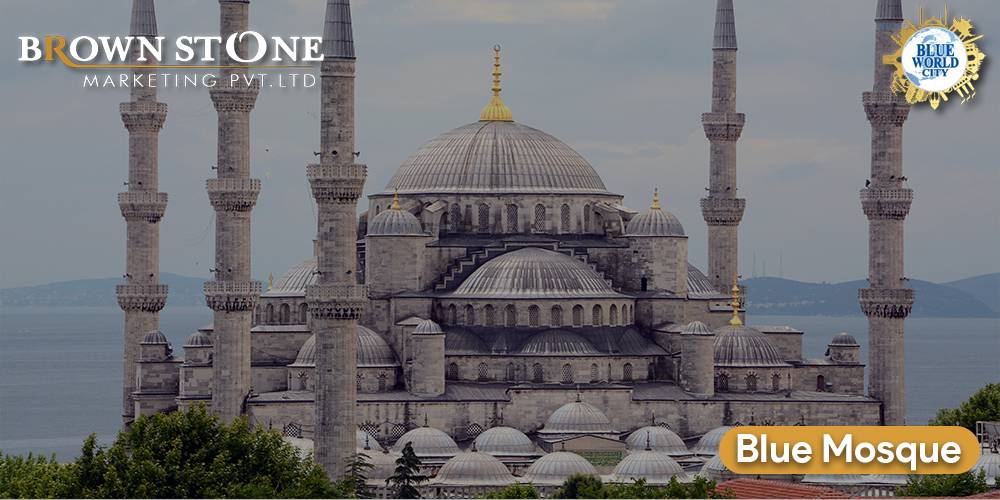 Blue World City Islamabad will feature a replica of Turkey's most popular tourist destination, The Blue Mosque. Located in Istanbul, the Blue Mosque reflects the glory of Islamic civilization and the architectural tradition of the Muslim world. The architectural design of the replica Blue Mosque is being built by a team of professional architects, it will be built over 104 kanals of land.

The Blue Mosque replica at BWC will be a mesmerizing sight for the residents of the twin cities, and its ambiance will evoke the same awe and spiritual experience as the Istanbul Blue Mosque.
A team of professional designers, architects, and engineers will build the tallest horse mascots on the central avenue of the Blue World City. The mascots will be worthy of a place in the famous Guinness book of world records due to their height and structure. They will reach 125 feet from the ground and be visible even from the Lahore-Islamabad motorway, making them the world's tallest night-lit sculptures. Features
World's tallest horse mascot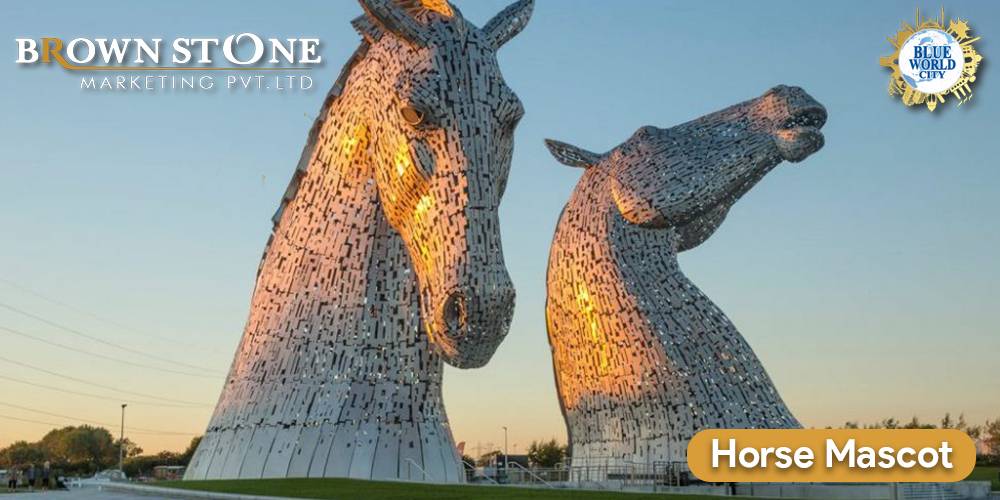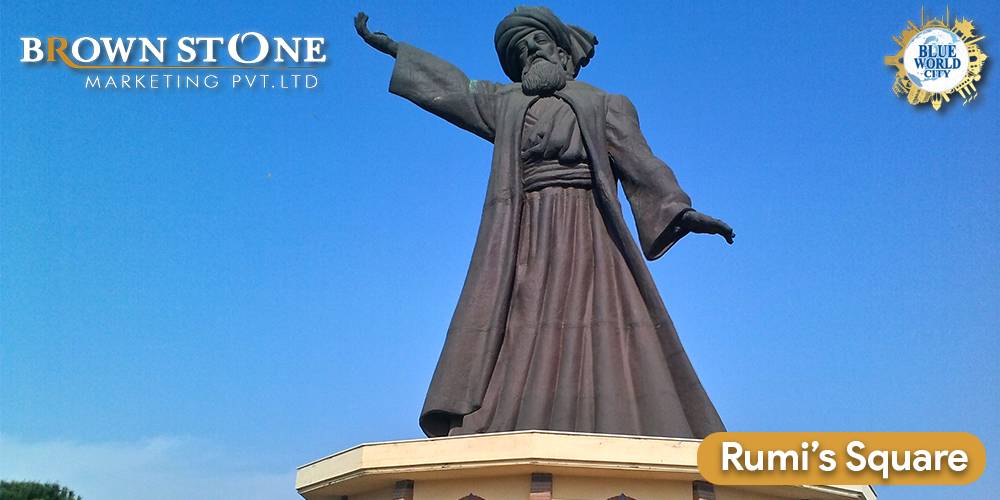 One of Blue World City's principal squares is dedicated to Maulana Rumi, a finely chiseled sculpture of the famous saint in his whirling swirl pose. The residents of BWC will be mesmerized by the air of spirituality emanating from this 70-foot towering night-lit sculpture.
Beat the summer heat with Blue World City's water theme park. This state-of-the-art park will feature fun water rides, pools, slides, fast-food chains, and a kids' play area. It is the perfect place for anyone who enjoys water rides and fun! Everyone can find something they want with attractions like the Wave Pool, Aqua Adventure, and Dolphin Adventure. In addition to restaurants and retail shops, the park also offers a variety of restaurants. From pizza to fashion accessories, you'll be able to find everything you need. Blue World City theme park is set against the backdrop of the magnificent Islamabad skyline, so the experience will be one that you will never forget.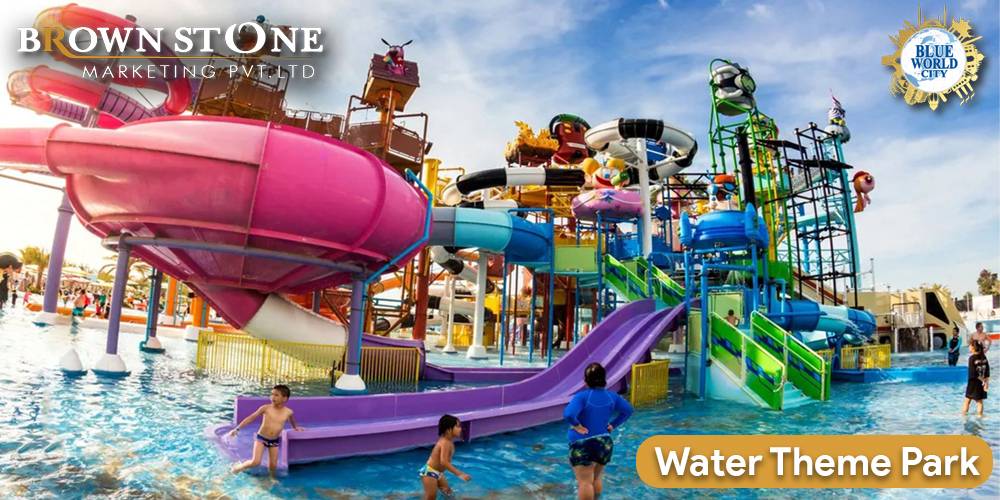 Blue World City's night safari and zoo might be the perfect option for you if you're looking for an exciting way to spend the evening. This unique safari park will feature a variety of exotic animals for tourists to observe and learn about An elegant dinner will be served at the beginning of the night safari. After dinner, you will be taken on a guided tour of the zoo, where all animals can be seen up close. It will be a unique opportunity to see nocturnal animals in Pakistan for the first time.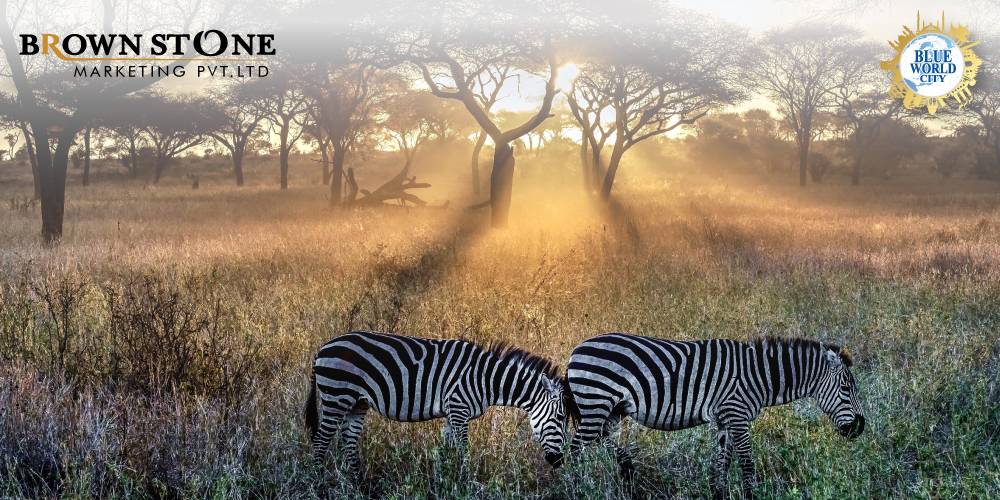 The adventure club at Blue World City will be dedicated to promoting healthy outdoor and fun-filled activities, such as paragliding, horseback riding, ATV ride, and much more.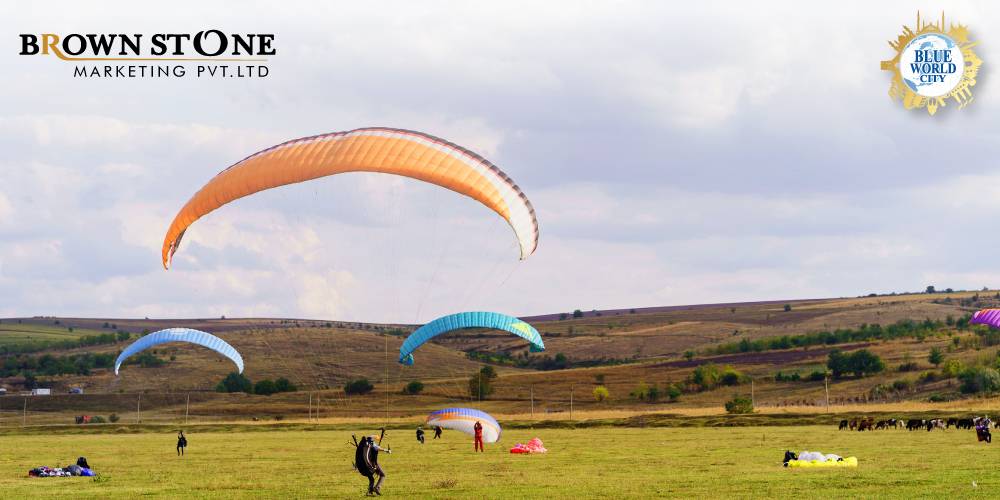 Blue world city's 7-star top hill hotel will be the most luxurious hotel in the world, where you will be able to experience all that life has to offer, from exquisite cuisine to world-class entertainment. Unsurpassed customer service will ensure that customers will enjoy their stay here. The hotel will provide a wide range of facilities, such as a cutting-edge gym, world-renowned spa, and private pool. Guests will also be able to enjoy access to a wide array of services, including but not limited to airport transportation, dry cleaning and laundry, and 24-hour room service.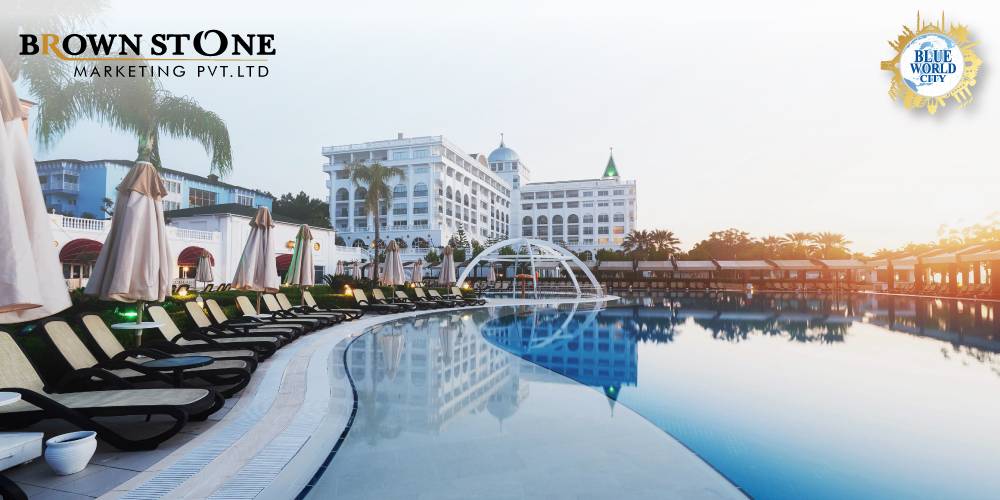 Blue World City Amenities
Quality amenities are essential in enhancing the quality of living; they help build community identity and a sense of belonging. Blue World City offers its residents a variety of modern amenities to ensure a comfortable and luxurious living environment.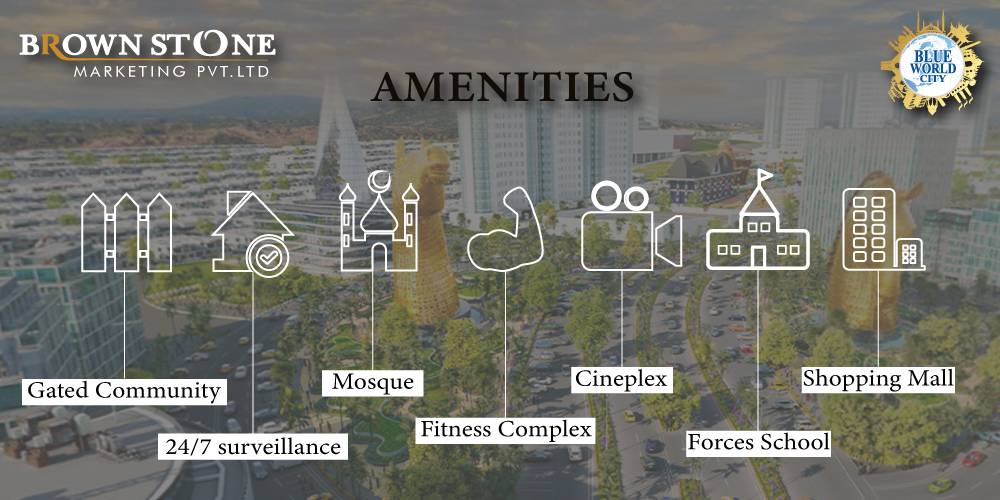 For a quality residential experience, Blue World City will be fortified with smart security measures, options like face recognition, and a smart key card that will ensure the full safety of the residents. Additionally, a shielding border wall will surround the community, to add another layer of protection.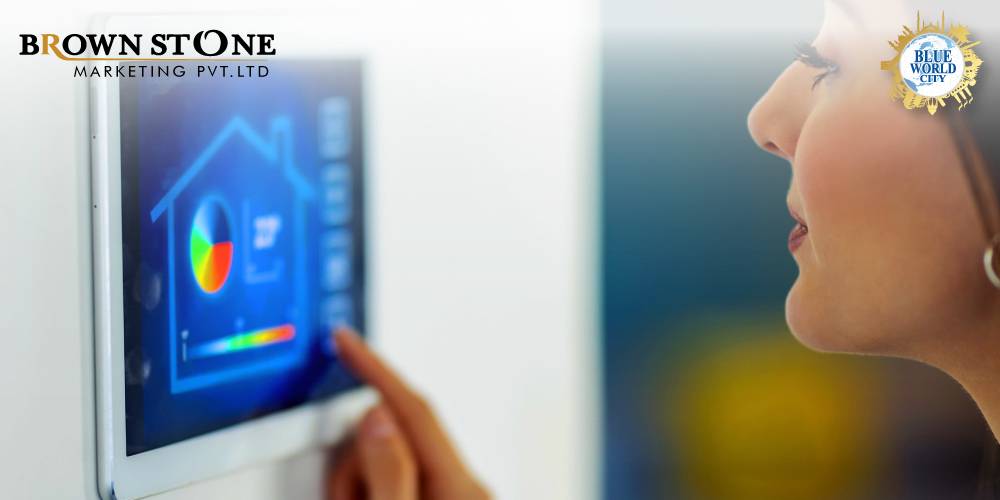 Blue World City's state-of-the-art fitness complex is a recreational, health, and social facility geared towards sports, fitness, and other physical activities. The goal of the BWC fitness complex is to help all residents live healthily and fit life. BWC fitness complex offers a wide variety of classes and activities that will keep you challenged and toned. From cardio to strength training, the complex has something for everyone. Plus, BWC fitness complex facilities are equipped with advanced equipment that will allow you to reach your fitness goals. In addition to the fitness facilities, Blue World City also features a variety of amenities that will make your stay a pleasant one. Our on-site restaurant offers delicious food that will help you refuel after your workout, and our retail store provides a variety of items that will help you look stylish during your workout sessions.
Every sector of blue world city will have its Mosque, allowing residents to pray comfortably and meet their religious obligations without any inconvenience.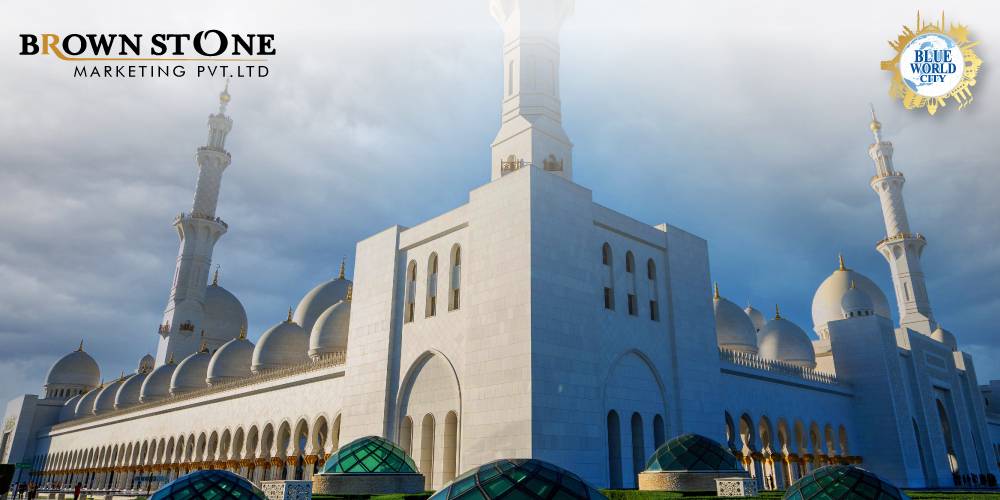 Cineplex at the Blue World will set new standards for elegance and quality in the theatre experience throughout the country. Blue World Cineplex will be equipped with the world's brightest Barco projector and a state-of-the-art 7.1 channel, 4-way QSC digital audio system.
Features of the Blue World Cineplex
24/7 maintenance and surveillance
Around-the-clock maintenance and security surveillance will ensure the safety and comfort of the residents. Smart surveillance cameras and security systems will guarantee the ease and safety of blue world residents.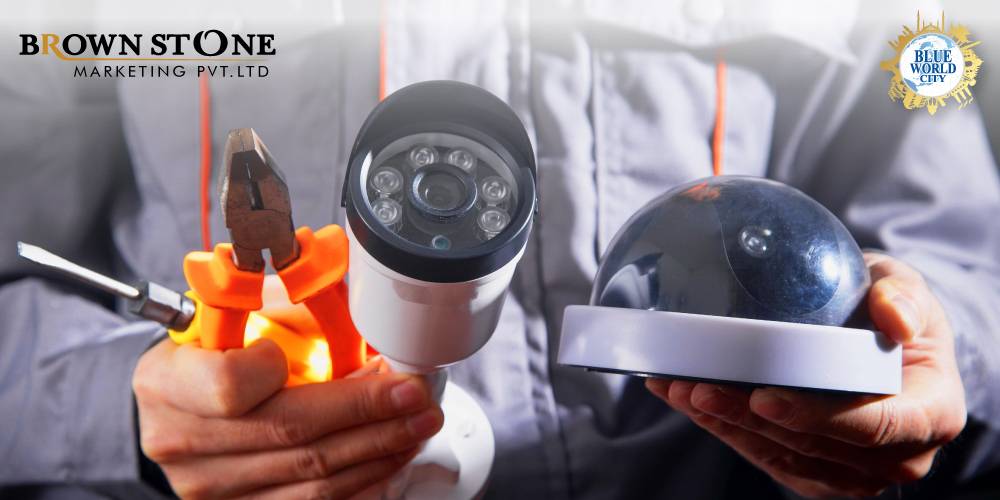 Blue World Shopping Mall, located in Blue World City, will usher in a brand-new era of shopping and retailing. BWC mall will feature over 500 shops, Local and international brands, a food court, a hypermarket, an entertainment zone, restaurant and cafes, a cinema, a grand atrium, and a kid's play area.
If you're looking for a place to shop and spend time with friends, Blue World shopping mall may be just what you're looking for. This top-tier shopping mall offers a wide variety of stores and facilities, including a food court, Movie Theater, and a multi-purpose arena. In addition to all of the standard mall amenities, Blue World City also has various unique features that make it a worthwhile destination.
For example, the mall has a sky garden that offers stunning cityscape views. There is also a water park that includes a lazy river, a wave pool, and a play area for children. You can also enjoy a variety of restaurants and cafes or take advantage of the mall's many entertainment options. These include an ice rink, a laser tag arena, and more.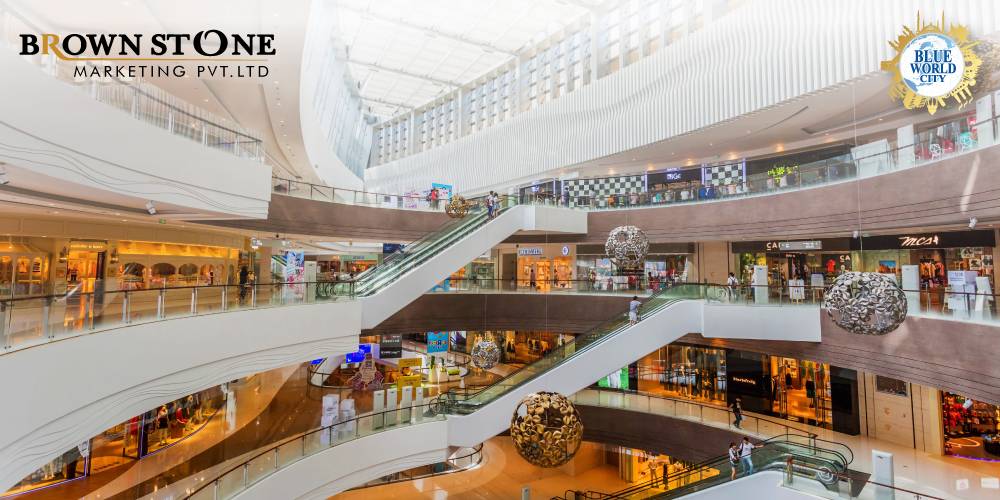 Hospitals and medical facilities form an established component of healthcare provision. At Blue World City full-service healthcare facility with a wide range of medical specialties is available for the residents and people residing nearby BWC. From advanced facilities and equipment to compassionate and experienced staff, BWC hospital will have everything you need to get the best care possible.
BWC will also have a wide range of facilities to help residents relax and enjoy their treatment. These include a 24-hour emergency room, a 24-hour intensive care unit, a full-service pharmacy, etc. BWC is dedicated to providing high-quality service in a caring and comfortable environment.
Clinical departments at BWC hospital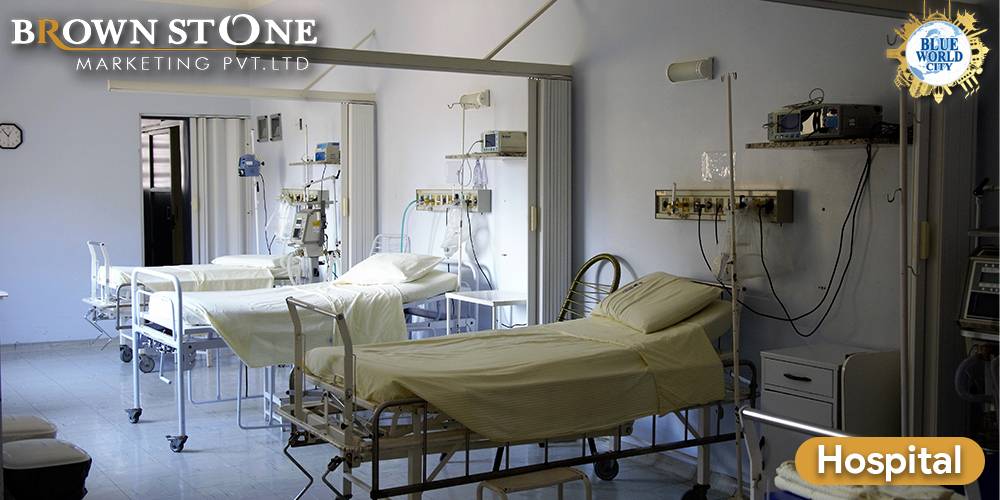 The Forces School and College System (FSCS) was founded to make international quality education available to all. The Forces School & College System has the technical and proficient backing of some of Pakistan's most prominent corporate groups.
Forces School's Flagship Campus in Blue World City is planned to be a top-notch educational institution in a purpose-built campus efficiently divided into administrative, academic, and examination blocks and indoor and outdoor sports activities.
Forces school campus at BWC will include
24/7 Water, Gas, and electricity availability
Blue World City will strive to provide the best quality services to its residents; BWC will be responsible for continuous maintenance and necessary services required by the residents, such as an uninterrupted supply of water, gas, and electricity.
The residential community will have a proficient waste disposal system to ensure that society remains clean and eco-friendly
Clean water is one of the essential features of a housing community. The setup of a water filtration plant at Blue World City will ensure 24/7 water availability and will help improve the residing conditions.
For the convenience of the residents, a well-organized and planned transportation system is being developed to enable residents to travel from one point to the other within the Blue City.
As part of the development, a police station will also be constructed to ensure safety in society. People will feel more secure in the community.
Home to local and international brands
Blue World City will mark the beginning of a brand-new era in shopping and retailing. Over 500 shopping, food, and other retail outlets are planned at the BWC. They include local and international clothing brands, food chains, hypermarkets, entertainment areas, restaurants, and cafes. Blue World recognizes the importance of developing local brands in the shopping industry and supports the development of both local and foreign retailers.
Investing in property is once in a lifetime opportunity, choose wisely. At Blue world city, we have something for everyone, BWC housing scheme offers the finest lifestyle and investment options for you.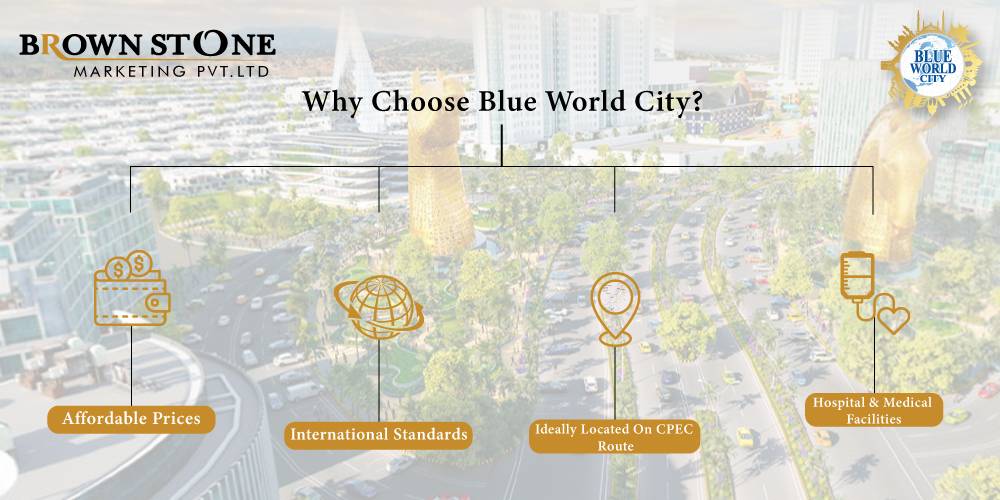 Blue World City is a paradise for entrepreneurs and business owners. This futuristic city offers all the amenities and resources you need to start and grow your business. Blue World City is the ideal place to invest with cutting-edge technology, a talented workforce, and a supportive environment,
The city features a variety of businesses and industries, including finance, insurance, IT, media, tourism, and more. This diversity provides you with a wide range of opportunities and allows you to find the right niche and industry for your business.
The city is also home to some business incubators and accelerators, which can provide you with the support and resources you need to get your business off the ground. Additionally, plenty of resources and forums are available to help you learn about business and investments.
The following are some reasons why Blue World City is a good investment.
The availability of flexible payment plans
Unlike other housing societies in Pakistan that offer the most complicated and expensive installment plans, Blue World City provides the most simple installment plans that can be paid over a more extended period.
High Demand
There is high demand for the convenience of three-year and four-year payment plans among investors due to the ease of application these plans provide to all investors regardless of their financial condition.
Peaceful surroundings
Throughout the development of Blue World City Islamabad, every effort has been made to ensure that residents have a tranquil living environment. In addition, Blue World City Islamabad's prime location contributes to its tranquillity.
High-quality facilities
Blue World City Islamabad offers you a range of world-class amenities at unbeatable prices. From parks to cinemas and commercial centers, apartments at affordable prices, expansive parking lots, clinics, pharmacies, and testing labs to world-class educational institutions, it offers everything with state-of-the-art security and trained security guards.
Hub for commercial activity
You can purchase commercial spaces at Blue World City for a meager cost. The investment may also generate a high return that is unmatched in Pakistan. Stakeholders are, therefore, highly interested in Blue World City for this reason. Blue World City offers opportunities that no other society can match.
Blue World City's Android Application
Blue world city presents itself as Pakistan's top-ranking housing scheme in Islamabad. They offer high-return investment plans. To avail of this great opportunity, blue world city launched its official blue world city app, especially for the overseas Pakistani to register and get the updates about their work and promotions. It is a convenient way to connect with them and be updated with new offers they launched.he developer can provide you with information regarding plots, payment plan, new offers about the property, and much more. So, download this app and get in touch with blue world city for your convenience. their upcoming project will also be launched soon, the blue world trade center. After the accomplishment of their successful project of BWC in which, they offer both residential and commercial plots as well. The legal status of blue world city presents itself with a bunch of investment opportunities for all; the different blocks offer different types of plots. The initial step is the first time they present, get registered through the blue world city app and enjoy their intelligent features with updated information. Login to your account and start your journey with the most incredible investment opportunities only with blue world city. They also offer online file registration; you can access our reliable resources if you want to verify your file through an online system. The other option is verification through the blue world city head office and registers your file online. The whole procedure is mentioned on the brownstone marketing website. Just garb your plot because the first come and first serve system is applied because their limited amount of plot sizes were left until it is too late
You can download Blue World City's application from the Google play store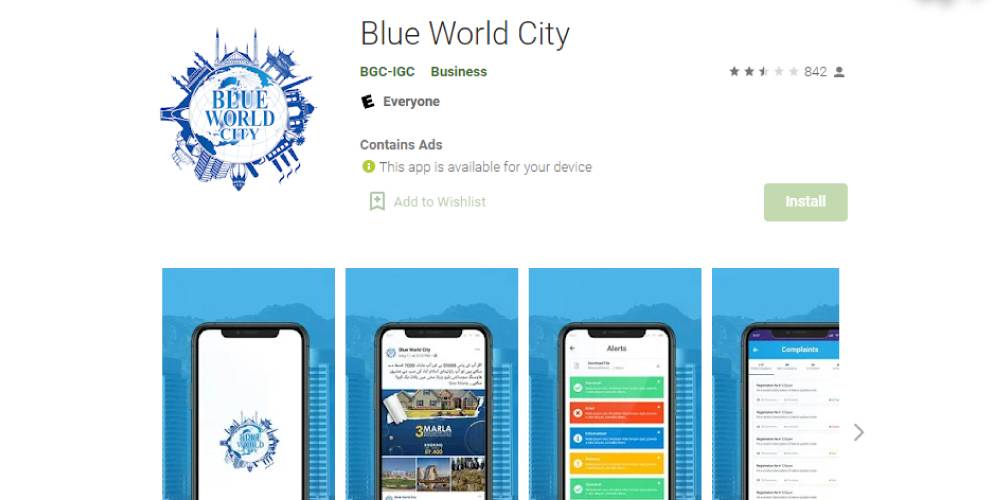 Blue world city Ballot results
Blue World City Overseas block balloting
You can check Blue world City Balloting Result 2022 online
To check the results of the ballot. Please enter the following information: Registration number: CNIC number: Search record.
It is highly recommended that overseas investors check out Blue World City Overseas and participate in the block balloting process as soon as possible due to its numerous advantages.
Blue World City Awami certificate balloting
Check Blue world City Balloting Result 2022 online 
To check the results of the ballot. Please enter the following information: Registration number: CNIC number: Search record.
Blue world city online installment payment
The Blue World Society is currently recognized as one of the market's most successful real estate investments. With Blue World City Online Payment, you may quickly and conveniently reserve your plot on the official Blue World website. 
Frequently Asked Questions (FAQs)