BLUE WORLD CITY ISLAMABAD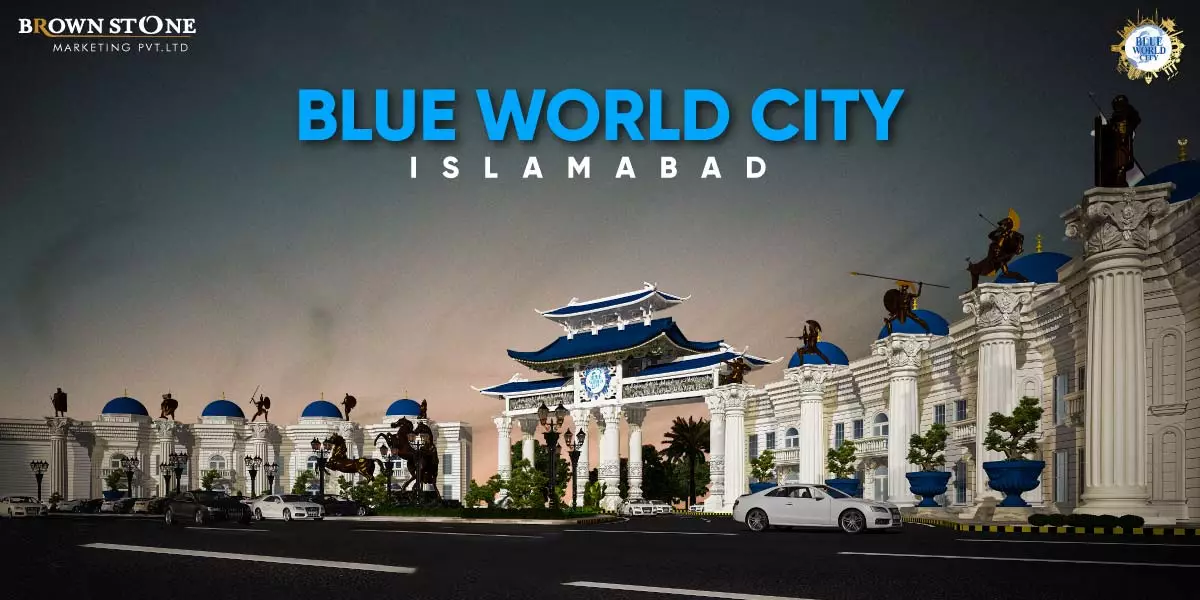 Blue World City, the masterpiece of architectural brilliance is the BGC-IGC Consortium's flagship project. Located adjacent to the Lahore-Islamabad Motorway (M2), on the CPEC route, at a 20-minute drive from New Islamabad International Airport, Blue World City is Pakistan's first state-of-the-art tourist destination and residential scheme.
BWC offers the finest lifestyle with attractions such as a replica of Istanbul's Blue Mosque, the world's tallest Horse Mascot, Rumi's Square, a 7-star hilltop hotel, and a world-class Water Theme Park. All of this with secure and easy investment plans for both local and overseas investors. The project's incorporation of the Blue World Economic Zone makes it a perfect location for local and international traders and businesses to conduct their operations near the CPEC route.
Blue World City Total Land Area:
The current and most significant investment choice only Blue World City offers is placed on a gigantic map location. The venture expands over the Land Area of 150,000 Kanals, and society will comprise various phases and blocks. Each block is allocated on a vast scale with upgraded features and ultra-modern amenities, as per the master plan and its execution, the sizes of plots of Residential, Commercial, and Farmhouses.
Get Your Discounted Offer Now! BLUE World City Owners And Developers:
Blue World City is owned and developed by Saad Nazir, the founder, and CEO of Blue Group of Companies and chairman of BWC. Blue Group of Companies (BGC) is Pakistan's largest conglomerate. BGC began offering architectural design and construction services to its valued customers in Lahore, Pakistan, in 1998, capturing a significant market share. BGC provides clients with a wide variety of services under one roof. These include real estate acquisition, design, development, marketing, construction, and IT support services for residential and commercial properties. With 300 employees at a time, it has evolved into a giant in the real estate business. The BGC is unmatched in diversity and size.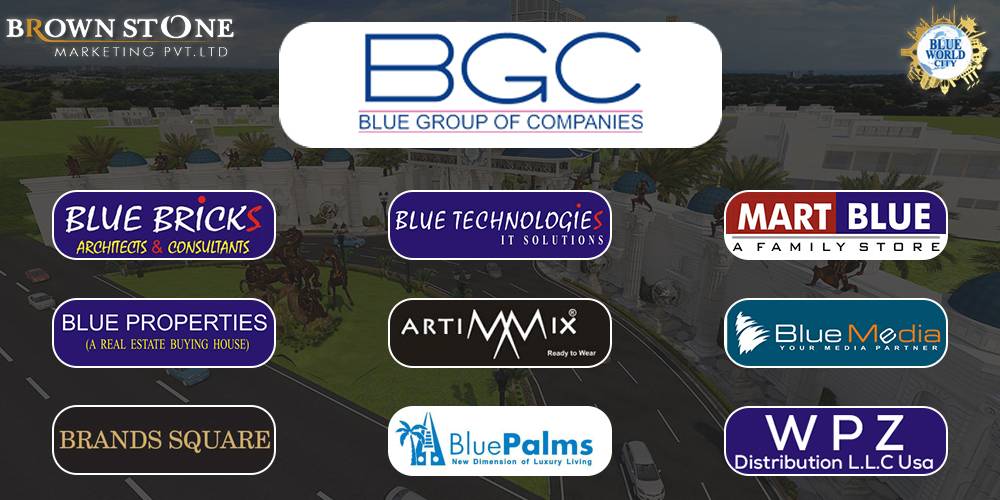 Corporate Structure of Blue Group of Companies:
Blue World City NOC Status:
Yes, you have heard it right. Blue World City has become a legal society as RDA (Rawalpindi development authority) has approved and permission for 427 Kanals is granted. The application of Blue World City NOC was submitted, and now it is coming under the list of under-processing societies. The NOC gave in the Form of vid letter no. 532/10/DC on 07-08-2018. Blue World City is approved by RDA.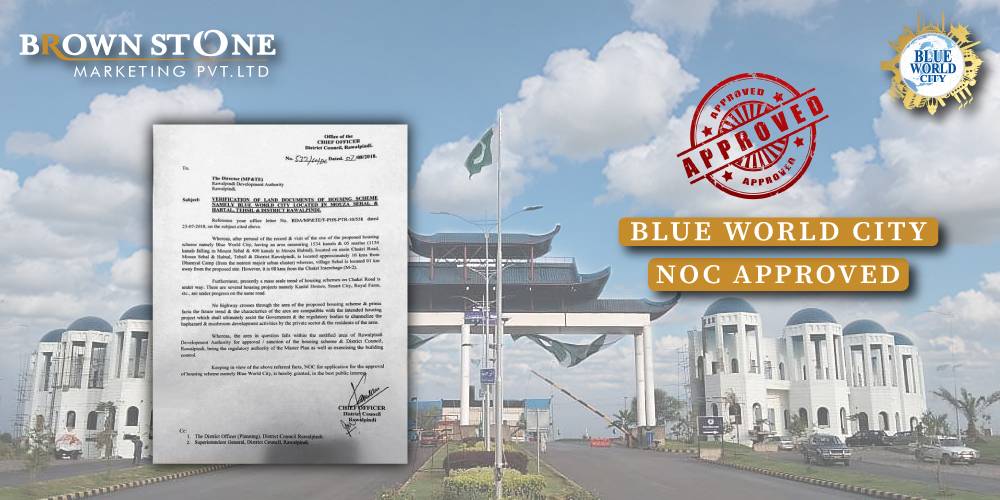 Ideal Location of Blue World City
Choosing the right location is vital when investing in real estate. Location is an essential aspect of any investment. Investors with experience will always look for investments with high returns on their funds. Blue World City is located on the CPEC route near Chakri interchange and can be accessed directly from the Lahore-Islamabad M-2 motorway. In addition to providing a luxurious lifestyle away from the city noise, BWC is located close to Islamabad/Rawalpindi and the Islamabad international airport.
A variety of significant landmarks & residential areas can be found nearby, including the following.
BLUE WORLD CITY MASTER PLAN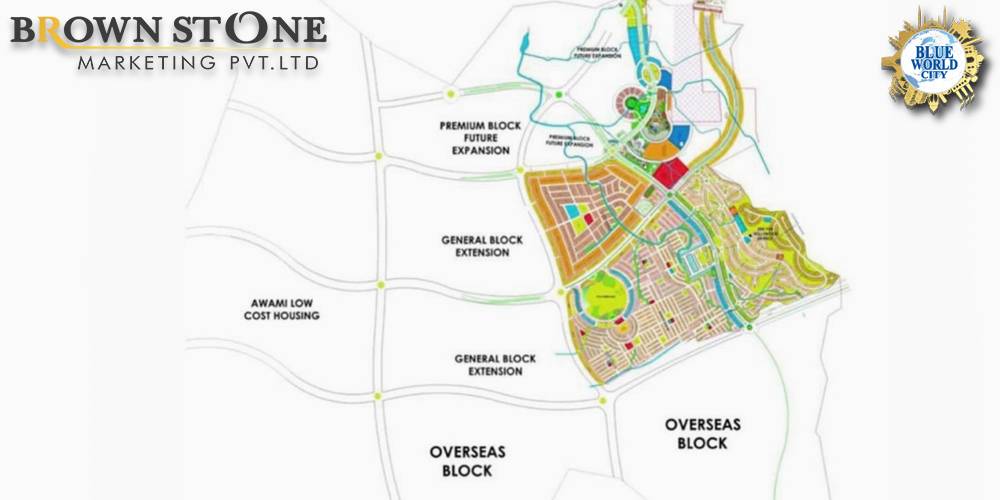 BWC area is divided into residences, farmhouses, and business plots. However, the sizes and classifications of the plots available for sale may differ from block to block. Blue world city Islamabad purchased five thousand Kanals of land for subdivision into blocks and plots.
The following are the sizes and subcategories of the Blue World City plots for sale:
Blue World City Plots For Sale
BLUE WORLD CITY GENERAL BLOCK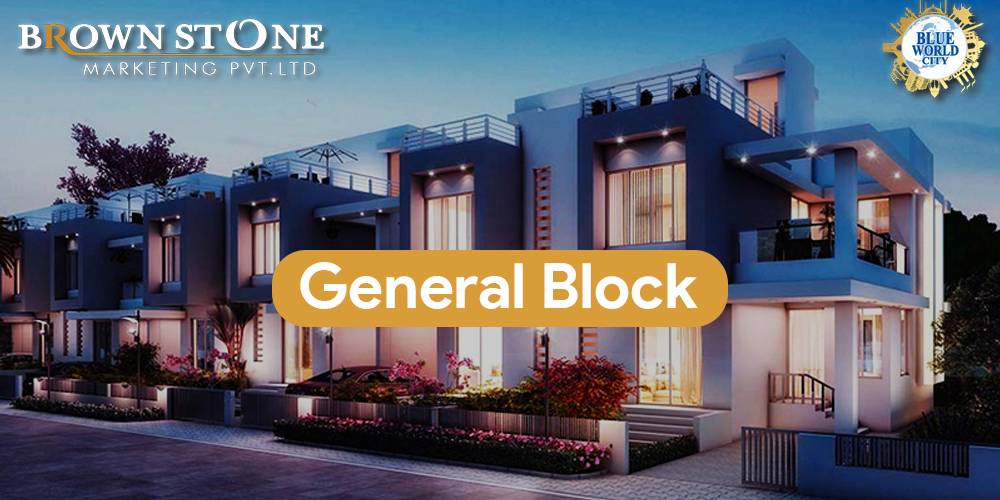 The Backbone of BWC General Block:
The BWC General block is an incredibly affordable venture with the provision of diverse sizes of plots; each plot size has its exposure for home buyers and investors. The block broke into residential and commercial properties with luxurious modern designs and infrastructure. Now, the wait is over to open the door to our world for you. 
The Blue World City General Block contains both residential and commercial properties, making it an excellent investment opportunity. In addition to its perfect design, General Block will offer an attractive price for an all-inclusive lifestyle. Investing in the general block will give you the highest return on your investment.
Plots in the General Block of society are incredibly affordable. The General Block offers a 4-year easy installment plan for residential and commercial plots of 05, 08, and 10 Marlas, 01 Kanals, and 02 Kanals. With a luxurious and modern design. This lavish block offers a comfortable and cost-effective living environment and top-of-the-line features and services.
Here is a breakdown of the payment plan for plots in the block:
General Block Payment plan:
Residential Plot in General Block:
5 Marla:
There is no best option than to invest in 5 Marla GB in Blue World City. If you want to endue your hard earn in residential property, then BWC presents you with a bouquet of investment choices to invest in General block. The total cost of a glorious piece of land is 1,290,000/- after the ownership waiver. Whereas the venture offers choices; if you pay the price of a plot at once, you'll get the ownership. The second convenient option is to book your property just by paying the down payment of a plot. It will be broken down into 40 monthly installments, confirmation, and half-yearly Installments.
8 Marla:
The next magnificent piece of land with a fabulous 200 Sq.Yd (8 Marla). BWC Islamabad offers everything for everyone. Time to expose the total cost of land 1,726,000/-. The total cost becomes scrambled in steps if you want to obtain this plot to follow a complete four-year payment plan.
10 Marla:
The choice to consider while investing in Blue World City General Block. For an extra edge, go an extra mile; the 10 Marla plot is an ideal residential place set at 2,152,000/-. After possession, you become the landholder of this exciting plot.
1 Kanal:
Wait, how much do you want or dream of, the General block offering the 1 Kanal? The total cost of land after possession waiver is 3,630,000/-. The installments option is also to choose; the down payment becomes 280,000/. It's easy to pay and the best to choose.
2 Kanal:
A luxurious place to live, 2 Kanal seems mind-blowing and a vast mixture of perfect plots for sale in Blue World City Islamabad. The total residential property price for 2 Kanal is 7,140,000/-. By opting for a four-year installment plan, you will get land ownership.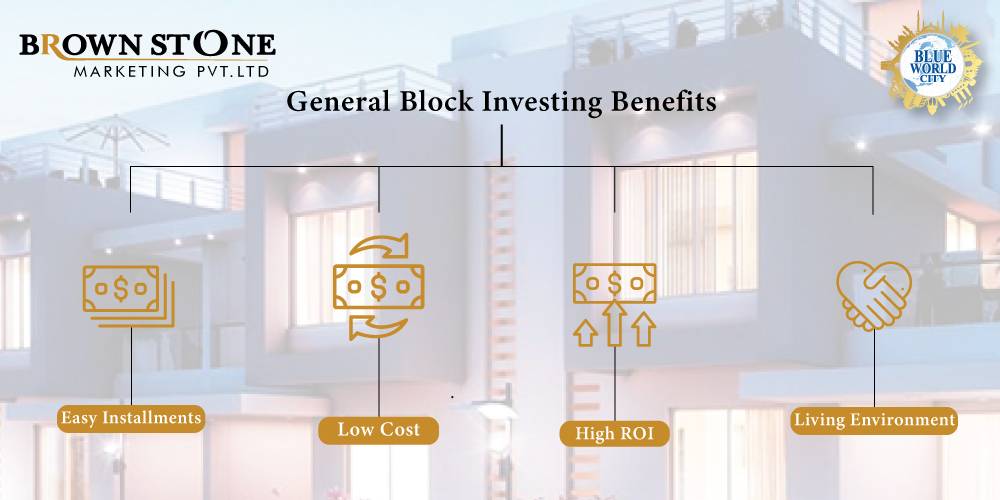 BENEFITS OF INVESTING IN GENERAL BLOCK
Commercial plot for sale in General Block:
5 Marla:
From a commercial perspective, Blue World City offers the commercial 5 Marla plot for sale in Islamabad. It is a terrific option for a business hub; the investor buys this commercial land on a 4-year plan. The total cost of land is 7,500,000/- after the possession waiver. For plot reservations, you need to pay just 10% per month for 40 months, only 600,000/-. In General block, tons of great and exciting amenities await; take a plunge or choose the best according to your taste.
Most awaiting Amenities of General Block: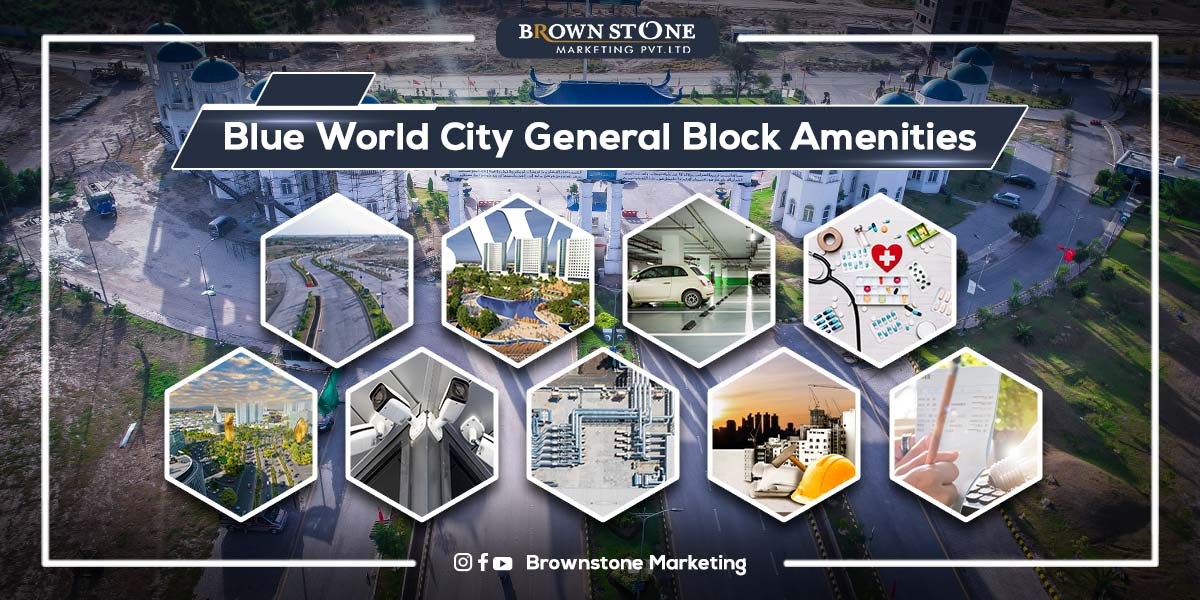 The most thrilling and exciting features only General block is exposing in the BWC venture. An enormous and stimulating amenities await to welcome their residents. A gigantic map shows a wide range of aesthetic amenities, the cost-effective and most reasonable choice for investors and buyers.
Now explore the Blue World thrilling amenities in General Block:
Reserve your plot in BWC General Block:
According to your taste, reserve a plot of your choice, and avail the cost-effective opportunity in the Blue world, don't miss the chance. For reservation, some credentials are required; the following are:
BLUE WORLD CITY OVERSEAS BLOCK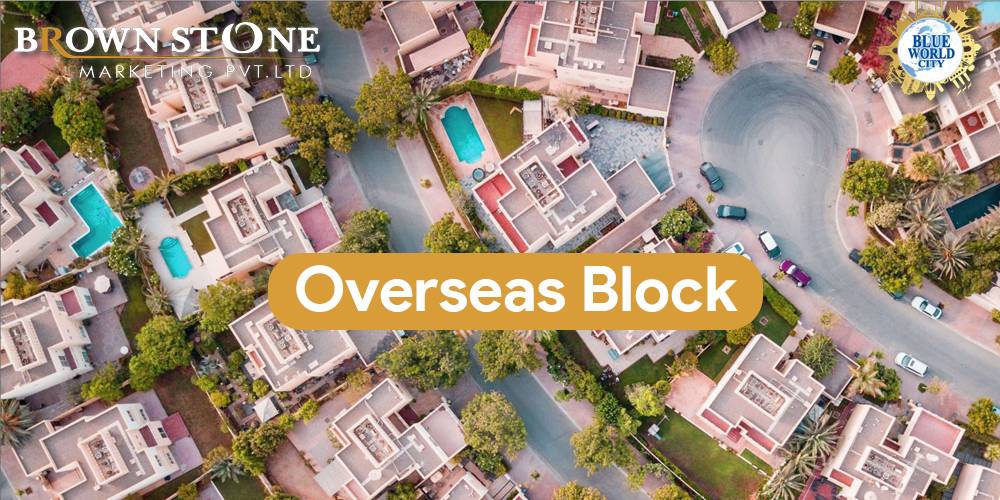 Imagine the world beyond expectation: Blue World City Overseas block
A true privilege to have a true and legal property is your home; the land will surely cherish your generation. Overseas block, it's not just a block, a chamber of investment opportunities at a significant level. A dose of cash into your business is excellent; the investor performs a leading role and makes the company stronger and progress. The Blue world city Islamabad overseas block a handsome platform, especially for overseas investors; BWC ultimately leads to success for their investors. Besides the Chinese accommodation, the society offers lavish amenities for Pakistani overseas as well; they enjoy the premium perk of a gated community specifically designed to cater to all the needs of its inhabitants. With the abundant choice for the overseas destination, a sizeable section has been reserved for the versatile, attractive points with noteworthy features. Blue world city NOC is already approved by RDA. You will get plenty on your plate, the spacious plots, amenities, and features, once we converse about the BWC Overseas block. Potential investors are in a loop to find the trilling sizes of residential and commercial plots.
Blue World City Islamabad Overseas Block aims to give its residents an upgraded lifestyle. It is a first-class investment opportunity, not just for foreign investors but also for locals. Reservations are secured only with a ten percent deposit, and the balance is due in 40 months or eight half-yearly (16 quarterly) payments.  
This overseas block installment plans are tabularized as follows:
Blue World City 4 Year Payment plan:
Blue World City Residential plots for sale in overseas block:
7 Marla:
If you are looking for a spacious residential plot, the 7 Marla plot is the best choice. To get ownership of a plot, pay 1,925,000/-. You can obtain a plot by paying 4-year installments; for the block reservation, a 10% down payment should be paid. After a couple of months, you are supposed to pay the confirmation fee; after this, your installation process will start.
10 Marla:
How much do you want in this enormous kingdom, 10 Marla residential plots just on the total amount of 2,680,000/-.Blue World City stands up on 3ps, price, place, and promotion. A venture's triumph is like a grand slam, with the provision of numerous facilities.
14 Marla:
The venture is especially established according to the taste of overseas Pakistani; the foreign culture has occurred with versatile ultra-modern and luxurious facilities. That's why the management focuses on their living standard and provide a relaxed and peaceful environment. So, for them, it's a cozy platform to enjoy the same series of residential perspectives for overseas Pakistanis. The organization also provides the total price for exposing 3,650,000, the facility of an installment; the down payment is just 280,000/-, the confirmation amount, it's been easy to pay. So book your plot now.
1 Kanal:
What more you are dreaming of is the residential plot for sale in the overseas block. The management primarily designs the property to provide the residents a spacious land with mesmerizing views. The opportunity is on your doorstep; avail the chance.
2 Kanal:
Time to get off the battered path and choose the tourist destination, Blue World City tourist destination. Where mesmerizing views make you feel alive, reserve the 2 Kanal plot for sale in Blue World City Islamabad. The spacious land with mind-blowing features, for plot deposit, must pay 616,000/-. The confirmation amount will become 385,000/-. What else do you want for the possession? The lump sum amount becomes 7,700,000/-.
Commercial Plots in BWC Overseas Block:
5 Marla:
With Countless opportunities and a high return on Investment, the Blue world city provides lavish and modern commercial hubs. For your ease, commercial plots are also available on the Installments policy; the payment plan is broken down into down payment and the respective following steps for reservation of plot 750,000/-. You can become the possession wavier to pay 9,400,000/-.
10 Marla:
On Installment option, 10 Marla commercial plots for sale in Islamabad, available on 1,400,000/- the down payment. The entire amount of 10 Marla plots is just 15,000,000/-. The amount will be scrambled down into a confirmation fee and divided into 40 Monthly installments.
Blue World City Segment:
Only the Blue World Overseas block is divided into lavishing segments to offer luxury real estate assets at a budget-friendly cost. The following segments are: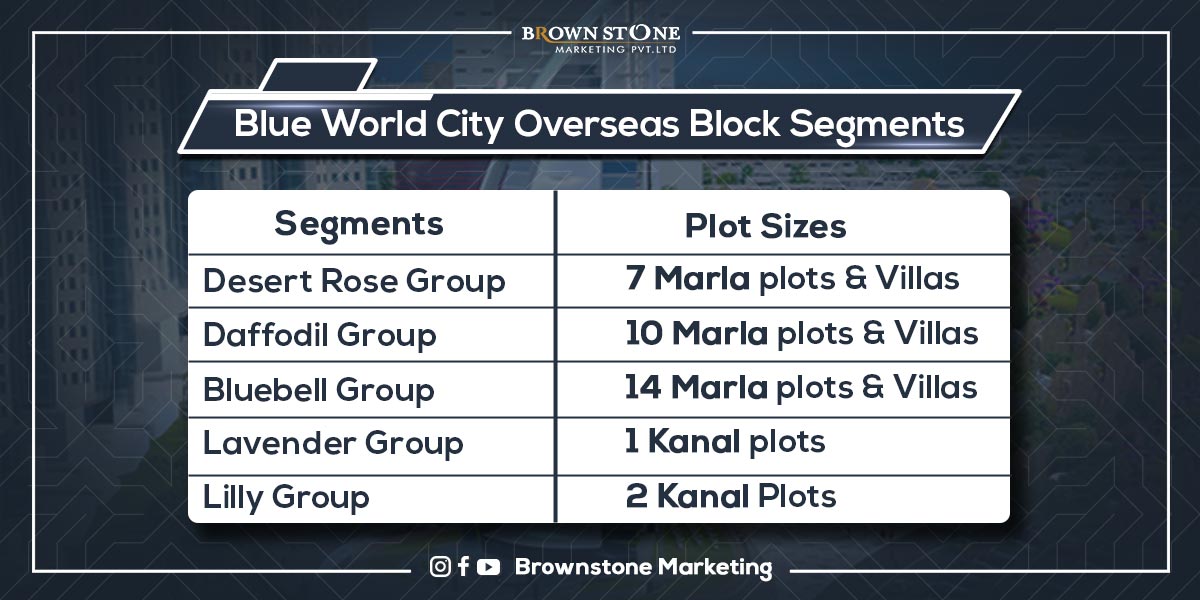 These segment groupings have only been categorized according to plot sizes and villas. Each group symbolizes the essence of flowers; it signifies the land's beauty and overseas block. Reserve a plot according to group & be part of this lavishing Blue World City Islamabad series. 
Lavishing amenities of BWC Overseas Block:
The well-planned sector with superb facilities in an eco-friendly environment. The management is eager to use state-of-the-art technology and ultra-modern equipment to develop the overseas block at international standards.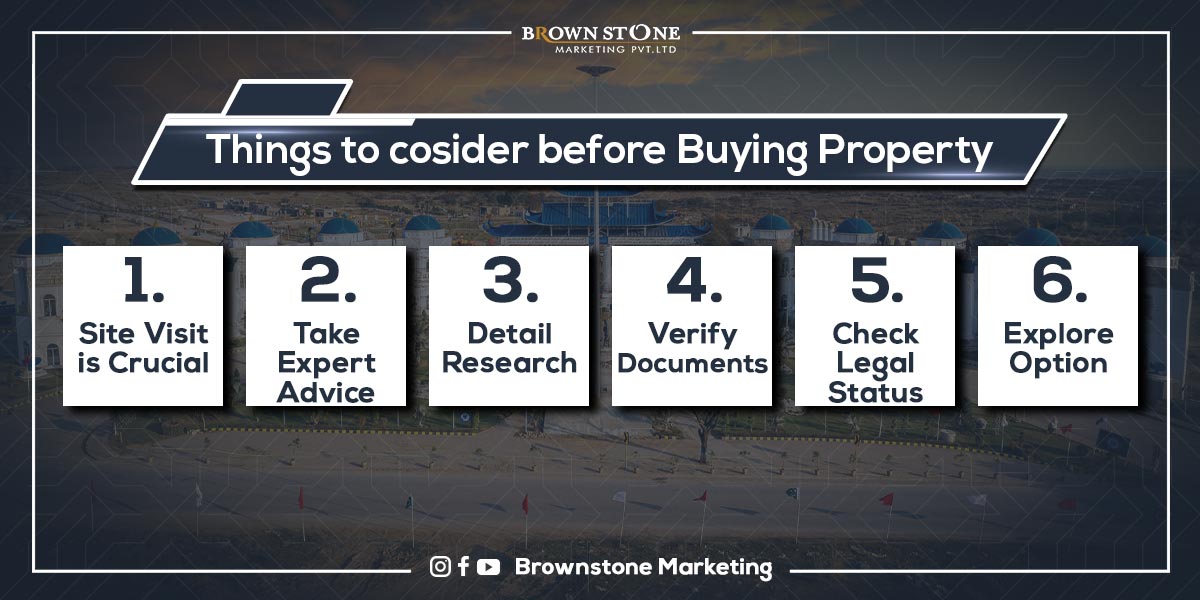 The booking procedure of each block in BWC is pretty the same; no need to worry about our real estate advisor and a consultant will help you achieve your desired and luxurious living standard.
Before investing in the real estate sector, you have to keep this in mind.
No other society provides you the guideline to check the legal society status before Investment; only RDA-approved Blue world City Islamabad gives you complete satisfaction because you're hard earn is treasurable for us.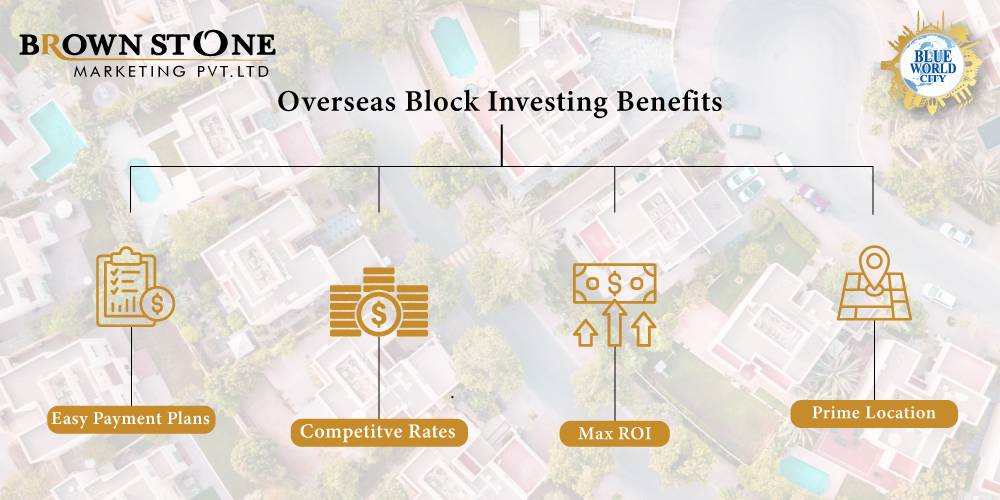 BENEFITS OF INVESTING IN OVERSEAS BLOCK
 BLUE WORLD CITY AWAMI COMPLEX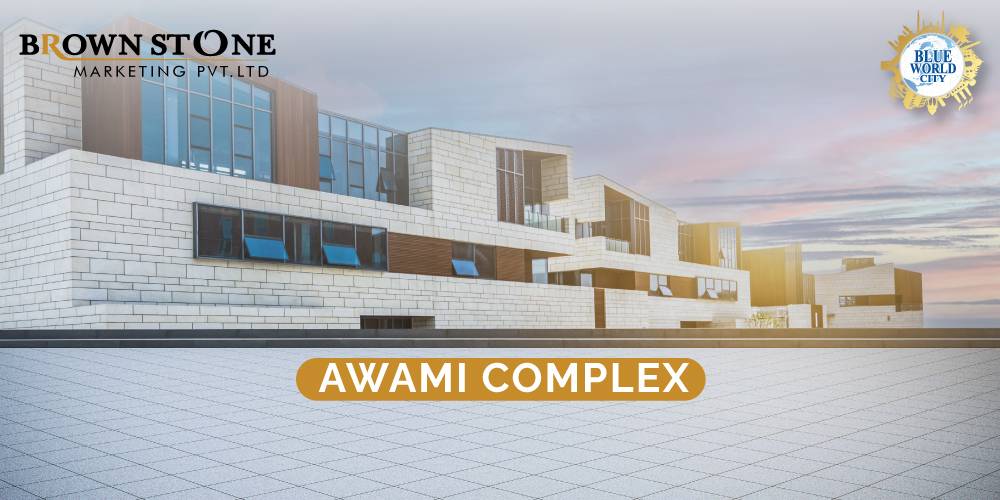 Idealist place to live: Awami block:
A crowning stroke achievement in Blue World City, the most affordable and latest addition in BWC, is the Awami block. This block is specifically for the salaried person. They can easily pay their affordable installment; now, everyone can imagine accommodating at a luxury place. The foremost thing that comes to mind in real estate investment is its location; the BWC is positioned at accessible businesses from significant sites. The venture is located at Chakri road, near Lahore Islamabad Motorway M-2. The entire community is saved with the leverage of the latest amenities. According to the Awami block map location, the exciting features await to welcome their residents for fruitful amenities hamper.
Distinctive features of Awami Block: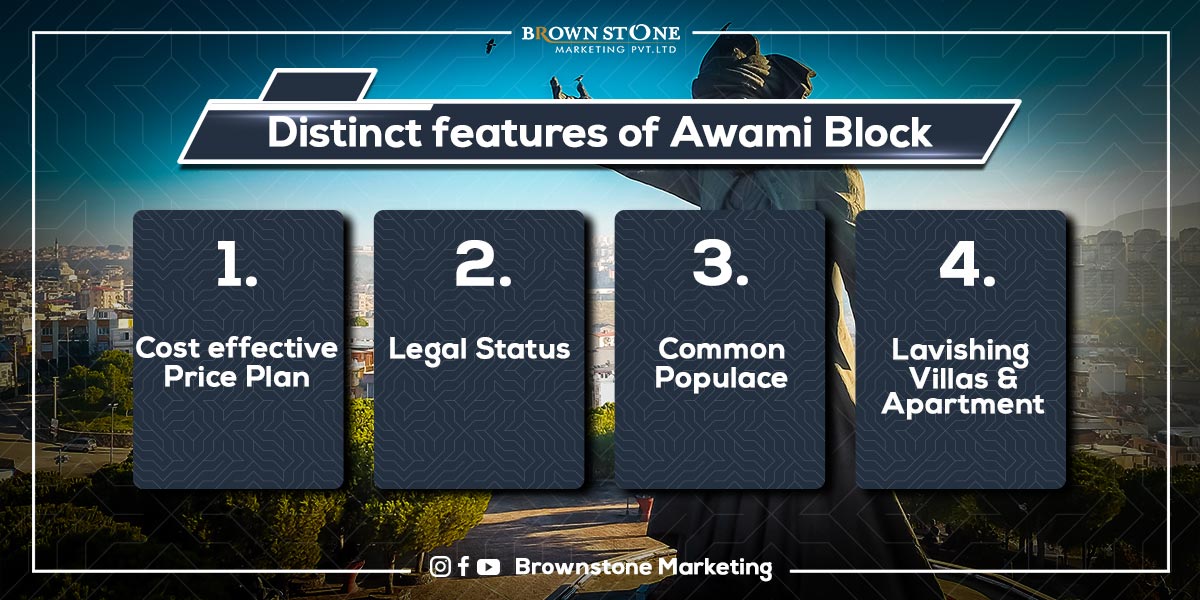 The remarkable feature of Awami block is its affordable payment plan, with a reasonable 4-year installments package; Blue World is not certified for a specific parameter, and the enormous venture is for everyone. Now each citizen can fulfill their dream by discerning the marvels of amenities in the BWC Awami block.
Cost-effective price plan:
If you want to see something spectacular, reserve your plot in the BWC Awami block. Additionally, the exciting feature is its cost-effective, affordable installment package and luxury, eco-friendly environment. In Islamabad, you can't even find this moderate housing society ever.
Legal status:
The more appealing factor in residential society is its RDA-approved NOC. The community got all the necessary approvals from respective authorities. That's why the people are lining up to avail the opportunity
Common Populace:
This book implies explicitly for familiar residents with splendid features, Awami residential complex and villas are being constructed as an elegant model with a friendly budget plan.
Lavishing Villas & Apartments:
Among the most lavishing features of Villas and apartments are tranquil gateways for those seeking peace and tranquility? World-class infrastructure and spacious land consider the best choice for apartments in Islamabad. According to financing stability, the villas and apartments are affordable and flexible to pay its installments.
Awami Complex is the latest addition to Islamabad's famous Blue World City. The complex consists of single units, independent units, and duplex units. Blue World City Awami Block units are well-appointed with society's signature amenities. All of the housing units are smart, green, and sustainable. The structure consists of five floors. In addition, there is a basement. A beautiful and picturesque landscape surrounds the complex.
The following are the dimensions of the Awami Complex in Blue World City Islamabad:
Duplex Villas
Among the most remarkable features of the Awami, Complex is the duplex Awami villas. These villas feature every modern convenience and amenity available in the area. In addition, they provide a variety of living spaces for residents. A notable feature of the villas is their affordability for the average person
 Division of villas into the following categories based on their size and location:
BLUE HILL COUNTRY FARMS
Located in the Blue World City, Blue Hills Country Farms provide beautiful and tranquil getaways for those seeking peace and tranquillity. Planned with meticulous care, the Blue Hills Farm Houses are strategically located in a well-planned area. With its lush green spaces and picturesque landscapes, it is considered one of society's most peaceful and serene areas. Financing options for the farmhouses are flexible and affordable.
BLUE WORLD CITY ORBITAL FLATS
Blue City's Orbital Apartments offer a luxurious, affluent lifestyle. There is no better apartment choice in Pakistan if you want to enjoy picturesque panoramic views all day long. World-class infrastructure development and exquisite housing options are available in the orbital apartments. In the orbiting flats, the goal was to provide spacious and most affordable low cost housing societies in Islamabad.
This Awami block installment plans are tabularized as follows:
Residential plot for sale in Awami Block Blue World City:
4.5 Marla
Among the most remarkable features, the Blue world city Awami block offers the most affordable property for sale. They provide an excellent opportunity for the common populace; the price plan is broken down into steps: reservations must pay only 87,500/- only. After this, within 2-3 months, you suppose to submit a confirmation fee of 48,750/-. After the accomplishment of the process, you will become the possession waiver. The salaried person can pave the way to get a cutting of land and secure their future in the safe territory of Blue World.
BLUE WORLD CITY HOLLYWOOD BLOCK
Blue World City Hollywood Block location
Blue World City Islamabad already has a prominent and eye-catching position. Despite this, the interior design and placement of the blocks add to their value. In an ideal location, the Hollywood Block was inaugurated.
Blue World City's Gates 1 and 2 provide easy access to it. However, this Block is given priority over the General and Overseas blocks.
Additionally, Hollywood Block is situated atop a majestic mountain range. The official website of the BWC can be found here. A plot in the Hollywood Block is more expensive than a plot in the previous Block. As a result of the project's high level of amenities and features, the rates are high.
Blue World City Islamabad aims to recreate the experience of gazing upon the famous Hollywood sign in all its splendour. It also promises luxury and wealth. The Hollywood block will be home to the most premium attractions and services.
The society will house an arts complex that showcases the abilities of talented artists from across the country. This block will inspire visitors to pursue their dreams in the performing arts. Blue World City Hollywood Block will serve as a cultural tourism center. Residents and visitors will also take advantage of several luxury amenities and comforts.
This Hollywood block installment plans are tabularized as follows:
Payment plan of Blue World City Hollywood block:
Payment plans for Blue World City Hollywood Block are relatively affordable, with convenient monthly installments. Hollywood Block offers plots for sale at an affordable price, with magnificent amenities that are not found in any other block. According to the Blue World City Hollywood Block payment plan, this will be the most luxurious sector for investors in BWC Rawalpindi. The management of Blue World City has introduced the Hollywood Block at Blue World City. Furthermore, this Block has been thoughtfully designed with unique attractions. Reservations for plots in this upcoming Block have begun. This Block provides residential properties of
The plot prices in Hollywood Block Blue World City are higher than those in the previous Block. This building has exceptional amenities and features, which is why the rates are so high.
10 Marla
There is a price range of Pkr 4.5 million for a 10-Marla plot in Blue World City Hollywood Block. It has been determined that the booking price will be 1,125,000/. There will be 20 monthly installments of the remaining amount.
1 Kanal
There is a total price of 7,500,000/- for these residential plots. Bookings start at 1,875,000.
2 Kanal
Two Kanal residential properties in Hollywood Block in Blue World City have been priced at 14,000,000/-. It is estimated that the booking price will be 3,500,000.
4 Kanal
In Hollywood Block Blue World City, a four-Kanal residential plot is available for 26,000,000/-. You may purchase this property in 2 years for a booking price of 6,500,000/-.
BLUE WORLD CITY WATERFRONT BLOCK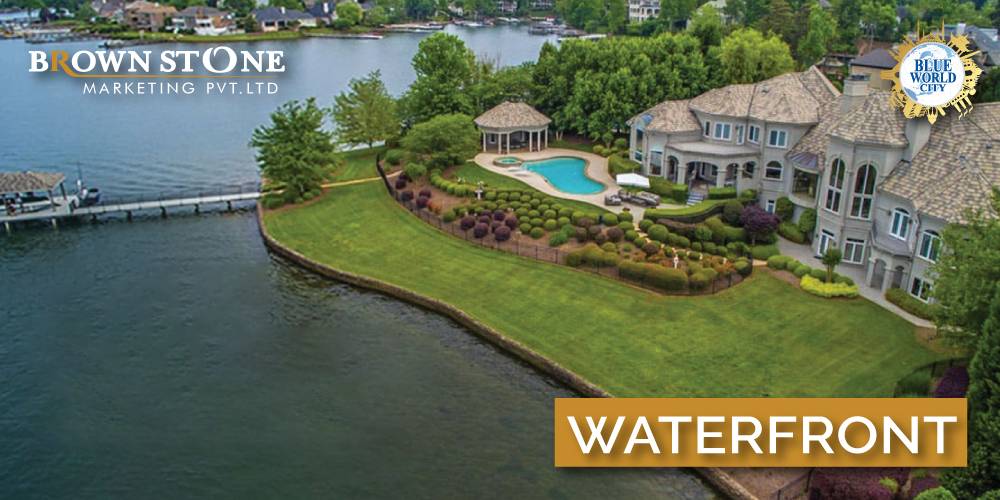 A lifetime isn't forever; invest your hard earn wisely. The new exciting addition in Blue World is the waterfront district; we feel proud to announce that the Rawalpindi development authority has approved the entire community. It's a crowing stroke to develop this special waterfront district in the territory of Islamabad Rawalpindi. Yes, there you catch! Your desire to make it happen now, waterfront block map location is easily accessible from all major sites of twin cities. The waterfront block defines the true sensational series of 3ps, like perfection, progress, and professionalism.
Only Blue World City is launching the world's best water park in Islamabad for the first time. Now, you do not need to agonize about getting rid of the hot June-July weather; the spot is at your doorstep. Pakistan's most thrilling and exciting water park is worthy enough to get rid of hot weather. There is no need to bag pack and move to the Northern areas, the dancing fountains and colorful water slides become the most noticeable block in the entire sector. Waterfront is an actual deception of a state of luxury, elegance, and ease. Its mind-blowing construction planning signifies the best investment place in Blue World City Islamabad.
The Waterfront Block was recently added to the development to allow residents to enjoy the tranquillity of the waterfront setting. It is located directly on the waterfront, in front of the Overseas Block. The Waterfront Block offers the following exclusive amenities to its residents:
Waterfront Community
Residents of the Waterfront block will have access to all the required amenities and a breath-taking view of the lake. This residential block offers many advantages, including its location in a prime area and affordable payment options.
Blue World City Waterfront Block Plots for sale
The residents of this block can enjoy modern living at affordable rates. Waterfront block offers cost-effective plots ranging in size from 6 Marla to 18 Marla. Payment plans are flexible and convenient.
Floating Restaurant
Blue World City Waterfront Block in BWC Islamabad will also feature a floating restaurant where you can spend quality time with your family and friends. Located on the shores of Blue World City Lake, this restaurant provides delicious cuisine and a delightful ambiance with a captivating view.
Dancing Fountain
The Dancing Fountain at BWC will be designed and constructed by a team of award-winning architects and developers of numerous other projects of this kind.
The fountain's performance is composed of water choreography, music, and light, creating a visually stunning display. Viewers will be able to enjoy the sight and sound of hundreds of water fountains as they dance to musical notes from the symphony, opera, classical, pop, and local folk music.
Walking Track
A walking track will be constructed to highlight the beauty of the residential community. The track will be located near the water sports club. The track path will take you towards the commercial area, where you can enjoy the beautiful waterside scenery while walking.
Water Sports Club
Waterfront Block will also be home to an international-level water sports club. Water Sports at Blue World City Waterfront Block include Premium Speed Boats, Jet Skis, Water Sports, Wakeboarding, Knee-boarding, Water Tubing, Fin Tubing, Kayaking, and more.
Waterfall
The waterfront district of the BWC will feature a stunning waterfall to provide the best possible environment for its residents. You may not have heard of a gated community with waterfalls; neither have we, at least not in our Pakistan. It will indeed be a fantastic sight. The sound of the waterfall will drown out distracting sounds and will calm the spirits of the residents. BWC strives to provide the best serene environment to its residents. A dedicated security and rescue guard team will also be stationed at the waterfalls.
Outdoor Cinema:
Blue World City Waterfront block also offers an outdoor cinema facility. You can enjoy the view of the lake while watching movies. It will be an international standard cinema. Hence, you will have a complete package of entertainment at your disposal.
Waterside Food Street:
There will be an international standard waterside food court. Besides having a spectacular view, the food will be from well-known local and international brands.
This Waterfront District installment plans are tabularized as follows:
6 Marla:
The district provides a fantastic route to finding inner peace in this waterfront valley; the waterfront payment plan conveniently provides ease in paying the 40 monthly installments. This block installment series starts at 17,500 and is conveniently accessible for all. Moreover, Nature's beauty itself offers a pacifying feeling for human beings. For this calmness, you need to deposit the down payment of 175,000 and book your plot in the waterfront district with beautiful amenities.
12 Marla:
Imagine the scenic view beyond your doorstep. The waterfalls and lakes are naturally drawn to aquatic hues. The grand residential plots offer in waterfront valley, 12 Marla plot is for 3,150, 000/-. Once you pay the whole amount, you will become the plot holder. For your ease, the management offers the 4-year installment package; the waterfront district living standard differs from common societies; it's an ideal chance to enjoy ecstasy with no tired attached since Nature provides its purest form.
18 Marla :
A spacious land 18 Marla, its overall price rate is 42 laces, and the down payment would be /-420,000. Mind-blowing opportunity with mesmerizing amenities, its aesthetic waterfall views are enough for its total cost. You will imagine these, but the Blue world city makes your dream filled with enlightening, exciting features.
Commercial plot for sale in Blue World City Waterfront district:
5 Marla :
Blue World has a great list of incredible amenities; in the waterfront district in the same place, you can handle your business chore in beautiful surroundings. You will become more creative and energetic when dealing with business meetings in offices or outdoor areas. The choice is yours. So, become the landlord of this business hub opportunity and book your plot at just 800,000/- amount. The total land cost is 8,000,000/- Eight-half-year payments over four-year installments are essential for these plots.
Distinct features of BWC Waterfront District:
The Blue World City Waterfront block seems like a feather in the cap, a grand slam with incredible amenities. This block is different from other residential block because its aesthetic features, artificial lakes, the mountain waterfall, and water slides are pretty enough to make this sector unique and wonderful.
Waterfront community:
The most thrilling and exciting thing is that you have been living in a place where you find your dream comes true. For health assurance, the waterfront community lives a stress-free life, far away from the hustle, and feels the refreshing fragrance of loam. The eco-friendly environment makes the community more peaceful and loving. Everyone can enjoy the luxury because Blue World is for everyone. The organization plan to construct this venture cost-effectively. The community has a fence around it. A completely safe and secure place, with entertaining amenities like a sports complex, Gym, amusement parks, spa, colorful water slides, and much more.
Blue world City waterfront block plot for sale:
The series of spacious and lavishing plots for sale in Islamabad is only available at a cost-effective price plan. The Waterfront map allocated the properties for commercial and business perspectives, like all in at one at doorstep, the fascinating features is the head turner of this block, attracting the investor or home buyer who enthusiast for Nature scenic views. Take the plunge and book a plot of your taste.
Floating Restaurants:
Now at your doorstep, enjoy dinner or brunch on floating restaurants or waterfalls. Get an exciting, refreshing experience with a great serving of high-quality beef and fresh seafood. Guest will savor the finest while taking a panoramic view of the whole society. It is one of the great restaurants with luxurious eateries in the entire society; celebrate your anniversary, wedding ceremony, family get-together, or spend loving moments at the right spot.
Walking Track:
The sound of the waterfall drowns out intrusive sounds and relaxes our minds; walking will be more soothing and exciting with these scenic views. For a healthy living style, a lifetime isn't forever; invest in the best spot. The waterfront area is crowing stroke in Blue world city Islamabad. Water can induce a meditative state. It's a biological fact that an individual may sit or walk for hours while the babbles and ripples can soothe and refresh their mind. Some people believe that you become cheerful when you're near to waterfall. We must conserve Nature and observe a healthier way of life. The wait is over! Now your ideas make it happen. It's a human fact we are naturally drawn to aquatic hues.
Water sports club:
As we already mentioned, the series of water games, with full of fun and entertaining activities. The water sports club is precisely enough to invest in this spot. We welcome you with chic interior designing of Blue water world with colorful amusements for kids. It's inclusively an exciting place for all ages. The safe and secure environment will make you relaxed and cheerful. The blue city gated community mainly focuses on surveillance security. For an extra edge, go the extra mile. Not any society offers this lavishing living standard; only the blue world management aims to provide an international living standard.
Outdoor cinema:
Let's wrap a gift into the news! Yes, the waterfront district has an outdoor cinema occasion. Only Blue world city waterfront district provides shell facilities and entertaining features. The greatest risk is taking no risk, so the opportunity is at your home in Rawalpindi, Islamabad. Reserve your plot until it's too late. Imagine! A place with beautiful features of outdoor cinema, where you can enjoy the thrilling, hunted movie with your buddies, with unique eateries. Now how can you neglect this opportune?
Waterside Food Street:
Food Street is a well-known place for various food items, where you will get ready to eat meal. A food junction point where you can enjoy the tasty and yummiest food eateries. As Blue World management designed to make a waterside food street, like a cheery on top.
Blue World City Sports Valley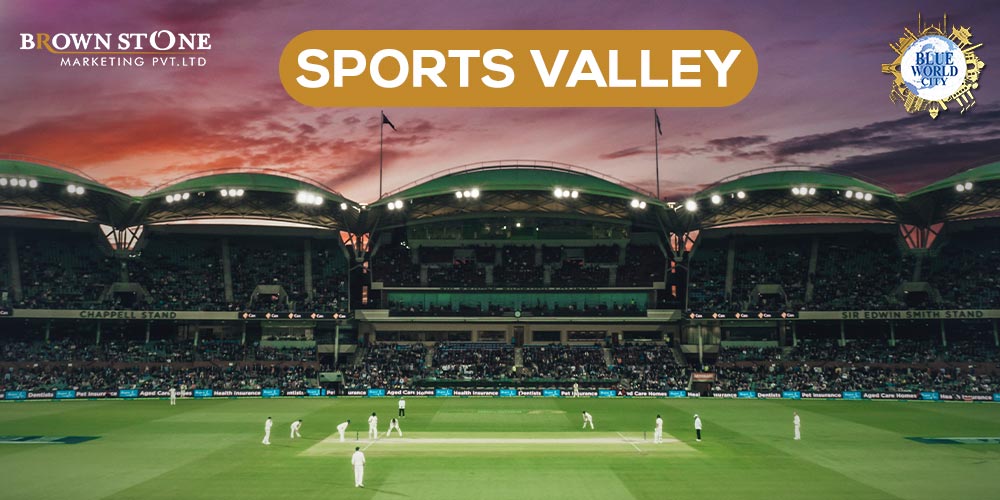 Blue World City is on the way to reaching the triumph mission and expanding beyond the expectation of spectacular. After accomplishing the blue world city major complexes, they launch the new residential block. The downtown and the magnificent sports Valley Block. They provide a new platform for their clients and offer plots in installments.
The developer of Blue Word City is keen to address all the new visions of investments in the housing scheme. The exciting growing number of buyers of BWC and the new investors become eager to get profits by trading the files and plots.
The details of the blue world city's new blocks and development will be shared soon. These new blocks will add to the people's satisfaction, as new opportunities will be for investment in this excellent housing scheme.
This development work on the prominent appearance of the sports valley block has now started, just five minutes drive from Adyala Road. The exposure of the sports valley comprises a worldwide – stadium announced by the Chairman of the Blue World City, Saad Nazir.
The Blue World City inaugurated the famous worldwide brand of Second Cup Coffee under the Horse Mascot; the development is growing fast-paced with the heavy machinery working 24/7 on this project.
The subsequent colossal block success is estimated to outperform the Overseas and General Block. The impressive thing for the investors and the buyers for the development work in BWC. The great opportunity offered by Blue World City for investment purposes and returns will be excellent. Due to its fantastic development and increasing demands, the prices of plots will be revised soon.
Best Realm of Investment:
Do you want to know the best realm of investment threshold nowadays? If yes, then wait. You are at the right place. The Blue World City has become the most trending real estate project in the heart of Islamabad territory. The question is, what are the most mesmerizing features this project only offers? This project provides
multiple blocks and sectors with incredible and eye-catching views. The magnificent block, the heart of the Blue World City, is the Sports Valley block. It offers the best affordable investment occasions with accessible Installment plans, so be a part of this investment realm and secure your future.
Development Status of Blue World City Sports Valley:
Pakistan set to build the world's best first-purpose tourist city. The most cherished block in Blue World City is the Sports Valley. After the Sports Valley orientation ceremony the construction has begun in this block. Recently the BWC management shared the updates that heavy machines arrived at the location. The whole development and construction teams present to access and monitor the progress. Historical landmarks are being built in Sports Valley, including many sports complexes such as Pakistan's largest Cricket Stadium in the Blue World City. The organization has allocated 1200 Kanal area for this stadium. Moreover, the magnificent unique features of Villaggio Mall and Torch Hotel become the attractive theme of this block. The construction work is rapidly growing, and the best opportunity for the investor or sports enthusiast to book their plot with just a 7.5% down payment and be a part of these sports ventures.
Details About Cricket Stadium:
The exclusivity of Sports Valley can be evaluated from this fact that it is the only block of Blue World City Islamabad where construction process began way before it was officially announced in the market. Heavy machinery and industrious workers, present 24/7 on the site, are undertaking construction vehemently. Chairman Blue World City, Mr. Saad Nazir, declared to erect Pakistan's biggest cricket stadium in this prestigious block which will have the capacity to hold over 55k people.
Details About Entrance Gate:
Blue World City Sports Valley has the upper hand in terms of its varied connectivity. Gate No. 4 has been especially allocated to this block, giving it a major access dimension. It has been named "Babul Islam" as the developers intend on making it a replica of gate way to Madina. This colossal separate entrance gate links Sports Valley to the vicinity of Adiyala Road.
The amazing features of the Sports Valley will attract investors, and the followings are:
4 Year Registration Plan (Cost of Land)
Master Plan of BWC Sports Valley Block: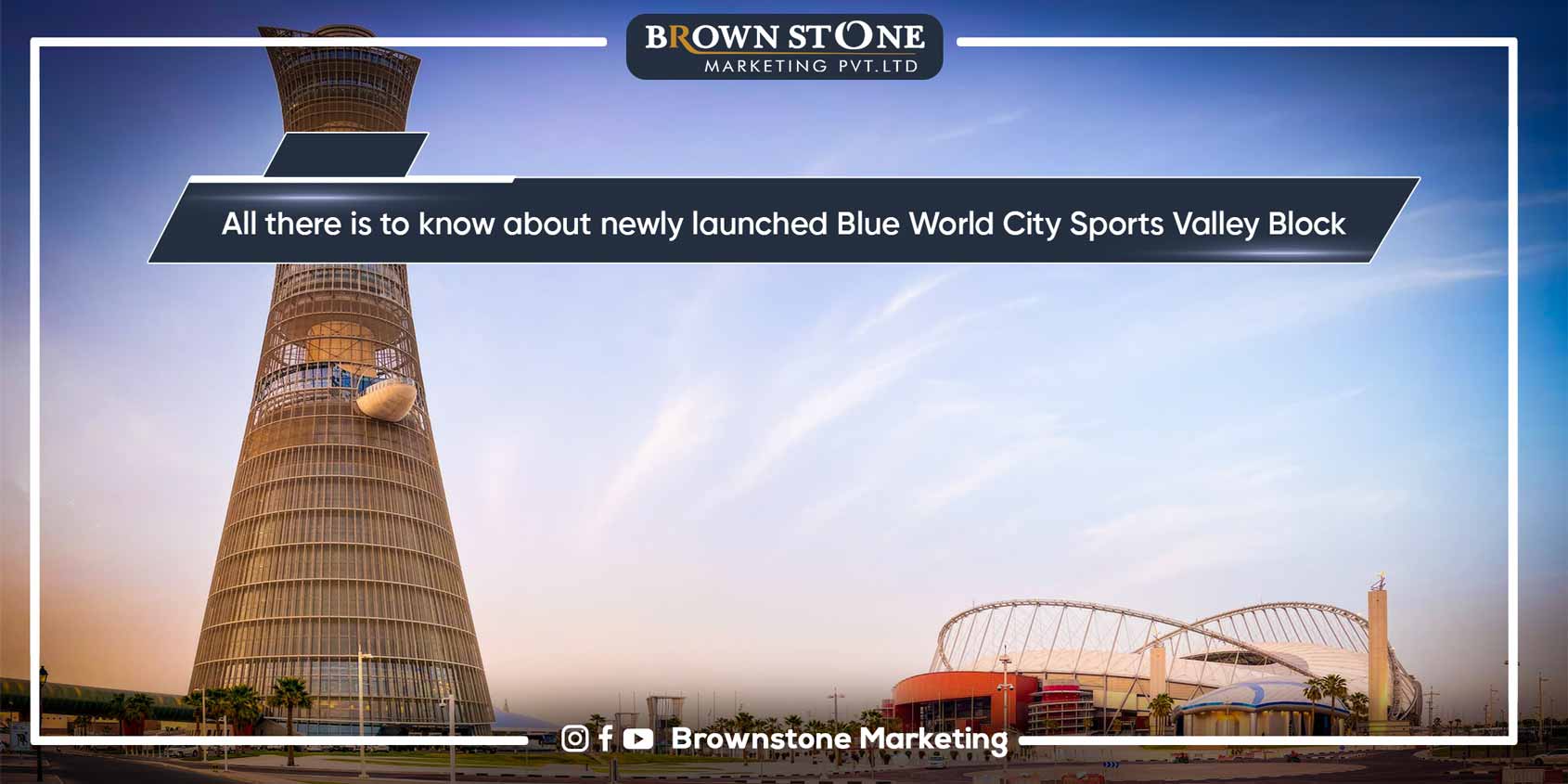 Several blocks have been planned for sports enthusiasts across the country as part of the master plan. The organization has received approval from the relevant authorities to construct the largest cricket stadium in Pakistan, with an estimated capacity of 50,000 spectators. The Block provides its inhabitants with the ultimate sports living standard by containing sports arenas and multiple entertainment centers. New updates from Blue World City regarding the launch of the great sports attraction point in the new sports valley block, as well as updated rates for Blue World City.
Sports Valley Residential plots:
5 Marla
For 2,200,000 a 5 Marla (residential) property is available. This plot requires a down payment of 1 lac and 50 thousand rupees. The loan cost will be 23 thousand and 750 rupees if you pay it in 40 monthly installments. In contrast, eight half-yearly installments will cost 1 lac rupees.
8 Marla
A residential plot of 8 Marla is available for 33 laces and 80 thousand rupees. This plot requires a down payment of 2 laces and 31 thousand rupees. If you wish to pay in 40 monthly installments, the price will be 36 thousand and 575 rupees. Alternatively, eight half-yearly installments will cost 1 lac 54 thousand rupees.
10 Marla
There is an opportunity to purchase a 10 Marla (residential) property for 4,125,000. This plot requires a down payment of 2 laces 81 thousand and 250 rupees. You will only have to pay 44 thousand and 531 rupees if you choose to pay in 40 monthly installments. On the other hand, the cost of eight half-yearly installments will be 187,500 rupees.
1 Kanal
A property of 1 Kanal (residential) is being offered for 7,700,000. This plot requires a down payment of five laces and twenty-five thousand rupees. The amount will only cost 83 thousand and 125 rupees if you pay 40 monthly installments. On the other hand, half-yearly installments will cost 3 lac 50 thousand rupees.
Exciting features of Blue World City Sports Valley Block:
Cricket's largest stadium in Pakistan
The developers claim to be building Pakistan's largest cricket stadium in this housing project. Additionally, the residents and citizens of the country will have access to this fascinating aspect. Further, all prospective residents will be able to enjoy a luxurious and blissful living experience. Lastly, we know that cricket is a popular sport in this country. As a result, investing in this area yields high-quality living conditions.
Shopping mall Villaggio
The Villaggio Mall is another spectacular feature of Blue World City Sports Valley Block. In addition, the developers specialize in providing high-quality infrastructure. This mall will be an excellent example of delivering world-class infrastructure to all residents. Finally, the mall will offer various investment opportunities to help residents maintain a high-quality lifestyle.
Hotel Torch
The developers are also constructing an excellent torch hotel as part of the development of this new Block of blue world city Islamabad. Moreover, they are committed to providing prospective residents with a high-end living experience and a premium lifestyle. The country's high-quality infrastructure also attracts investors to make valuable long-term investments.
Replica of the Blue Mosque
The Block is located near a replica of the Blue Mosque, which is one of the most prominent attractions in Blue World City. Moreover, mosques are mandatory and of paramount importance to all Muslim communities. Therefore, a replica of the Blue Mosque will be built in the community to enhance the serenity and assist the prospective residents in fulfilling their religious goals.
Hub for commercial activity
Blue World City Sports Valley is committed to making its residents financially independent. For this reason, the Block offers investors a wide range of commercial investment opportunities at highly affordable rates. The retail area demonstrates the developers' commitment to providing everyone with the most satisfactory possible living conditions. There will be a variety of plot sizes available, all of which will be affordable. As a result, it is financially beneficial to create this Block.
Open Air Gym
To increase the quality of life for all investors, an open-air gym will be provided in the community. By becoming community members, future residents will have the opportunity to achieve their fitness goals. All residents have access to this facility, which has top-of-the-line amenities. Additionally, all investors should have quality time and healthy living experiences with their families.
Hockey Field
The Block's hockey fields provide residents with a safe and high-quality environment to enjoy their favorite sport. We are all aware that hockey is our national sport, and most citizens look for the most suitable hockey fields to achieve their dreams. Therefore, this Block has all the amenities necessary for achieving next-level living standards. As a result, it will create a significant investment opportunity in real estate.
Recreational Parks
Community residents will have access to recreational parks that will facilitate the development of a daily routine and habit of physical activity. Furthermore, investors will enjoy a blissful and natural living experience in the community. This investment, therefore, contributes to attaining fitness-friendly and high-end living goals.
Cycling tracks:
As sports Valley brings a new version of living a healthy lifestyle, various hiking or cycling trails, parks, and sports clubs signify to live a hale and hearty living standard. Investors can feel blissful, and being close to nature makes them feel lively. We all become fed up with living the same routine life; that's why organizations provide a wide range of feasible facilities to get off the beaten path and enjoy natural scenic views.
BLUE WORLD CITY FILE VERIFICATION
File verification is a crucial part of any housing project. Investors need to scrutinize all plot information. You can verify the price and registration of Blue World City files using the methods below.
1) You can directly contact Blue World City head office for file verification.
2) Blue World City's online verification can be checked by visiting their website 
3) The file verification process can also be completed by calling Blue World City's contact number. The contact number can be obtained from their official website. 
Briefly overview of File Verification:
We should all be familiar with file verification as a starting point. Did you know that you can register your property file for free or within a few minutes? Our next step will be to denote a detailed description of the file verification system, facts, and strategies. Here is an once-in-a-lifetime opportunity that you must read to understand. For property matters, verifying the file is a crucial and foremost step, and file registration is equally critical. Fraud and scams should be avoided, especially in the real estate industry. As a result of our efforts, we provide investors with the right platform in advance, so they are aware of scams. It is a sensitive issue in the real estate sector, and even the slightest problem can make or break the transaction. Proper documentation verification is crucial when you are purchasing or selling a property. You cannot repair your financial situation if you become a victim of fraud and face a financial crisis.
Benefits of File Verification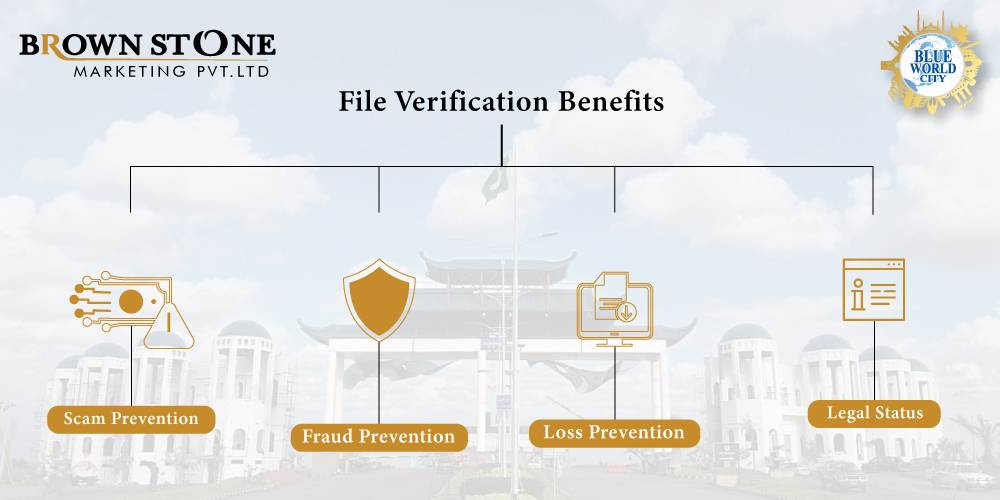 Investing in real estate is one of the best ways to secure your future. Therefore, it is vital that a person invests wisely, follows all verification procedures, and understands the significance of the investment. Below we have listed some of the benefits of Blue World City File Verification.
Verification legally and authentically is as follows:
Legal documentation is required when dealing with real estate. Currently, the online file verification system is the only secure method of registering your file. This venture launched a worldwide digital verification system for BWC, specifically for overseas Pakistanis; they may write their BWC file through an online portal and avoid scams.
The reliability of this process can be attributed to several factors.
Due to increased fraudulent practices, deceit and scams have become more common in real estate property. Various marketing industries offer multiple options for quickly verifying files, from conventional approaches to online verification. It is essential for the company and clients because it builds their trustworthiness. BWC competes with other cities to launch an accessible array to register your file through the BWC online file verification system.
Verification of Blue World City files:
Blue World City is constantly seeking a more convenient method of BWC file verification. This is an effort to provide an easy, accessible, and innovative way. Every individual has the opportunity to invest in the real estate sector at least once in their lifetime. Consequently, you must become aware of all these file verification steps and understand their significance. The management has developed a worldwide online portal to verify BWC files. Home buyers and investors are assured of absolute clarity and complete satisfaction, a unique strategy among Pakistani projects. In addition to Blue World City, the name of modernization, online facilities have also been introduced, such as Online Installments, online verification of Blue World City, application status, and proof of online registration. The project is currently one of the region's most affordable and popular residential developments. A highly profitable return on investment in residential schemes makes this an ideal investment plan for investors looking for an investment plan. Awami Residential Complex, Awami Villas, Blue World City Economic Zone, and Orbital Apartments are among the many blocks within Blue World City. A new name for this block is Blue World City Sports Valley Block. Using the BWC online file verification portal, anyone can register their file by completing some of the following steps. For online registration of your property file, please follow the steps below.
Generally, the registration process consists of both manual and automated steps.
As a first step, we will discuss the standard registration process.
Manual registration steps are as follows:
As a first step, we will discuss the standard registration process.