It's Official: Blue World Trade Center Has Been Launched On Oct 29th, 2022
Islamabad's tallest business address Blue world trade center a product of BGC-IGC Consortium, inaugurated on 29'th October 2022. The developers and makers of this project has stepped up the game of trade and business altogether. For the first time in twin cities, it is the most demanding trade business, giving an excellence means of business, shopping, trade and marketing at one roof. It has primarily served real estate brands, companies and allied industries. The idea is to create a hub of real estate business in Pakistan using innovative edifice structures with mesmerizing bridges. The system has all fascinating facilities and services that add convenience and efficiency to the industry. Its idyllic location could be easily accessible from important sites of twin cities. The best thing is its excellent position, adjacent to Bahria Town Rawalpindi and DHA Islamabad, in the most prominent residential and commercial zones. The GT road links with the Islamabad Rawalpindi Highway, making this stunning futuristic project easily accessible from both twin cities.
Structure of Blue World Trade Center:
The BWTC is a high-rise architectural design that serves as a gateway for Pakistan's commerce industry. The skyscraper features all the amenities and services that make business ethics easier and more effective. If we look forward to their development strategies, then, no doubt, the heavy pilling works continue rapidly. The venture is based on 27 Floor mix- use twin towers. For the ease of visitors, the ground floors are allocated for dedicated parking. Management has monitored the site visit frequently and is accountable.
Are you ready to reach a new height? Blue World Trade Center is going to be the tallest twin tower in twin cities. It is 500 feet tall and has a dedicated spacious area that will eventually cater to your needs.
Besides all these facts, the business tower is wholly based on ultra-modern technology and innovative building architecture with all amenities and services that contribute to company comfort and efficiency.
Blue World Trade Center Developers:
BGC-IGC consortium is one of Pakistan's rapidly growing
and most diversified business portals. It presents a globally emerging outlook with a strong worldwide presence in the Gulf and North America region. They aim to redefine the culture of commercial sectors and businesses in Pakistan by setting diverse standards of commitment, integrity, professionalism, and service delivery.
Blue World City
 will become the successful flagship project of the BGC-IGC consortium. The project aims to provide a meticulous and grand lavish lifestyle with an affordable payment plan for the residents and the overseas Pakistani. They want to boost tourism by providing a world-class tourist destination. BGC-IGC consortium strives to emerge the individual talents beyond their expectation as a combined sector under one roof and establish collective growth. The private sector also plays an essential role in uplifting this project through supporting contributions to coping with the multitude of problems developing countries like Pakistan face.
Corporate Design & Features of Blue World Trade Center:
The developers have worked hard to build a reputation as a one-stop shop for various services. From a business perspective, the BWTC twin tower replica provides employees with a tidy and professional work environment. The facility will be fully air-conditioned for staff comfort, and the trade center will include enabled smart WI-FI to workstations. They'll also include lounge areas where workers can unwind during their break. For their ease, the Blue World Trade Center provides dedicated high-speed elevators. Each elevator is equipped with a power backup system to avoid any inconvenience. The world trade center replica caters to all your necessities; now, you do not need to get worried about where to invest money in Pakistan; Blue World City's project Blue World Trade Center provides you gold mine opportunity to book what you want, which gives your future security. 
Whereas the various shops are for sale in affordable payment plans, each floor has both general and platinum offices for sale at a cost-effective range. The developers' vision is to make BWTC accessible for all and provide a great platform where you can trustfully invest in Pakistan. 
Yes! There is no catch besides the business purpose; the Blue World Trade Center offers the entertainment and joys of launching international brands. You can cheer up with the best global outlet spree. Undoubtedly, famous restaurants are at the forefront of welcoming visitors by serving the best food eateries, and food courts are available—a one-stop shop where you will enjoy the shopping spree and more professional and lively corporate life. 
The Blue World Trade Center is a grand high-rise, a lavish project of a Blue World City Islamabad. It became Pakistan's first property exchange hub and business trade tower, with all mandatory facilities and amenities. They aim to make business and industrial organizations more effective and convenient. Due to its prime location, the blue world trade center has become Rawalpindi's leading sought-after commercial sector. They want to develop a multiple-use innovative, ideal architectural building that includes a real estate business hub with excellent services and amenities. They will assure to provide the effectiveness of business and a comfortable environment.
BWTC has amplified the strong roots in twin cities, the era of modernization, and business trends becoming more unconventional. For this purpose, the Blue Group of companies comes with an excellent international standard-based project in the marketplace, where you can avail of the best investment in Pakistan. The series of lavishing shops are for sale in Rawalpindi and Islamabad. You will get the one according to your taste, and this skyscraping is filled with incredible amenities. 
Get Your Discounted Offer Now! Blue World Trade Center Vision and Mission:
This grand business trade tower is molding with the innovative step towards the up-level in twin tower structure first time in Rawalpindi. Still, this futuristic project is enhancing the commercial and business hub. It has become Pakistan's socio-economic and real estate industrial development sector. This project will provide a world-class atmosphere where trade, shopping, and business will be an absolute pleasure. The mission is to foster collective prosperity. The smart building tower uplifts the real estate business in Pakistan to bring it up to the level of international standards.
CEO of Blue World Trade Center:
The CEO of Blue World Trade Center is Burair Nazir. It is a  project by Blue World City Islamabad, which is also owned and developed by Blue Group of Companies. The BGC offers construction services and architectural design to its valuable customer. In 1989, the Blue Group of companies was captured in Lahore and, after acquiring a solid reputation, established as a competent and trustworthy organization. Today this company is established and ranked among Pakistan's top five development companies. The company also works in the branding construction of real estate, I.T. support, commercial publishing, planning, and designing of real estate. The 300 employees collaborate simultaneously, making it possible to be considered Pakistan's authentic corporation. 
The Blue World Trade Center's vision is to change the perspective of the real estate landscape in Pakistan by helping millions of people. The twin business tower provides the platform for investment opportunities and builds the vast economic sector in Pakistan. 
Blue World Trade Center NOC:
Authenticity seems to be the most priority of any organization, so the NOC of the Blue World Trade Center the business trade tower becomes authentic and legalized from the Bahria town converge. The meticulous twin tower presents a grand opportunity for investors to grow rapidly under one roof. The Bahria sector itself proves the accomplishment of their successful projects. This BWTC is the most reliable and trustworthy project, where you will get the advanced era of commercial hubs and business portals on international standards. In Bahria town, phases 1 to 6 are the Civic center's location. Where you will find a bunch of surprising luxurious, and splendid commercial hubs. The central area of the civic center of Bahria town, especially at night, presents a pleasant and sparkling view that attracts families to a leisurely shopping experience.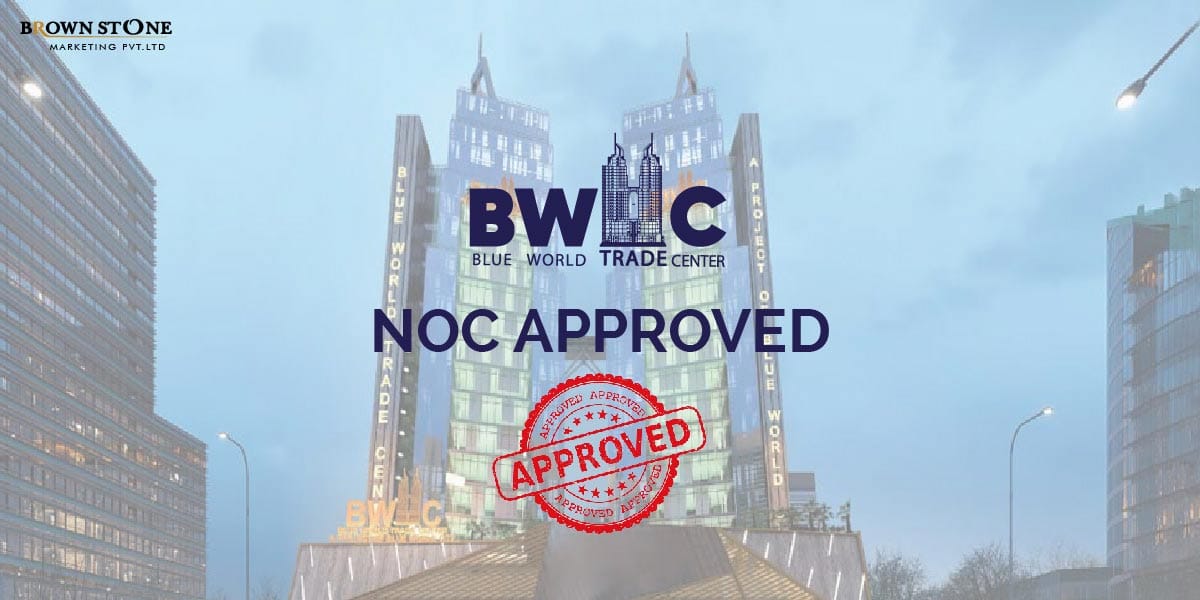 Blue World Trade Center a Replica Of Twin Tower:
The Blue World Trade Center is the twine replica of Petronas twin towers international-based located in Kuala Lumpur, Malaysia. They were named the twin skyscrapers. According to the official criteria of the Urban Habitat & Tall Building, from 1998 to 2004, it becomes the planet's highest building. The Blue world trade center's grand twin tower becomes the replica of these skyscraper towers. Its structure span or master plan will make you reach the desired place. The division of the floor plan is already given below. The complete instruction and information will help the investors be part of this scenic twin tower. 
Whereas the multiple commercial business hubs will be available in numerous amounts. The bridge will be connected between the twin towers to enhance its beauty. In this business trade tower, you will get the most luxurious amenities and high – facilities. It will become the most synthetic business hub ever in Rawalpindi and Islamabad.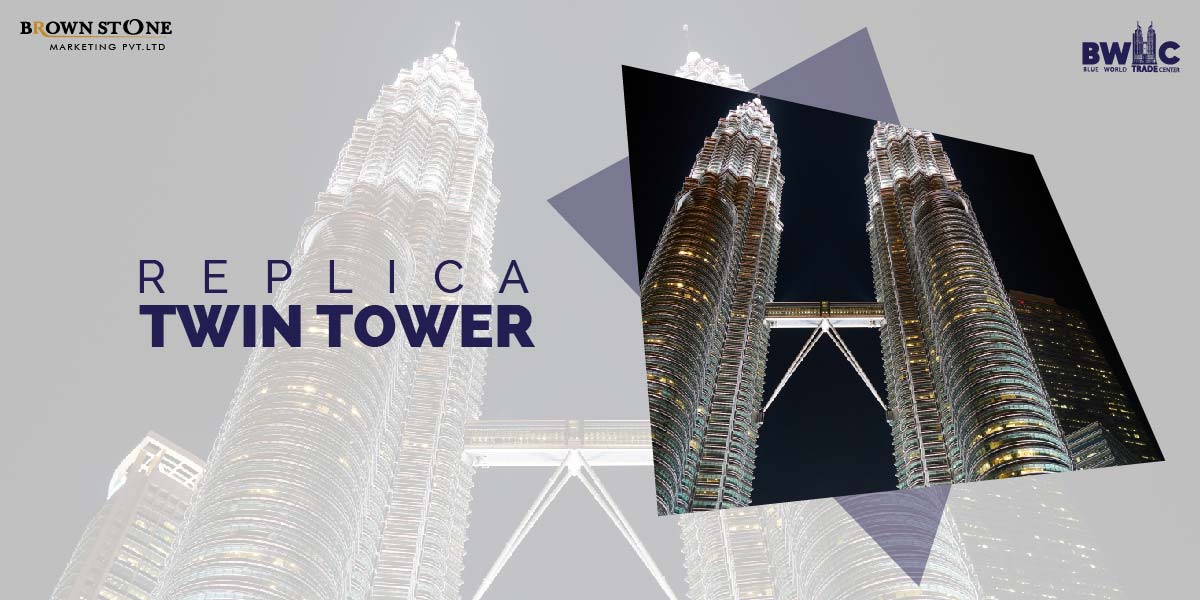 Blue World Trade Center Location And Map:
The location of every society will always be the priority decision where it would be placed after this, the investors examine the pros and cons before purchasing the property. The grand business twin tower is located at leading G.T. Road Bahria paradise commercial, near Bahria town entrance phase 1-6. It is also accessible from the Grand trunk Road; it has become the most central zone in the twin cities, just a few minutes from the extent. The leveraging development of this project will promote the real estate renovation and climate-friendly activities inside the city, an attractive point for both the purchasers and speculators. The Prime location of this project is being developed near Bahria Town Rawalpindi and DHA Islamabad, the two major commercial and residential projects placed within the city limits. Its connection with the G.T. road with the Islamabad highway makes this futuristic and stunning project easily accessible from Islamabad and Rawalpindi. It is also accessible to reach the nearest Bahria town hospital, so the world trade center location map is close access from Giga Mall and lignum tower. The business tower's central location makes it convenient for all to access from each corner of the twin cities. Whereas the multiple commercial business hubs will be available in numerous amounts. The bridge will be connected between the twin towers to enhance its beauty. In this business trade tower, you will get the most luxurious amenities and high – facilities. It will become the most synthetic business hub ever in Rawalpindi and Islamabad.
Accessible Points of Blue World Trade Center:
This world Trade Center has become Rawalpindi's most flourishing sector, with grand business opportunities for all. The investors have a great chance to avail this fantastic opportunity and build Pakistan's economic development faster under one roof.
Blue World Trade Center Nearby Landmarks:
Blue World Trade Center – Overview
Blue World Trade Center, is one of the most stunning 500+ ft. high-rise structures, spanning over 29 storeys.
Dedicated Car Parking – Basements 1 & 2
Shopping Mall – Lower Ground, Ground, and 1st Floor
Food Court & Play Area – 2nd Floor
Services Storey – 3rd Floor
Corporate Offices – 4th till 16th Floor
Loft Apartments – 23rd and 24th Floor
Services Storey – 25th Floor
Structure Span of Blue World Trade Center:
According to the professional designer and architect, the twin tower location map was planned with a complete structure. The twin tower has stunning features with a 500ft high rise building. In which they offer the tremendous lavish 27 storyes. Each story has its particular features with full-fledged facilities. They aim to make an excellent business portal in the real estate industry. Provides the leisure of trade, shopping, and business up to the next level in the twin city tower. The idea is to create an enjoyable and flourishing environment with all aspects of business, trade, and shopping hubs. This world trade twin tower makes the multipurpose innovative building with all the ultra-modern services and facilities which will surely add the pleasures to your life, where everything will be organized perfectly. 
Blue World Trade Center Facilities & Amenities
Blue World Trade Center Payment Plans:
The World Trade Center Replica offers the best opportunity with flexible payment plans and affordable installments. This payment plan currently focuses on glamorous shopping malls and grand corporate offices. The purpose is to provide a professional business platform where you will invest today and earn a high return in the future. Only a 25% down payment should be paid for the booking. The other respective information is given below. 
| Floors | Category | Area | Price Per Sq.ft | No. of Outlets |
| --- | --- | --- | --- | --- |
| | Platinum | 160-821 | 95,500 | 14 |
| Lower Ground Floor | Gold | 276-557 | 89,000 | 12 |
| | Silver | 250-817 | 82,500 | 31 |
| | Platinum | 548-1060 | 121,000 | 16 |
| Ground Floor | Gold | 534-560 | 107,500 | 6 |
| | Silver | 357-672 | 101,500 | 10 |
| | Platinum | 324-1060 | 101,500 | 18 |
| First Floor | Gold | 324-473 | 95,500 | 14 |
| | Silver | 244-764 | 89,000 | 14 |
| Second Floor | Food Court | 478-1544 | 88,000 | 16 |
Corporate Offices at Blue World Trade Center
| Floors | Category | Area | Price Per Sq.ft | No. of Offices |
| --- | --- | --- | --- | --- |
| 4th Floor | Terrace Floor | 786-1639 | 25,000 | 18 |
| 5th. 7th Floor | General | 786-1639 | 23,000 | 54 |
| 8th - 11th Floor | General | 786-1639 | 25,000 | 72 |
| 12th - 16th Floor | General | 786-1639 | 28,500 | 90 |
| 18th Floor | Terrace Floor | 987-1588 | 35,500 | 10 |
| 19th-21st Floor | General | 987-1588 | 33,000 | 30 |
| 22nd Floor | Terrace Floor | 816-1232 | 38,500 | 8 |
A place filled with all necessary amenities and features which is accessible for everyone and delivers every facility at door step. The loft apartments are luxuriously designed and planned in a way that it doesn't just look attractive but also give an idea of ideal living. The BWTC loft apartments are fully furnished and fully fitted. All in one facility at one place is available on these apartments.
| Floors | Category | Area | Price Per Sq.ft | No. of Apartments |
| --- | --- | --- | --- | --- |
| 23rd & 24th Floor | General | 4834 & 5076 | 30,000 | 4 |
Meticulous Facilities And Amenities Of BWTC:
Blue World Trade Center, a business trade tower becomes Pakistan's first international standard-based shopping mall and business hub with meticulous facilities. It is a well-designed masterpiece with all the contemporary conveniences and amenities. It provides all the services, business facilities, and a spectacular place for entertainment. The developer becomes eager to construct the basic entertainment facilities, just to fulfill the dream of Pakistan. It will become the tourist's first choice. There will be recreational areas, restaurants, an open food court, and much more on your demands. 
The ideal and spacious car parking will be structured to facilitate not only investors but also for employees and visitors too. The dedicated partial area for car parking is Basements 1 & 2 will be reserved for a particular purpose.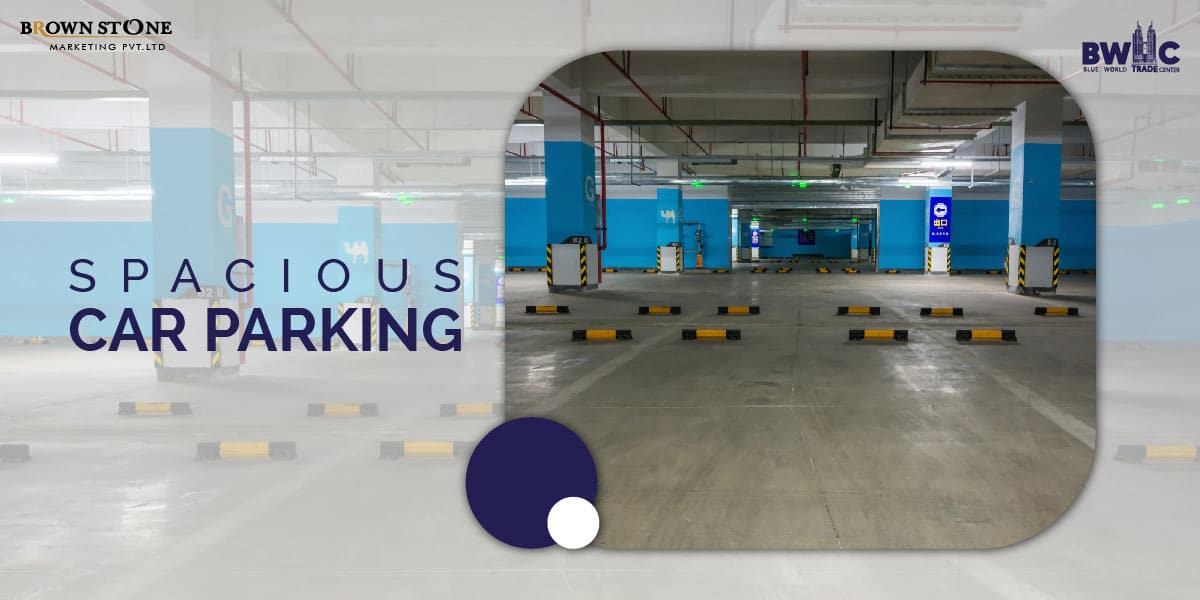 The Blue World Trade Center presents the most electrifying services that make your shopping Speer meticulous by launching all the national and international top-notch brands. The spacious place for outlets with a lavish interior makes it more signifying and luxurious. The multiple blocks will signify the extravagant Commercial Outlet and the sparkling selection of brands. It will surely enhance the Glamour of the shopping experience.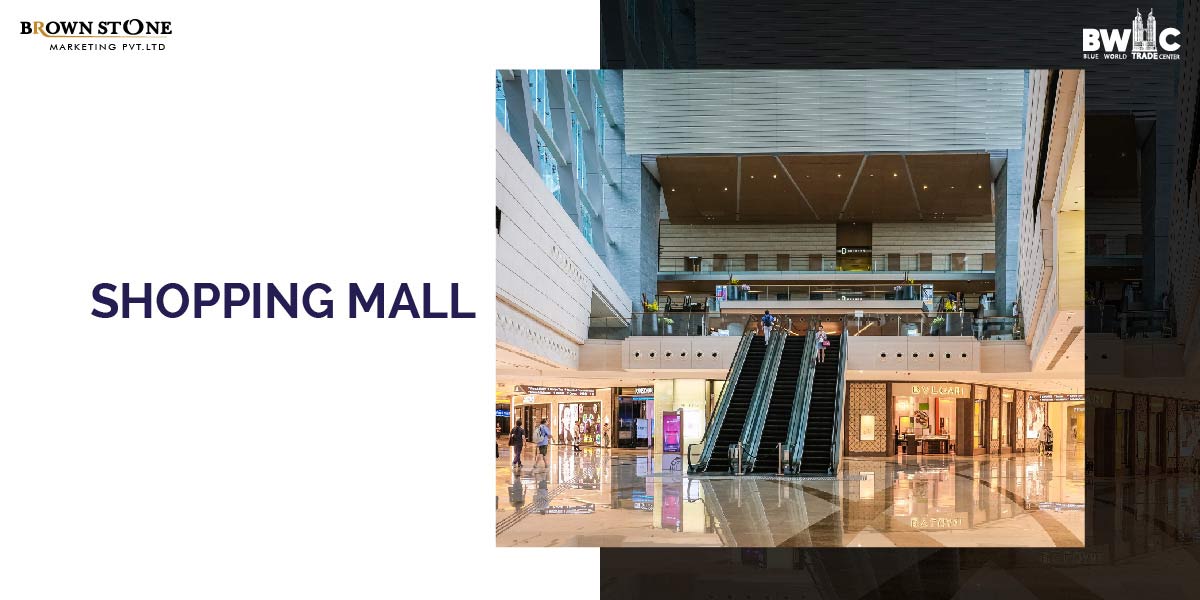 Business Tower: the Custer of Shops for Sale
The best seal and deal investment opportunity in the Blue trade center, state-of-the-art infrastructural and architectural design offers the best and most affordable pricing plan with a 4-year installment package.
This grand shopping mall has an electrifying ambiance that supplements the charm of your shopping spree—where you will have all the crafted-to-perfection shops for sale in Islamabad.
What else do you want at this turn-headed spot, where no one could stop to visit at once for sure? The top-notch and international brands shops, antique jewelry shops, home appliances, and highlighted brands lined up along ample corridors to make you feel like royalty.
Undoubtedly, Rawalpindi shopping malls are scattered like seeds, whereas the Blue World Trade center signifies its example in twin cities. The enormous skyscraping edifice with lavishing amenities that no one could imagine. This a sparkling opportunity for investors put the seed of investment today and get fruitful results for a lifetime.
This is a huge opportunity for the brands to grasp a shop in the biggest commercial hub of the future. Multiple brands are ready to invest and take their businesses to the Blue World Trade Center.
LIMELIGHT
CHINYRE
SATRANGI
JUNAID JAMSHED
SANA SAFINAZ
LEVIS
NIKE
DOCKERS
MANGO
HASAN SHEHRYAR COUTURE (HSY)
NISHAT LINEN
KHAADI
MOTHERCARE
GENERATION
NEXT
OUTFITTERS
It can be quite enjoyable to eat out. We enjoy doing things like going out to dinner with friends, going on dates, and throwing parties at restaurants to celebrate significant occasions. Blue World Trade Center is a commercial hub that also provides food court with indoor cafes but also with outdoor cafes which makes you to enjoy pleasant weather and a joyful experience.
Blue World City is serving a great place for tourists recently inaugurated the famous franchise of Second Cup Coffee located under the stupendous "World's Tallest Horse Mascots".
Blue World City is serving a great place for tourists recently inaugurated the famous franchise of Second Cup Coffee located under the stupendous "World's Tallest Horse Mascots".
| Category | Area Range |
| --- | --- |
| silver | (sq. Ft.): 163 – 1,425 |
| Gold | |
| Platinum | |
| Lower Ground | Ground | First Floor |
| --- | --- | --- |
| Silver: PKR 75,075 | Gold: PKR 98,175 | Silver: PKR 80,850 |
| Gold: PKR 80,850 | Platinum: PKR 109,725 | Gold: PKR 86,625 |
| Platinum: PKR 86,625 | | Platinum: PKR 92,400 |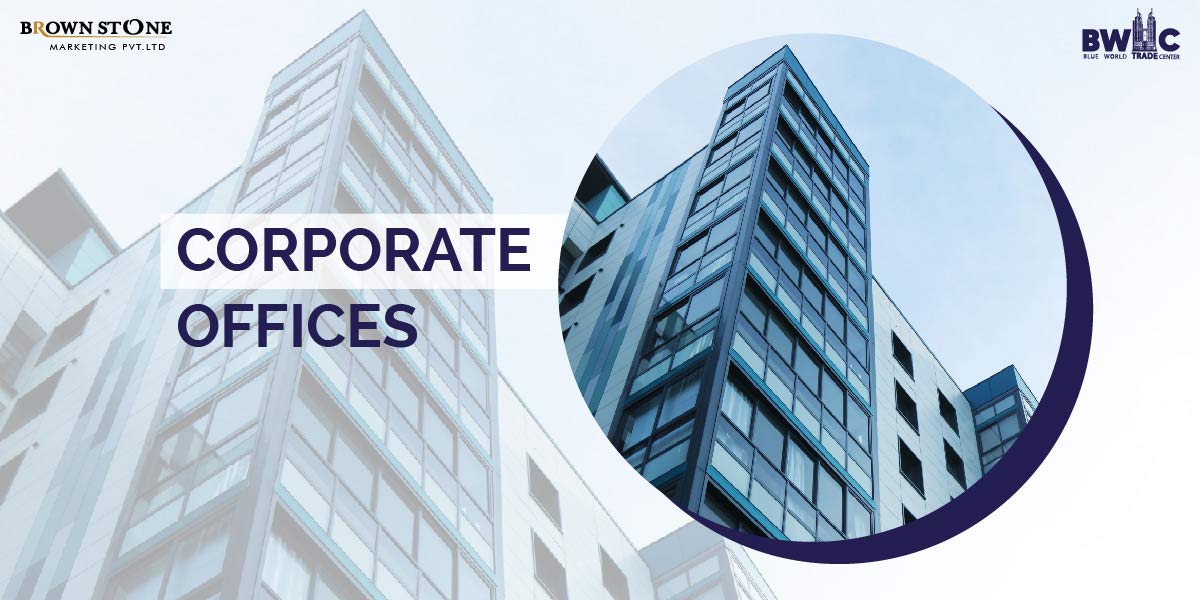 For professional work purposes, the Blue World Trade Center offers a corporate office with a neat and tidy environment. The proper air-conditioned workstation and offices for the employee comfort. Wi-Fi accessibility will be provided to the employee workspace. They will also offer a lounge room where an employee can relax during their free time during the break. The entire workstation, conference room, Meeting room, cafeteria, and food court will help you enjoy your leisure time.
How BWTC Neglects the Corporate Offices:
With the series of spacious shops for sale, the establishment of 18 dedicated floors of working space has been crafted to perfection for national and multinational companies. Where they can enjoy the unadulterated international-based environment, each floor is categorized with General and Platinum offices for sale, with spacious extent. On the other hand, if we blather about the area and prices, it's like a cherry on top. The whole environment is accelerating to grow with fully equipped 21st-century digital facilities. 
The fact is, it takes a lifetime to turn your business into a success. That's why only the BWTC arena was beside the shops or offices; you will adore your favorite food eateries at the open food court. These courts are filled with joy and delicious once you will enjoy lunch, brunch, or dinner with your loved ones. 
Centrally Air Conditioned:
The Blue World Trade Center provides lavish facilities for investors. The business will grow rapidly in this meticulous environment, and visitors will feel relaxed while shopping. They aim to make the international-based business trade tower, which will increase the economic status of Pakistan, and our country will become a developed country soon. In the central air condition, board room, and meeting room, you will get all the facilities with an excellent games center and cinemas for your entertainment.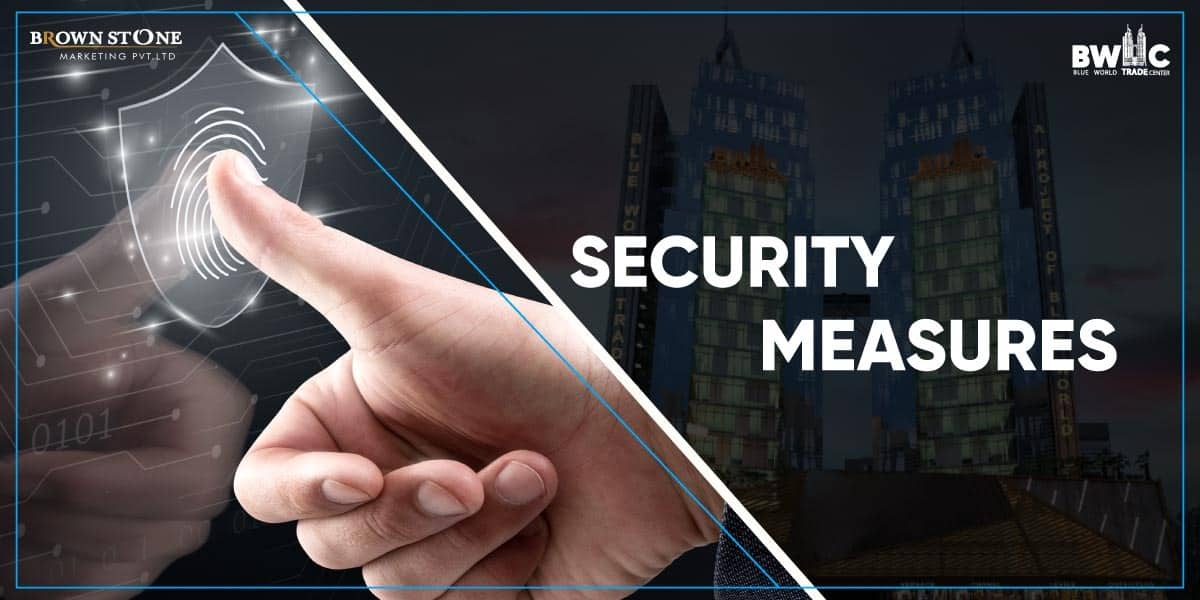 BWTC will be led to provide the latest equipment for security measures. Safety and security always come first—the most updated safety protocol. Our vigilant and expert staff also ensure to make the safety measure properly. The round clock CCTV cameras ensure that our business tower is safe and secure. The management has to maintain modern security control to prevent any unethical situation. As a result, the comprehensive security team will include security officers, surveillance cameras, and a gated entrance to ensure a safe environment.
Maintenance Management 24/7: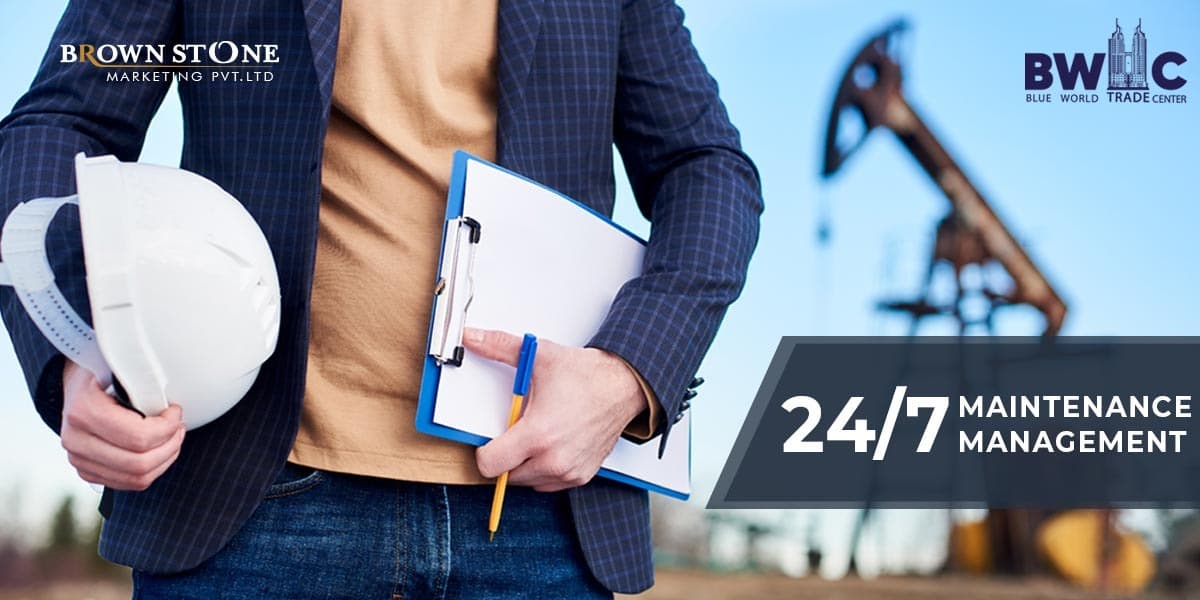 The Blue World Trade Center will provide a team for maintenance management purposes. The workers must work round the clock to maintain the check and balance services.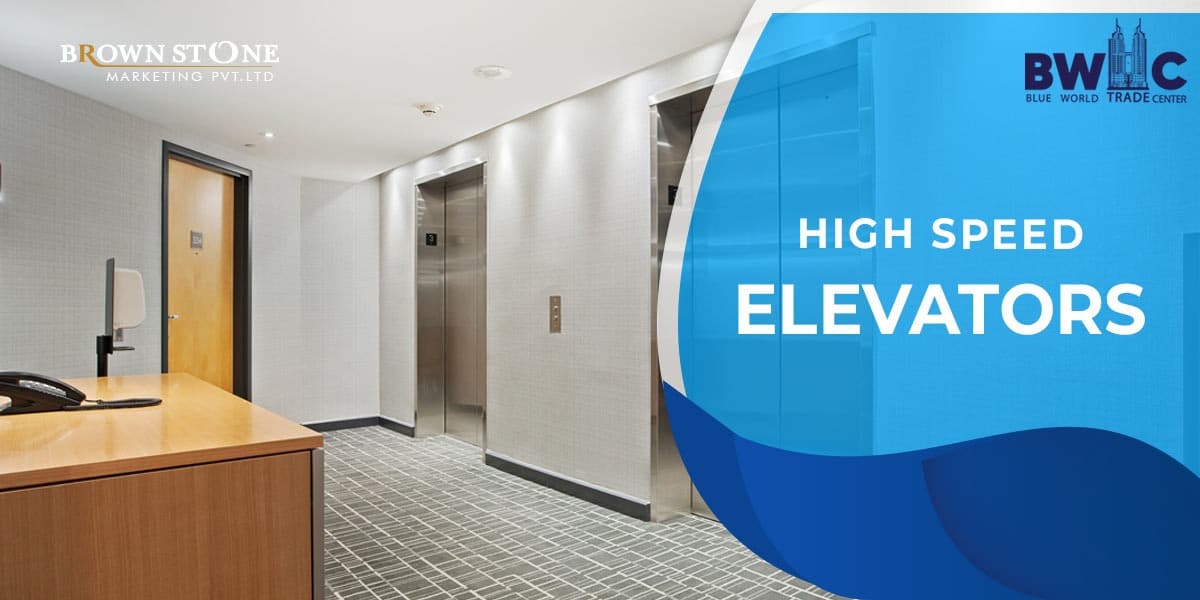 BWTC provides high-tech facilities with modern architecture and design. The high-speed elevators will make to visit each Floor easily, without the shortage of time these convinces will make the workplace more effective and accessible. Not only for the employees, but the visitors will also get a more accessible and splendid environment to get fun with your homies.
This fantastic twin business tower will provide every facility under one roof. The ATM's facility becomes more beneficial for all customers. They can easily access get the financial transaction on the spot. So, you can buy and will enjoy your shopping with your buddies and having fun with these meticulous facilities.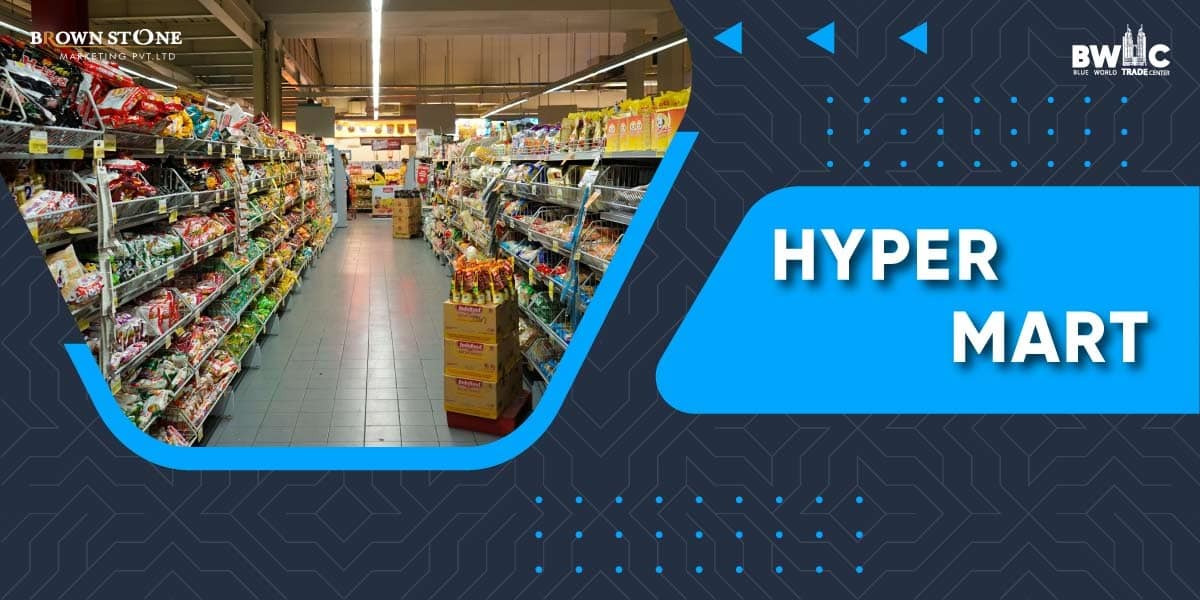 Blue world trade center also launched the luxurious hypersmart that will be equipped with a bright and gorgeous assortment of products. It will aesthetically enhance the pleasant environment to ensure an impressive grocery experience. You will get every up-to-date luxury product in the grand hypersmart.
Imagine seeing the world beyond your expectation from such a height; then you reached the exact best place. Enjoy the cheerful environment, to see the world and the breathtaking views will make you feel calm and relaxed. Terrace's cozy atmosphere provides the facility to enjoy your food and parties. These are exclusively designed to offer you to see the synthetic view.
Restaurants & Open Food Court: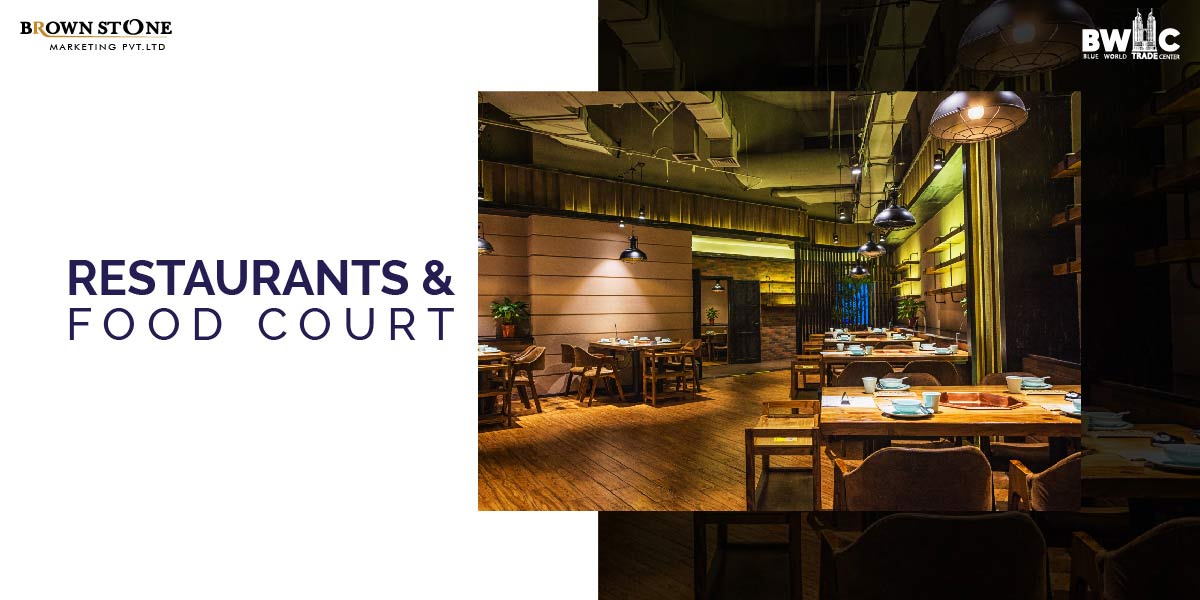 The people will enjoy the great dining restaurants and cafeteria. The building aims to provide the fantastic lavish facility of restaurants, especially for the foodies, with luxury and flexibility for both business hubs and visitors. The BWTC bids an exclusive experience, allowing you all to rejoice the memorable moments of your life.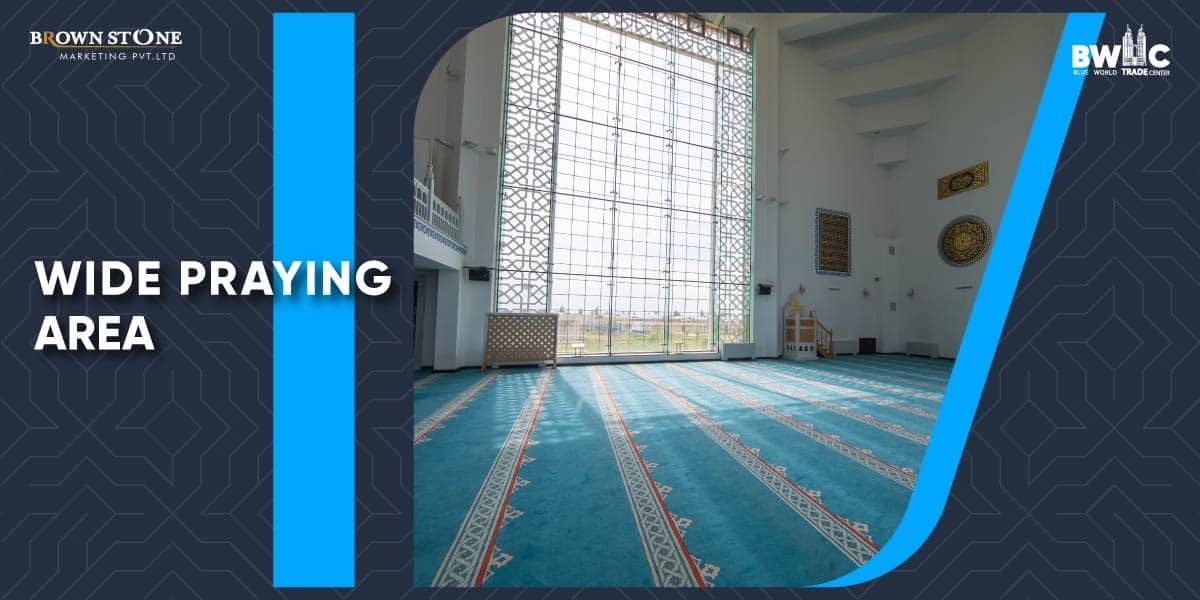 The business tower establishes the great spiritual prayer area; from all the other aspects, the prayer area is essential to making a strong connection with the universe's creators. The magnificent prayer area will be built as a place of worship, with all the luxurious facilities of the well-ventilated, air-conditioned prayer room. A serene and peaceful environment has been developed to enhance the spiritual experience. We aim to provide you with a friendly and secure atmosphere where you practice your faith, make a strong connection, and be thankful for his countless blessings.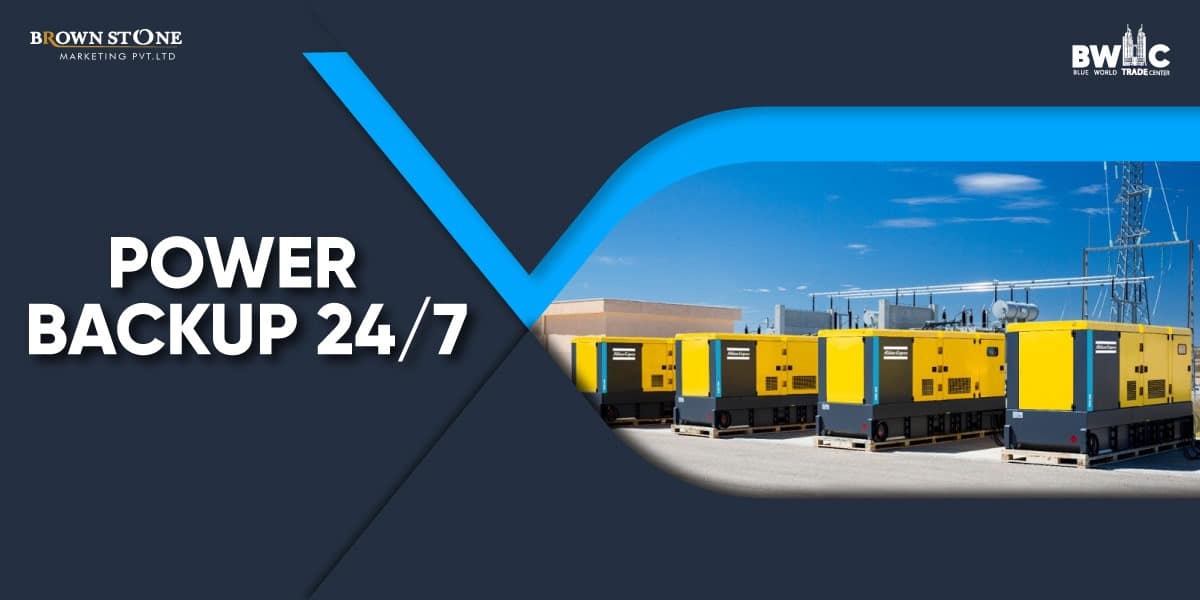 The blue world trade center will provide a continuous power supply with thoughtful amenities. Allow workers and visitors to feel safe within stress-free, high-powered existence without interruption. They ultra-advanced system to organize the power by displaying the standby generator control and a guarantee to provide a smooth and nonstop control supply of power. The blue world city project also ensures the 24/7 availability of power, water, and gas to its inhabitants.
Why Invest Only in the Blue World Trade Center?
The blue world trade center seems to be the best and ideal opportunity for all the business sectors even though it is the landscape for real estate. It is the most reputable and diversified project of BGC -IGC Consortium. Its prime location presents the most accessible point from each corner of Islamabad and Rawalpindi. Provision of the grand's excellent facilities, with unique construction style and design. The
trade center's incredible 500ft height
becomes the unpredictable first time in twin cities beyond expectations. The flexible and affordable pricing options provide 4-year installment plans. With all these facilities and amenities, you would think it is worthwhile to 
invest in the blue world trade center
 and be a part of this excellent business tower.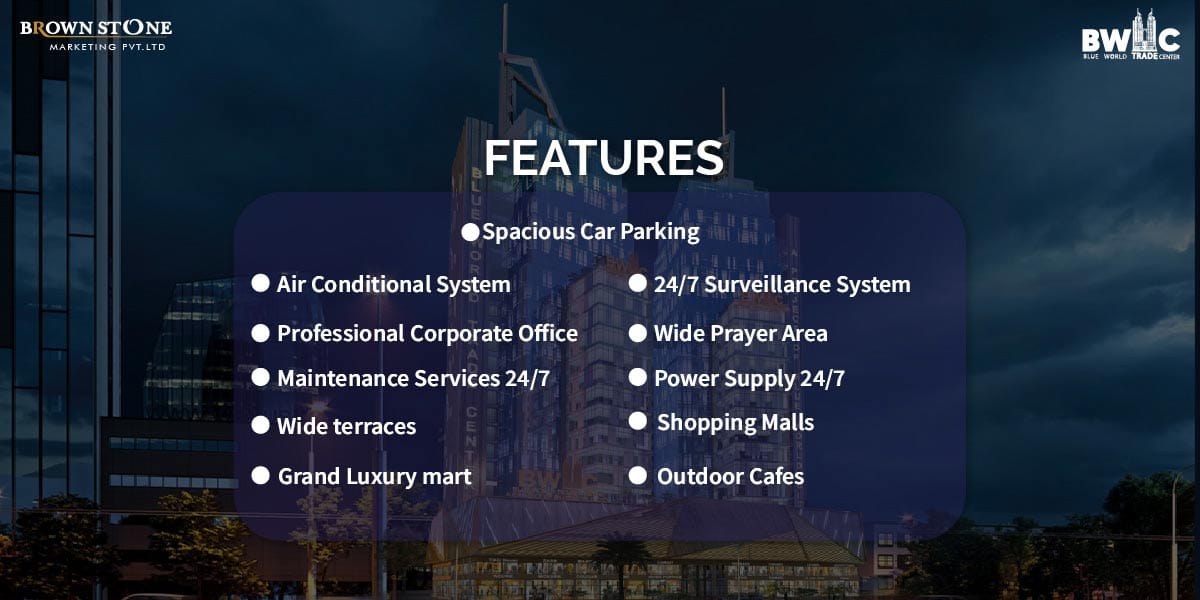 Investment Option In Pakistan:
Why only invest in Pakistan? The perfect option is to invest in real estate in Pakistan. Real estate has become a vast and profitable sector through which you get a high return profit. A Property chance, shares in the business, growth investment, and defensive investment are the different portals in which you can invest. The foremost thing is to be sure while investing, check their past investment experiences, profit, and loss, NOC authenticity, ideal location, resources, and all documentation. After this, you can access their trustworthiness and reliability in their workplace. The best choice is to invest in the trade business twin tower, where you will surely get a high investment result. A great chance for overseas to invest in Pakistan and secure their future with a rare amount, and start your business today in the combined sector. The blue world trade center is Pakistan's first property exchange center that provides efficient business facilities and the -quality services in the real estate industry. 
Blue World Trade Center Booking Procedure:
The booking procedure is relatively easy and reliable also; you can book your shop or wants to shift your corporate office then this business trade tower is the best choice. For the booking, necessary credentials are required. The foremost thing, for your concern, visit the place to get more details about the payments plan and their installments procedure. It is the project of blue world city; they launch an easy process to verify the file through the online system; till now, this opportunity is only available for booking plots in any sector of a blue-world city. Whether in the General block, overseas block, Awami residential block, or waterfront block, the choice is all yours, a few steps away to grab your plot today. You will stay in touch with blue world city through its app. 
Blue world trade center becomes Pakistan's first property exchange business tower. Their concept is to develop a property expansion hub in Pakistan, a multiple-use innovative building design with all the luxurious amenities and facilities. That will surely enhance the high-tech business functionality and productivity at a vast level. Brownstone Marketing always provides the best investment portals and their collaboration with the best project developers, such as the Blue World City; for more updates, visit our website or direct contact to visit our office. We welcome you to provide the best, most reliable, and secure investment plan.
For more updates about BWTC, reach us at 
Brownstone Marketing. 
Contact us at 
UAN: 0331-1111045
Expand Your Business through BWTC:
BWTC provides a great scope to people having small or initiative businesses to expand and boost their business. Their investments in a trustworthy place can make access more accessible to the prominent business tycoons and seek additional options to generate more profit. The choicest features and one-stop shop qualities of BWTC provide a high-traffic area that can be an ideal place to attract customers and enhance the productivity of your business. The prime location of BWTC is valuable for native business owners to save their time and efforts towards the maintenance of shops, which means there is enough time to pivot to running a successful business. The easily accessible and sought-after shopping destination of BWTC empowers a brand to give tough time to its competitors and grapple with the consumer of competitors as well.
Emergency Services at Blue World Trade Center:
Emergency services in shopping malls are a question, especially in present-time shopping networks. The mall's design tends to follow a pattern of open central areas with clusters of businesses ascending, resulting in the highest bulk of shops and people. The priority of the visitors will be stuck at the services provided by the mall during emergency scenarios. BWTC provides services against disastrous situations like Fire, Earthquake, and Electric Short-Circuits through new technologies and fire extinguishers.