Blue World City Awami Block
A superior residential housing society called Blue World City was created by the Blue Group of Companies (BGC) and the Imperium Group of Companies (IGC). The society is close to the M-2 Motorway on Chakri Road.
Awami block is the most prudent block in the Blue World City. It exhibits the finest residential properties. This fantastic project comprises luxurious apartments. Similarly, this complex has cutting-edge infrastructure and the best features that distinguish it from the competition.
The Blue World Awami complex is designed for people seeking luxury at an affordable price. Villas and apartments are available in this complex at an affordable price. There are many facilities at the Blue World City Awami Complex, including a 24/7 uninterrupted supply of water, gas, and electricity, a mosque, parks, a fitness center, and much more.
Blue World City Prime Location
Everyone who has hard earned always wants to invest in a good location from where good return can be generated. It is very usual to expect good return as an investor.
The Blue World City is located on the CPEC route near the Chakri interchange and can be accessed directly from the Lahore-Islamabad M-2 highway.
Aside from offering a luxurious lifestyle away from the city's noise, BWC is conveniently located near the Islamabad/Rawalpindi Airport and Islamabad/Rawalpindi railway station.
Nearby Locations
5-minute drive from Rawalpindi Ring Road
5-minute drive from Islamabad-Lahore Motorway M2
10-minute drive from CPEC Route
20-minute drive from New Islamabad International Airport
Easily accessible from Chakri Road
Accessible via Adyiala Road
From G.T. Road, it is an easy access point
From Islamabad Expressway, it is also easy to reach
Blue World City Awami Block Map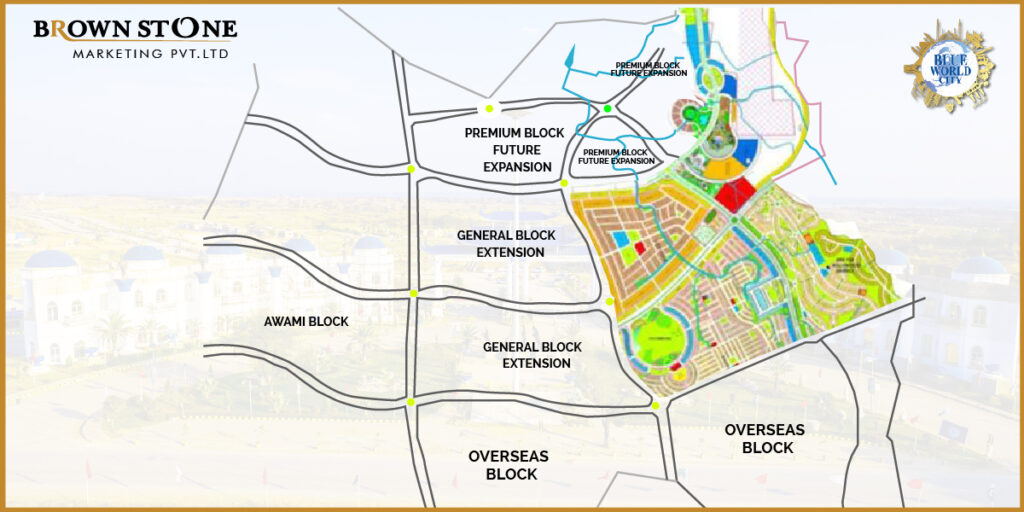 Distinctive features of Awami Block
The remarkable feature of Awami block is its affordable payment plan, with a reasonable 4-year installments package; Blue World is not certified for a specific parameter, and the enormous venture is for everyone. Now each citizen can fulfill their dream by discerning the marvels of amenities in the BWC Awami block.
Cost-effective price plan:
If you want to see something spectacular, reserve your plot in the BWC Awami block. Additionally, the exciting feature is its cost-effective, affordable installment package and luxury, eco-friendly environment. In Islamabad, you can't even find this moderate housing society ever.
Legal status:
The more appealing factor in residential society is its RDA-approved NOC. The community got all the necessary approvals from respective authorities. That's why the people are lining up to avail the opportunity
Common Populace:
This book implies explicitly for familiar residents with splendid features, Awami residential complex and villas are being constructed as an elegant model with a friendly budget plan.
Lavishing Villas & Apartments:
Among the most lavishing features of Villas and apartments are tranquil gateways for those seeking peace and tranquility? World-class infrastructure and spacious land consider the best choice for apartments in Islamabad. According to financing stability, the villas and apartments are affordable and flexible to pay its installments.
Awami Complex is the latest addition to Islamabad's famous Blue World City. The complex consists of single units, independent units, and duplex units. 
Blue World City Awami Block
 units are well-appointed with society's signature amenities. All of the housing units are smart, green, and sustainable. The structure consists of five floors. In addition, there is a basement. A beautiful and picturesque landscape surrounds the complex.
Blue World City Awami Complex 
The Blue World City Awami Complex is the newest addition to Islamabad's Blue World City. It consists of single units, independent units, and duplex units. BWC Awami complex units are well equipped with society's signature amenities. The housing units are all smart, green, and sustainable.
Awami Block has five floors in the structure. Also, it has a basement. There is a beautiful and picturesque landscape surrounding the complex.
Here are the dimensions of the Awami Complex in Blue World City Islamabad:
1.      Studio apartment measuring 375 square feet.
2.      Family apartment measuring 550 square feet.
3.      Family Apartment 830 Sq.ft.
BWC's Awami Block – Duplex Villas 
Awami Complex features duplex Awami villas, which are among its most noteworthy features. The villas are equipped with every modern convenience and amenity available in the area. Additionally, they offer residents a variety of living spaces. One of the most notable features of the villas is its affordability.
On the basis of their size and location, villas are divided into the following categories:
1.      Ground Floor 675 Sq.ft.
2.      First floor 675 Sq.ft.
3.      Second Floor 675 Sq.ft.
Blue World City Awami Block Payment Plan
Note:
Prices are subject to change without prior notice
AWAMI BLOCK
·         4.5 Marla plots are available at a total price of 1,080,000 Rupees with a down payment of 87,500 and a confirmation cost of 48,750. Payment can be made in easy 40 monthly installments of 9750 Rupees or 8 half-yearly installments of 56,094  Rupees.
Salient Features of BWC Awami Residential Complex:
The BWC Awami Complex offers a range of luxurious features at a reasonable cost to the low-income sector of society. The following are some of the features of ARC:
Apartments with a low cost of living
Luxury apartments
Location in a prime area
Housing units that are legal and approved
Convenient payment plans
Blue World City's – Awami Block Facilities
There are a number of world-class amenities available at the Awami Residential Complex of Blue World City Islamabad, including:
Easy payment plan
Parks
Mosques
Advanced Security
Top-tier multiple amenities
Hospital
Educational institutes
Spacious roads
Peaceful Environment
Easy Payment Plan
The payment plan offered by Blue World City Awami Residential Complex is simple and flexible. It is highly affordable for small investors as well.
Parks
Park is a great place for residents to enjoy time with their families or friends. The parks are lush and serene at Blue World City Awami Residential Complex
Mosque
Residents of the Awami Complex have access to a dedicated prayer area and mosque for the purpose of fulfilling their religious duties.
Advanced Security
The Blue World City Awami Residential Complex will be equipped with CCTV surveillance to ensure the safety of residents at all times. 
Top-Tier Amenities
Blue World City Awami Residential Complex offers a variety of world-class amenities at an unbeatable price. Besides parks, cinemas, and commercial centers, the area also features affordable apartments, huge parking lots, pharmacies, testing labs, world-class educational institutions, and professional security. 
Peaceful Environment
Blue World City Awami Residential Complex is designed to provide residents with a tranquil living environment. Its prime location is a significant factor contributing to Blue World City Islamabad's tranquility.
Why Choose Blue World City Awami Complex?
A modern project with all the latest amenities
Various sizes of residential properties
Prices that are affordable and payment plans that are flexible
Ideally located in a gated community
Cleanliness and orderliness 
CCTV cameras are monitored 24 hours a day, 7 days a week
Nearby healthcare facilities and educational institutions
Furthermore, a water filtration plant is available for the supply of clean water
Blue World City Awami Residential Complex File Verification
The verification of documents is a critical part of any housing project. It is imperative that investors carefully examine all plot information. The following methods can verify the price and registration of Blue World City Awami Block files.
1) You can directly contact Blue World City head office for file verification & booking.
2) Blue World City's online verification offer can be availed.
3) The booking & file verification process can also be completed by calling Blue World City's contact number. The contact number can be obtained from their official website.
4) You can contact Brown Stone Marketing UAN: +92 331 1111045
CONCLUSION
Awami Block is a vital part of Blue World City's community lifestyle. A complete lifestyle is available at an affordable price in the Awami Block. People who seek a comfortable and cost-effective lifestyle will appreciate BWC Awami Blocks green parks, wide streets, pavements, streetlights, greenbelts, and flowerbeds.
Bookings can be made by contacting Brown Stone Marketing.
 UAN: +92 331 1111045