Blue World City Islamabad Awami Block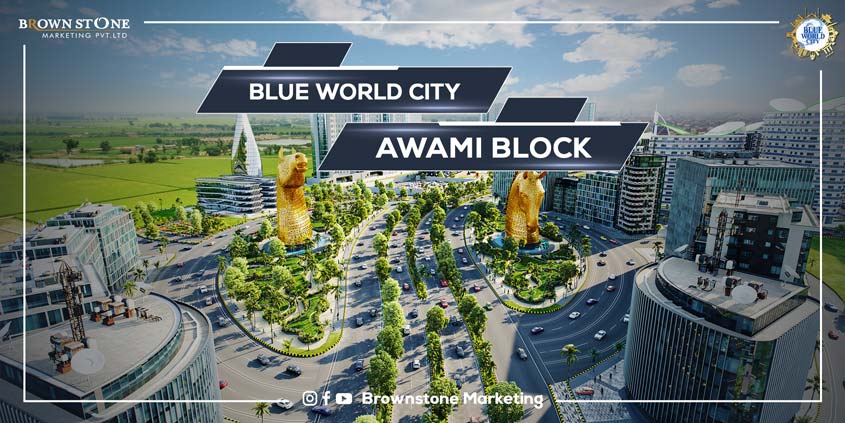 Blue World City Awami Block
The Blue World Awami complex is designed for people seeking luxury at an affordable price. Villas and apartments are available in this complex at an affordable price. There are many facilities at the Blue World City Awami Complex, including a 24/7 uninterrupted supply of water, gas, and electricity, a mosque, parks, a fitness center, and much more.
Blue World City
Blue World City is a residential and tourist attraction society owned and developed by the BGC-IGC consortium. This architectural marvel is located on CPEC route near Chakri Interchange and runs along
Rawalpindi's ring road
. There are many attractions at Blue World City, including the tallest horse mascot in the world, a water theme park, a cinema, and a replica of Istanbul's blue mosque.
Blue World City is filled with essential amenities if we talk about amenities. In addition to incorporating the route into CPEC, this is a highly significant project as it will be the first Pakistan-China-friendly city.
There are several blocks in the Blue World City, including:
Farmhouses
Overseas Block
Waterfront Block
Orbital Apartments
Awami Block
General Block
Overseas Executive Block
Blue World City Master Plan
There are three types of residential plots in the BWC area: residences, farmhouses, and business plots. However, plot sizes and classifications may vary from block to block. The Blue World City Islamabad has purchased 5,000 Kanals of land for the purpose of subdividing it into blocks and plots.
Blue World City plots are available in the following sizes and subcategories:
Developers
BGC-IGC Consortium is a business conglomerate with a strong international presence in the Gulf region and North America. It is one of the fastest growing and most diversified conglomerates in Pakistan.
The BGC-IGC Consortium is revolutionizing the culture of business in Pakistan by setting unparalleled standards of integrity, commitment, professionalism, and service delivery across a wide range of industries, including real estate, construction, education, and marketing.
Blue World City is one of the flagship projects of BGC-IGC Consortium. The community lifestyle project aims to provide a world-class lifestyle at affordable rates to the people of Pakistan, including expat Pakistanis living overseas. In addition to boosting the tourism industry, the project aims to establish world-class tourist destinations including the Burj Al Arab, the Blue Mosque, Rumi Square, the World's Tallest Horse Mascot, and the Water Theme Park.
The BGC-IGC Consortium is driven by a passion to enhance the nation's economy through collaborations, entrepreneurship, and employment opportunities. Our organization thrives on individual talents, delivering beyond personal expectations within a culture that places a significant focus on collective growth.
Blue World City Location
when investing in real estate, it is essential to choose the right location. A location is one of the most important aspects of any investment. It is a common practice for experienced investors to seek investments that will provide a high return on investment.
The Blue World City is located on the CPEC route near the Chakri interchange and can be accessed directly from the Lahore-Islamabad M-2 highway. Aside from offering a luxurious lifestyle away from the city's noise, BWC is conveniently located near the Islamabad/Rawalpindi Airport and Islamabad/Rawalpindi railway station.
Accessibility of Blue World City Islamabad:
There are several ways to reach Blue World City Islamabad:
Accessible from M2 Lahore-Islamabad Motorway
Easily accessible from Chakri Road
A convenient point of access from Islamabad
Easily reachable from Rawalpindi
Via Rawalpindi Ring Road
accessible via Adyala Road
From G.T. Road, it is an easy access point
From Islamabad Expressway, it is also easy to reach
Nearby are a number of noteworthy landmarks and residential areas.
Nova city
Chakri
University town
M-2 motorway
Capital smart city
Islamabad International Airport
Blue World City Awami Block Map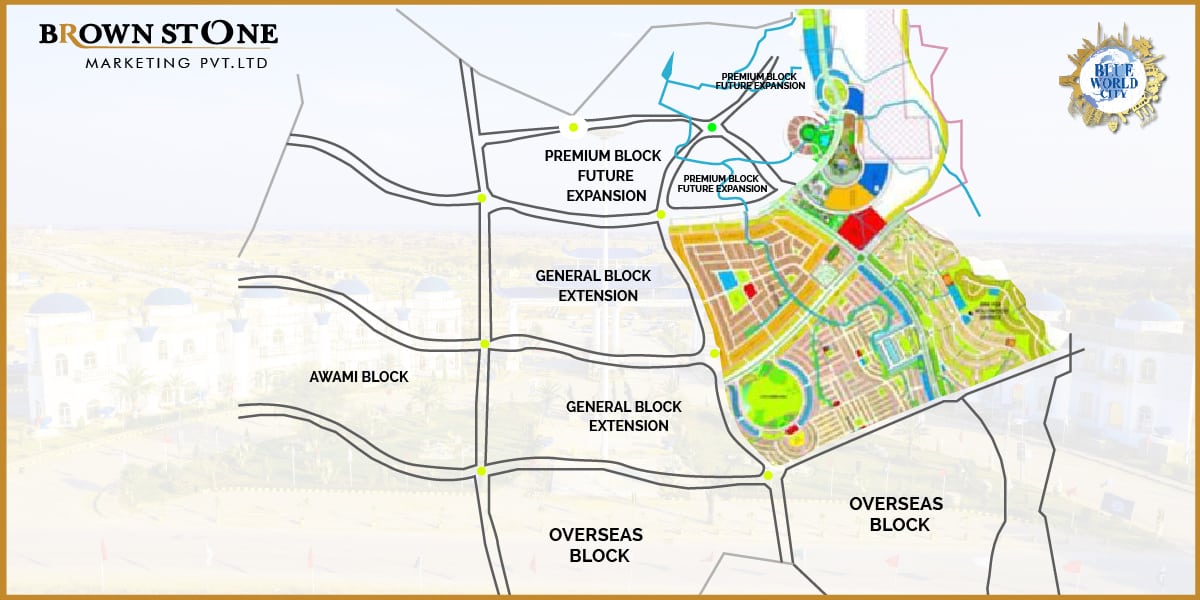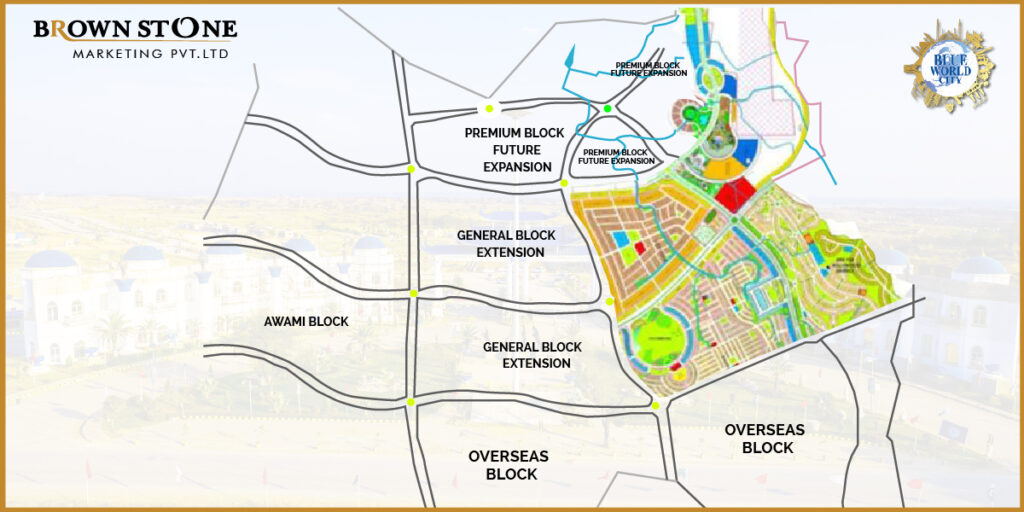 Blue World City Awami Complex
The Blue World City Awami Complex is the newest addition to Islamabad's Blue World City. It consists of single units, independent units, and duplex units. BWC Awami complex units are well equipped with society's signature amenities. The housing units are all smart, green, and sustainable.
There are five floors in the structure. There is also a basement. There is a beautiful and picturesque landscape surrounding the complex.
Here are the dimensions of the Awami Complex in Blue World City Islamabad:
1. Studio apartment measuring 375 square feet.
2. Family apartment measuring 550 square feet.
3. Family Apartment 830 Sq.ft.
Duplex Villas
Awami Complex features duplex Awami villas, which are among its most noteworthy features. The villas are equipped with every modern convenience and amenity available in the area. Additionally, they offer residents a variety of living spaces. One of the most notable features of the villas is their affordability.
On the basis of their size and location, villas are divided into the following categories:
1. Ground Floor 675 Sq.ft.
2. First floor 675 Sq.ft.
3. Second Floor 675 Sq.ft.


Blue World City Awami Block Payment Plan
Note:
Prices are subject to change without prior notice
AWAMI BLOCK
· 4.5 Marla plots are available at a total price of 1,080,000 Rupees with a down payment of 87,500 and a confirmation cost of 48,750. Payment can be made in easy 40 monthly installments of 9750 Rupees or 8 half-yearly installments of 56,094 Rupees.
Features
The following are some of the salient features of the BWC Awami Residential Complex:
The BWC Awami Complex offers a range of luxurious features at a reasonable cost to the low-income sector of society. The following are some of the features of ARC:
Apartments with a low cost of living
Luxury apartments
Location in a prime area
Housing units that are legal and approved
Convenient payment plans


Why Choose Blue World City Awami Complex?
A modern project with all the latest amenities
Various sizes of residential properties
Prices that are affordable and payment plans that are flexible
Ideally located in a gated community
Cleanliness and orderliness
CCTV cameras are monitored 24 hours a day, 7 days a week
Nearby healthcare facilities and educational institutions
Furthermore, a water filtration plant is available for the supply of clean water
Facilities
There are a number of world-class amenities available at the Awami Residential Complex of Blue World City Islamabad, including:
Stunning surroundings.
Space utilization at its best
Parks
Mosques
Hospital
Educational institutes
Spacious roads
Easy Payment Plan
The payment plan offered by Blue World City Awami Residential Complex is simple and flexible. It is highly affordable for small investors as well.
Parks
Park is a great place for residents to enjoy time with their families or friends. The parks are lush and serene at Blue World City Awami Residential Complex
Mosque
Residents of the Awami Complex have access to a dedicated prayer area and mosque for the purpose of fulfilling their religious duties.
Advanced Security
The Blue World City Awami Residential Complex will be equipped with CCTV surveillance to ensure the safety of residents at all times.
Top-Tier Amenities
Blue World City Awami Residential Complex offers a variety of world-class amenities at an unbeatable price. Besides parks, cinemas, and commercial centers, the area also features affordable apartments, huge parking lots, pharmacies, testing labs, world-class educational institutions, and professional security.
High Return on Investment:
It is guaranteed that you will get a return on your investment.
Peaceful Environment
Blue World City Awami Residential Complex is designed to provide residents with a tranquil living environment. Its prime location is a significant factor contributing to Blue World City Islamabad's tranquillity.
Blue World City Awami Residential Complex File Verification
The verification of documents is a critical part of any housing project. It is imperative that investors carefully examine all plot information. The following methods can verify the price and registration of Blue World City Awami Block files.
1) You can directly contact Blue World City head office for file verification & booking.
2) Blue World City's online verification offer can be availed.
3) The booking & file verification process can also be completed by calling Blue World City's contact number. The contact number can be obtained from their official website.
4) You can contact Brown Stone Marketing UAN: +92 331 1111045
CONCLUSION
Awami Block is a vital part of Blue World City's community lifestyle. A complete lifestyle is available at an affordable price in the Awami Block. People who seek a comfortable and cost-effective lifestyle will appreciate BWC Awami Blocks green parks, wide streets, pavements, streetlights, greenbelts, and flowerbeds.
Bookings can be made by contacting Brown Stone Marketing.
UAN: +92 331 1111045